macrumors 6502
Original poster
Hello dear comrades! Hope you are doing well.
It was late evening and i had some spare time to do this chart. I have done it for us, because i am also struggling between an Air 2020 or MBP 13 2020. So i wanted to share results with you.
I have read a lot of reviews and at some point lost the track how data correlates between different models. So intended to write it down for easy reference.
I am a finance grad student, so always looking for "price/gain" ratio for my purchases. Just really hate buying things, which doesn't meet my expectations for money invested. That is why i am always checking back reviews on websites and sitting on this forum.
Below is the chart of MBP 13 2012 Retina (my Mac), MBP 2019/2020 base, MBP Air i3, i5, i7. And MBP 16 along with desktop CPU Ryzen 3700x is just for reference. It is also worth to mention that Ryzen 9 CPUs for laptops this year are equal in performance to the desktop Ryzen 3700x.
So the whole point of this chart was simple - to test only CPU alone without an influence of other factors such as RAM size and speed, GPU and etc. Also scores only for Mac OS, since we know that Apple is really good at optimizing hardware. I intended to know, how much I will gain if I replace my old Retina 2012 MBP 13". Because I don't want to spend money, if the new laptop AIR or MBP is not that much better than my 7-year-old Mac.
Disclaimer: Web is full of different scores and that really fluctuates. I tried to include the scores, which are almost identical across the web with deviation 2-5%. For GPU I use export video examples just for harsh reference point. GPU performance is not the same while gaming and video editing, so those conclusions can not be translated to gaming experience. Overall, gaming is not main priority of this dGPU-less 13 inch laptops.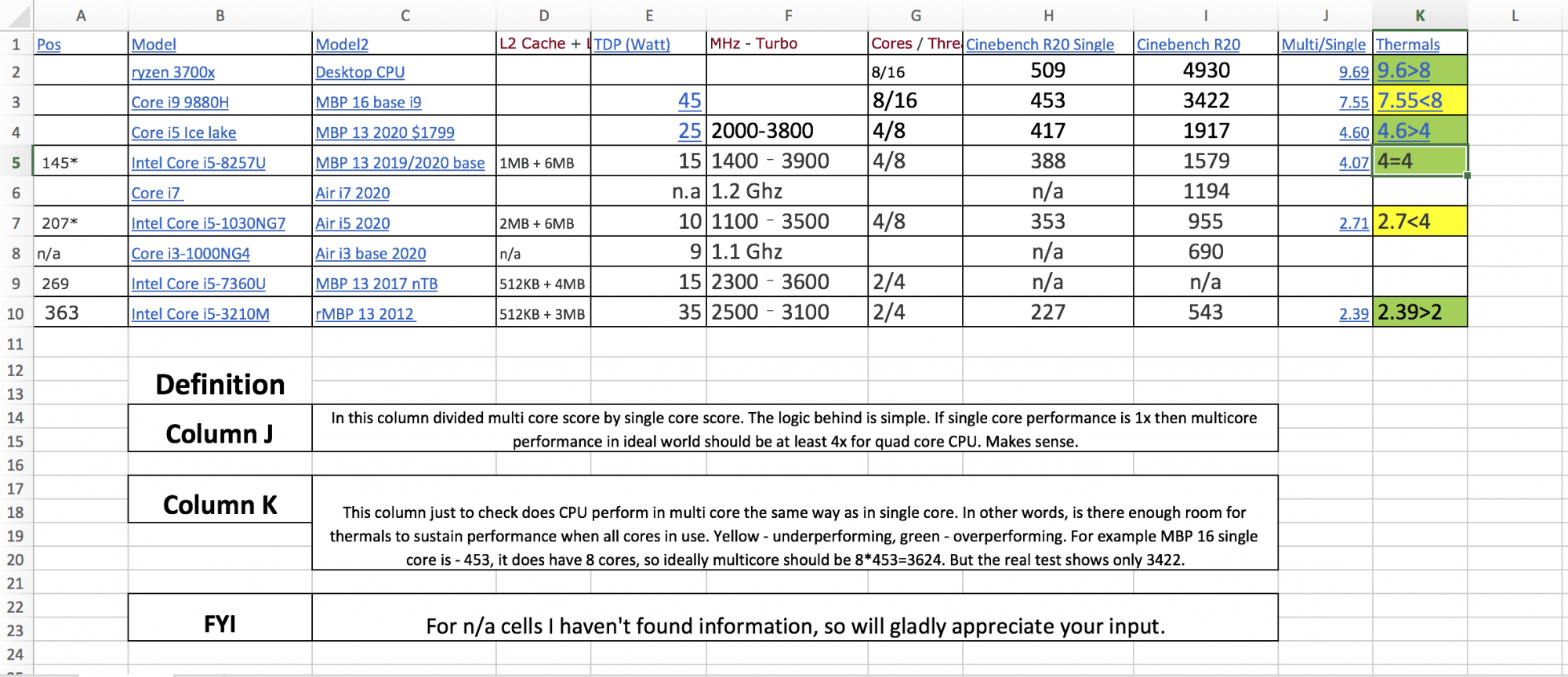 Conclusions:


Macbook Air 2020 i3
dual-core

CPU:
Numbers are quite interesting. Scores are 27% better than MBP 13 2012. This is good and bad. Bad because innovation in Intel CPU is so slow. Good because Air is almost 1 pound lighter than bulky MBP 13 2012, and uses 2x less power and delivers slightly higher score. So that is a progress in technology.
It means that AIr i3 is versatile, well rounded laptop for almost any task. Even photo and video edits. So browsing(multiple tabs), spotify, zoom, Office suit is not a problem at all.
GPU:
On paper it does have 12% better graphics than MBP 13 2019/2020 base, but achieving it is a problem due to thermals.
All in all, when it comes to GPU: slow 1 min bursts – MB Air beats MBP 13 by 12%. But for example in 5 min. 4K video render export it is 2 times slower than base MBP 13 due to thermals.
Scrolling is smooth in 1080P and 4k in the timeline.
Total:
Great laptop. It uses thermals quite efficiently, and as you will see below, i5 is overkill in some situations. Base AIR 2020 i3 is capable to do anything you wan't. Of course we are not talking about super mega tasks to perform, but for everyday life you will not see any lags or underperformance.
========================================
Macbook Air 2020 i5 quad-core

CPU:
Numbers are also interesting. In multicore it is almost 2x times better than MBP 13 2012 (and it is no slouch). But only one caveat: since R20 stresses only CPU, it means GPU is idling. In real world it does mean that you will see the difference from AIR i3 in multicore only if NOT using GPU at the same time. So if your work pushes cpu with gpu, then you will not see any difference between i5 and i3 (difference expected to be 5-10% in i5).
Single core is really good and it is 50% faster than MBP 13 2012. But in multicore, i5 has a small room to perform its' best, so only 2.7x of single core is achieved, while keeping in mind it does have 4 cores. So the score should have been 4x higher for multicore, but is only 2.7x.
GPU:
On paper it does have 60% better graphics than MBP 13 2019/2020 base, but achieving it is a problem due to thermals.
All in all, when it comes to GPU: slow 1 min bursts – MB Air beats MBP 13 by 60%. But for example in 5 min. 4K video render export it is 2 times slower than base MBP 13 due to thermals, and only by 10% faster than G4 graphics in AIR i3 (under load more than 1 minute).
Scrolling is smooth in 1080P and 4k in the timeline.
Total:
So if you are not using GPU at the same time, you will gain +38% performance in comparison with an i3. But if you use gpu, results will be negligible with i3, and it won't perform any better.
Macbook Air 2020 i7
quad-core

CPU:
Logic is the same as with an i5. If no gpu used, you have 2x more power than i3 and 20% more than i5. But if gpu used, all of the results will be almost near i3 and i5.
Macbook Pro 13 2019/2020 base

CPU:
Despite Air has better CPU, it doesn't have enough room for thermals to outperform 8th gen CPU of MBP 13 2019/2020. Single core performance under stress is slightly better than Air i3 and i5. Which means no difference in everyday use for normal things like browsing and music, office suite between the Air and MBP 13.
Multi-core score is decent. It is 3x times better than MBP 13 2012. So definetly worth investing money for me, as i gain 3x more power if needed, while everyday tasks will be a little bit snappier. It has 50% more power than Air i5 (without gpu use).
Worth to mention that multicore is equal to single core * 4. Which means that thermals are really good and the CPU delivers most of its' power without losing anything under pressure. While we can't say the same for AIR.
GPU:
i3 Ice lake has 12% better graphics, i5 Ice lake has 60% better graphics than this MBP 13 2019/2020. But Air is limited in its' thermals, so Pro easily wins here.
Render times 2x faster than those on all AIRs, gaming is a lot smoother.
No problems in timeline with 4k and 1080P.
But $1799 Macbook Pro 2020 will definitely have good thermals, so it will unleash true power of Ice Lake GPUs in it. And it will be 60% faster than the base 13 inch 2020.
Macbook Pro 13 base 2020 – similar performance to Nvidia 930 graphics.
Macbook Pro 13 $1799 2020 – similar performance to Nvidia MX150.
So despite upper MBP 13 rivals base 13 inch in 2020 by 60%, overall picture is quite the same – integrated graphics are trash anyway in this slick 13 inch laptops, and any MBP 16 will outperform it years ahead.
So you have to decide, would you like to pay for it. It beats base by 60% but in terms of GPU both can't do anything against $80 discrete GPUs for desktops.
Macbook Pro 13 2020 $1799

CPU:
Single core performance of the CPU is 7.4% higher than the base MBP 13. Multicore performance is 21% higher than the base 13 inch model. But also keep in mind that on maximum load 10th Gen Ice Lake CPUs consume 31W of power while delivering this scores. While base' power draw is 25W as opposed to higher end MBP 13.
MP ratio is quite good and it is 4.6. So 4 cores together doing pretty good job with help of active 2 fan cooling.
But there is one caveat, that will be below in the summary.
During Cinebench R20 test, it hit 99C degree mark pretty quickly, while the base was at 84C. Overall this could be the case that CPU is really hot. And it looks like 10th gen Ice Lake can't handle itself cool despite being on 10nm architecture.
GPU:
It seems that this time Apple is not faking numbers on their website while comparing base with higher end. Depending on the use case, you can expect from +25% to +60% more performance than the base MBP 13. Yes, now you can game every old title, which was doable by the MX150 dedicated graphics. Because they have similar performance.
Summary:
Overall higher end model is obviously better than the base. It is the ultimate portable power laptop (of course in Apple hierarchy). It is better than the base by little margins here and there, so the overall win is by the total score - so it is not K.O. or T.K.O. Interestingly, it does have the same problems as MBP 16. If you are maximizing CPU and GPU at the same time, there is no room in terms of power delivery and thermal ceiling for both of them. Which means that if you maximize CPU then GPU only works at 75%, because if it pushed up to 100%, then CPU will have to decrease power consumption or this thing will overheat.
So the 10th Gen CPU is too much powerful for the slick design of the MBP 13 2020. Even 2 fans are not helping with CPU cooling. That is why Apple limited power consumption: you can allocate maximum power to CPU and it will work as intended, or you can allocate power to GPU, but then CPU will have less power and poor performance.
Overall this is a laptop for lovers of portability while having ultimate performance. If you don't care that much about portability, you can pay $200 more for refurbished MBP 16, or edu discount at $2200. If both options is not available for you, then Apple's MSRP of $2400 really sets apart $1800 MBP 13 and $2400 MBP 16 by $600.
So if you have to pay $600 more for MBP 16, then it makes more sense to buy MBP 13 2020.
If difference for you is $200-400 you might want to think about buying MBP 16.
Overall while reviewing this laptop, we don't want to be Europe or US centric in our opinions. In the rest of the world without Apple stores, this higher end $1800 MBP 13 2020 is the only viable option to get 16GB of RAM. Because there is no BTO options for other countries with no Apple store. That is why Apple pretty obviously urges customers to buy higher end, if they need 16gb of RAM. This model is a huge update for that countries, while update for US and Europe are minor.
Disclaimer 2:
It is just comparison of raw power of CPU and GPU in 13 inch laptops from Apple current at the moment. I am not writing here about obvious things like 500 nit P3 display and better speaker of the Pro 13. If you need it – you justify paying for it.
RAM
no comparison – because everything is smooth and the size depends on your wallet and needs only.
SSD
– you know it well yourself. They are all good and you just choose the size.
Cinebench R20 -
tool to measure raw CPU power. I don't like Geekbench 4 or 5, since they also count speed/size of RAM and etc. So not very precise measurement in those geekbench scores.
Short conclusion:

MBP 16 inch
is a beast in all cases. Base i7 is good and i9 is also good. So no comparisons here, just for reference. It achieved 7.55x of single core score in multicore, which tells us about good thermals and really small drops in sustained performance.
MBA i3:
If you buy the very base, you will save a lot of money if you use it for normal, simple daily tasks such as web browsing (no matter how many tabs), zoom, Spotify, Word and Excel, even video and photo editing. Saving $300 is really good if you don't need extra sustained power of MBP 13 2020.
Note:
i3 Air is better at video edits than my old MBP 13 2012 just because of implemented codecs for new video formats. So it has proper instructions, which make computation easier. That is why it is not that much more powerful, but smarter CPU in comparison to pre 2016 MBPs.
MBA i5:
Worth to buy only if you are sure to use only CPU side in daily tasks. No better than i3 for gaming, video editing. So if your job heavily relies on CPU only, then you will have decent gains by going i5 way.
MBA i7:
is a beast if you use only for CPU intensive tasks that push it till maximum. Almost twice better than i3. But only 5-10% difference between i3 if used with GPU.
MBP 13 base i5 2019/2020 for $1299:
Overall well rounded laptop. It is weaker than Air i5, i7 in short bursts of CPU and GPU multicore tasks, but if you push longer than 1 minute CPU and/or GPU, then Pro easily beats them all by 2 times. Also keep in mind it offers $100 16GB RAM upgrade (no more closing unused apps and tabs). Great thermals – cooling is able to sustain the power of its' engine.
In multi-core it is 3x times better than MBP 13 2012.
Sweet spot is i5/16gb/256GB option. Don't upgrade storage or CPU - it is not worth it, then just buy higher end model for $1799
MBP 13 i5 2020 for $1799:
Overall ultimate MBP 13 as it was initially supposed to be. It has 2 fans, 60% better graphics, 22% better CPU performance, better speakers, 2 more ports, better SSD speeds, faster RAM.
The thing is pretty clear: if you want 512Gb/1TB of internal SSD storage and 16gb of RAM - there is no point in upgrading the base model, you will be better of by going higher base model for $1799. Other people who don't need 512Gb or more internal storage, can easily go with the base model for $1299.
MBP retina 13 2012:
dual-core i5 is a no slouch here, delivers 2.4x of single core in multi-core test. Which means that 2 cores together are even better than one by one. It was great times of Apple's ruling: 2 fans, decent no lag performance even nowadays. Battery only keeps 4.5 hours.
Desktop Ryzen 3700x:
is a real beast! In multicore it outperforms its' single core score by more than the number of cores. It has single core score of 509, so 8 cores while working together should produce 509*8 = 4072. But it delivers insane 4930 points, which means 8 core together produce 9.6x score of the single core.
Easy peasy lemon squeezy! Done. Really appreciate your time spent on reading this. Hope it helps a little bit to make things clear. Stay healthy and safe!
========================
Edit2: Updated $1799 MBP 13 2020 stats in the chart.
Last edited: