macrumors 68000
Original poster
Seeing as how installing Sid can be painstaking (downloading keyrings to a usb stick, missing wifi firmware, grub breaking and post-install hacking in yaboot, etc) i decided to respin a custom netinstall.iso. This iso uses yaboot by default so there are no hoops to jump through there. There is a nice walk through INSTALL.txt on the CD once the iso is burned. It will take you step by step to get everything set up (thanks
@swamprock
and
@z970mp
for the how-to's i borrowed some things from). PLEASE read it before (and while) installing. Copy it to another machine if you have to so you can look at it during install. There is also an "extras" directory on the CD. It includes arcticfox-27.9.19.deb, firmware.debs for wifi and the updated debian keyring.deb. Like ubuntu-ppc, this will install a 32-bit rootfs, but is able to use a 32 or 64-bit kernel depending on your machine. (G3/G4/G5)
Note:
G5 users
, after installing do not apt upgrade right away. The 5.4 kernel doesn't work on some G5 models (7,2 for instance). In order to keep the working 4.15 kernel from being upgraded type this as root user : apt-mark hold linux-image-4.15.0-2-powerpc64 ,then run apt upgrade.
If you already updated and get a kernel panic you can still boot the old 4.15 kernel. At the boot: prompt type: old
or see this
post
To fix keyring issue with the archive snapshot try
this
If you'd like to install Mint, after installing Sid, head over to:
https://www.u58733p55594.web0093.zxcs-klant.nl/installation/manual-installation-mintppc/
and follow the instructions.
If you'd like to install 32-bit Fienix, after installing Sid, update your packages, install Mate, then follow these instructions:
https://fienixppc-news.blogspot.com/2019/06/stop-gap-install-for-powerpc-macs.html
I hope this iso will be useful to anybody who tried debian sid before but had no luck. I tested everything twice. Follow the install.txt and you'll have a working sid install.
Once installed, look here for tips/tricks/troubleshooting:
https://forums.macrumors.com/threads/the-powerpc-linux-wiki.2178457/
Download (384mb):
https://drive.google.com/file/d/1qC6uw1IlHKm9CJiEj1u6T0XYe7rs6h-T/view?usp=sharing
Cheers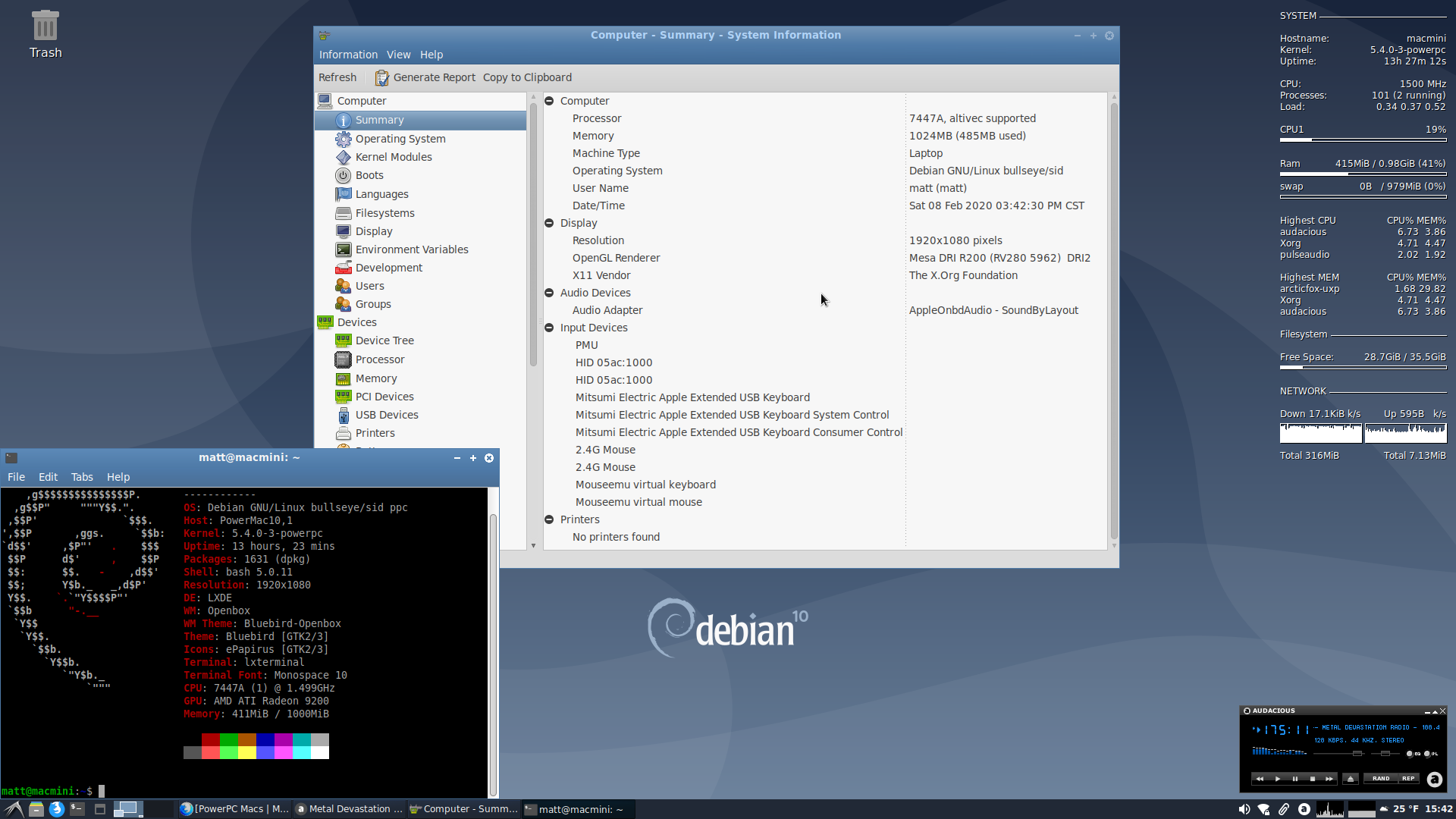 Last edited: