macrumors 6502a
Original poster
Here it is. New and improved over the stock 16.04 release. You can use as a live dvd / recovery system, or install it. What's changed since the original release back in 2016?
Added SpiderWeb, SpiderMail, and Arctic Fox (modern web browsers and email client)
Added wifi firmware, sound modules, and windfarm (fan) modules loaded by default
Added right click for ibook/powerbook users via 2 finger tap (PB) or left ctrl + click (IB)
Added inxi and neofetch cli system info scripts
Added midnight commander (mc) cli file manager / editor / ftp client
Added discord and facebook messenger plugins for Pidgin
Added custom wallpaper
Disabled the annoying crash reporter that always ate cpu cycles
Added conky desktop system monitor with custom layout (menu -> run, type conky -b)
There might be more that i'm forgetting, but that's the basics anyway.
Download is 1029M
Sound is enabled, but muted by default. Open terminal, type alsamixer, right arrow key until you highlight "pcm", up arrow key to set desired volume level, esc key to exit.
Here's some known yaboot parameters to boot with:
The default option is 'live' (try this first)
Nvidia Geforce 6600 & FX5200 use
Code:
'live video=TV-1:d video=offb:off nosplash'
Nvidia Geforce 6800 use
Code:
'live video=TV-1:d video=TV-2:d video=offb:off nosplash'
Radeon 9xxx cards use
Code:
'live radeon.agpmode=-1 radeon.modeset=1 video=offb:off nosplash'
ATI Rage 128 use
Code:
'live video=aty128fb:1024x768-16 video=offb:off nosplash'
Generic frame buffer drivers when all else fails
'live video=radeonfb:1024x768-16 nosplash'
'live video=nvidiafb:1024x768-16 nosplash'
'live video=rivafb:1024x768-16 nosplash'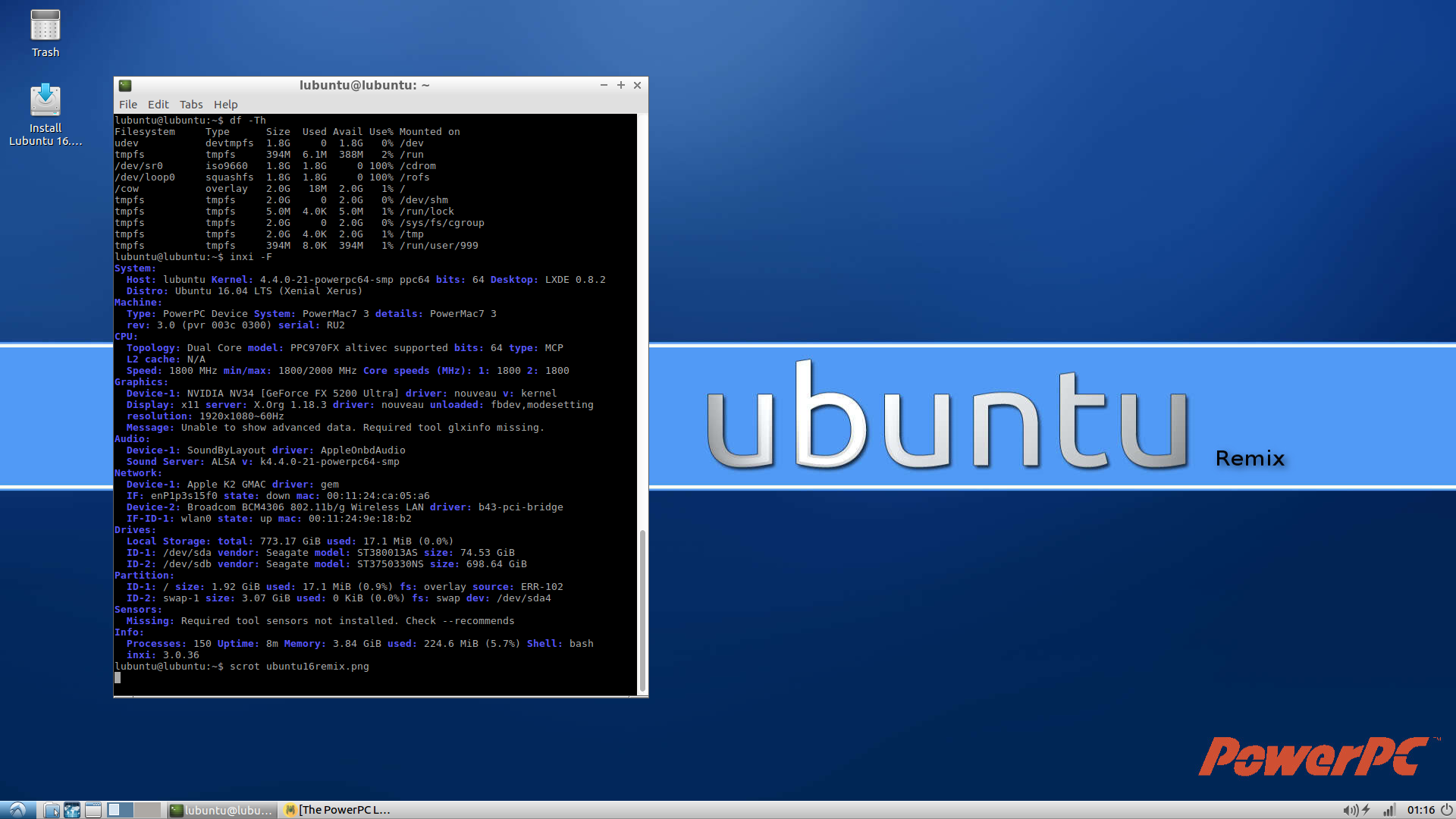 Bonus:
I created a persistent storage live USB.img. Meaning you can boot from this USB.img and all your settings/bookmark/etc will be saved.
I also adjusted the fonts to look better, resized the wallpaper to fit, added noscript to both AF & SW browsers and installed irssi irc client.
This is designed for a 4gb USB stick (can be used on larger though), and leaves you with about 2GB of persistent storage you can use. (just dont apt upgrade or you'll lose about 1.2gb of space off the bat)
Now you don't have to worry about dual boot, or wiping tiger/leopard to run Linux. The USB stick is portable and can be used on all yourpowerpc macs.
To install: Grab a spare USB stick (4gb minimum) and back up its contents somewhere. Format the USB drive (msdos/fat32 or just zero it out).
Then insert the drive and verify you know where its located. In my case it was /dev/sdc. Use df -h to list which device it is.
Write the ubuntu.img to it with dd. Example: dd if=/path/to/ubuntu-remix-persistent-usb.img of=/dev/sdc bs=4096
Once it finishes writing, unmount the usb stick and toss it in your PPC mac. Fire up Open Firmware (option+apple+o+f).
At the prompt type: boot usb1/disk@1:,\\yaboot or usb0/disk@1:,\\yaboot depending on which usb port you used.
Read the yaboot boot message that pops up. Choose which suits your machine best.
At the yaboot boot prompt type:
Code:
live video=offb:off nosplash persistent
(this is a generic last ditch effort parameter). You must always use the 'persistent' parameter if you want it to save your session.
My mac mini g4 with a radeon 9200 and powerbook g4 with a radeon 9700 use this yaboot parameter:
Code:
live radeon.agpmode=-1 video=offb:off nosplash persistent
With any luck you'll end up in a live session with the ability to save files, install software, etc.
Download here:
Cheers
Last edited: