macrumors 68020
Original poster
Late last year I upgraded my 2009 Mac Mini from Mountain Lion to El Capitan. With that came a change from iPhoto (which was easy enough to use and I liked) to Photos 1.0 (some of which I am unable to fathom)...... I have checked out Photos 3.0 on new computers, and functionality seems to have been restored, but it requires High Sierra, which is not available to my aged Mac Mini.
My biggest problem is deleting photos...... I take a lot of shots of sports events, most of which are not useful for my purposes (newspaper reports and websites). I archive whole albums on an external drive, but on board I want to keep the best, and delete the rest.
With iPhoto it was just a matter of moving unwanted to trash and emptying the folder from time to time..... they were gone, freeing up space on the HDD.
With Photos 1.0 deleting a photo or album from the visible library is easy enough, but where they go I don't know. I have not been able to find a Recently Deleted Album to empty....... Photos remain cluttering up space on the HDD (only 128 GB on the original HDD), but unseen in the Photos Library.
Photos Help is unhelpful. It directs me a Recently Deleted Album that doesn't seem to exist, or at
least I can't find.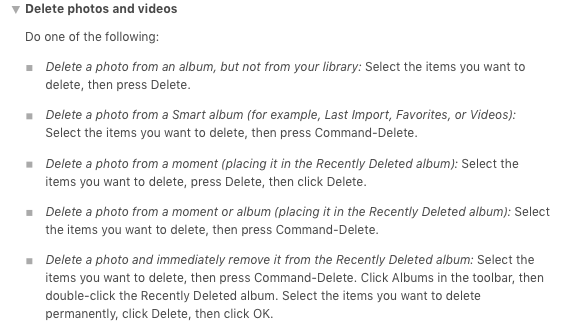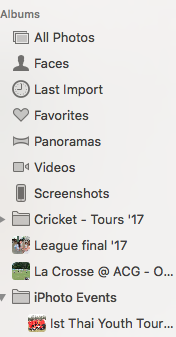 How can I get rid of my unwanted, invisible photos, to free up space on my HDD?
Last edited: