Suspended
Original poster
So compare -
1) 2018 Mac mini 3.0 base block i5, with turbo boost to 4.1
2) 2017 iMac 3.8 base clock i5 with turbo boost to 4.2
Both have almost the same SINGLE CORE Geekbench score, and I assume that's because in the time it takes to run the Geekbench tests, both machines can remain running at full turbo boost.
However, lets say I've got a video render or export that takes 30+ minutes ... would the iMac then come out ahead since neither machine could maintain turbo boost that long, and the iMac actually has a higher base clock speed?
According to the expert at Bare Feats, a lower base clock with a high turbo boost will
eventually
lag behind, but he doesn't actually test it.
So ... does anyone know where there are extrended stress tests to determine what, if any, disadvantage there is to having a lower base clock, but a super high turbo boost speed? Thanks!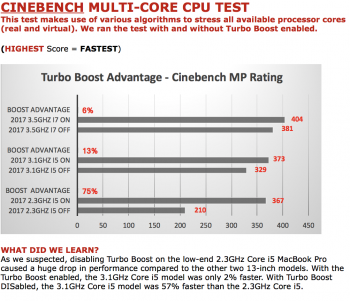 Last edited: