macrumors demi-god
Original poster
May 5, 2008
19,260
21,260
Space Opera

Space opera is a subgenre of science fiction that emphasizes space warfare, melodramatic adventure, interplanetary battles, chivalric romance, and risk-taking. Set mainly or entirely in outer space, it usually involves conflict between opponents possessing advanced abilities, futuristic weapons, and other sophisticated technology. The term has no relation to music, as in a traditional opera, but is instead a play on the terms "soap opera", a melodramatic television series, and "horse opera"...
I'll start off by letting
@Scepticalscribe
know I now have a copy of
Heris Serrano
in my library to be read.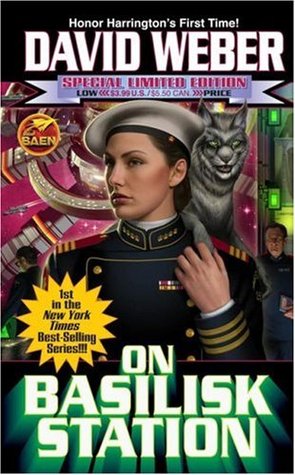 Honor Harrington is the primary character in this superlative space opera that begins with
On Basilisk Station
where we find Commander Harrington transferred to an experimental cruiser because her boss wants to surprise the opposition during war games, while Honor realizes she's been given a one trick pony. Once it's ability is known, it is extremely easy to counter in a fight and what starts out grandly, turns into a professional disaster, when the reality becomes self evident. But her boss is so embarrassed by the overall performance of her hardware/technology idea, Honor takes the brunt of the displeasure and finds herself, cruiser, and crew banished to an undesirable posting at least for a military career in the Manticore Navy along with an unhappy crew.
I believe someone has considered turning this into movie, but the first book does not have the best structure for a movie, not that it's boring, it's not. The writing is crisp and clear. The author goes out of his way to describe space ship technology including propulsion and armament without making it too technical, drawn out, and hard to understand. And everything Honor and her tree cat does, along with interactions with the people around her is interesting.
The preamble of this book includes hints of the coming conflict with the People's Republic of Haven. Haven is a long term adversary to the Star Kingdom of Manticore, in fact Haven dwarfs Manticore, but Manticore maintains a significant technological edge, and Haven is so big, it includes a lot of bloat, giving Manticore a fighting chance.
The space battles that take place are huge in scope, jaw dropping, and the narrative is so smooth you won't be lost in the fighting.
I just started
On Basilisk Station
and plan on posting some spoilers more as a memory jogger for anyone who has already read the series. The first two books are available to read for free using the
Kindle App
.
Last edited: