macrumors demi-god
Original poster
Hi everyone,
Does anyone else's iPhone 3Gs have a yellow screen tint?
You can see it clearly in the following photo. The iPhone 3G is on the left, my old iPhone 2G is on the right. The 3G's one is distinctly yellow and dimmer than the 2G one when set to identical brightness.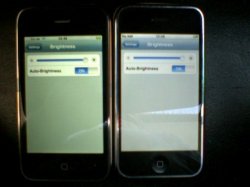 I'm on the phone to Apple Support now to try to look into this fault.
Edit:
UPDATE
I've posted further down in this thread but I want to write something here for new folks in this thread.
Since starting this thread, I've returned my iPhone and have been lucky enough to get another one and its a lot better. Now, from what I can gather from this thread and people's experiences is that
all 3G iPhones have a slight yellow tint compared to the original iPhone
. Its not as bad on the whole as my picture indicates.
If you have an original iPhone to compare it with, set both to maximum brightness with auto-dimming off. The iPhone 3G
should be brighter
than the original one. Yes it will have a yellowish tint compared to the blueish tint of the original iPhone. SOME iPhone 3Gs appear to have a slightly faulty screen/backlight and appear to be
dimmer
and
very yellow
compared to the original iPhone. In my opinion, these are faulty.
I'm a lot happier with my replacement phone although I would still prefer the colours a little cooler.
If you have an issue with the yellow tint but its not as bad as I described mine to be then I suggest filing some feedback with Apple about the iPhone using the following form:
http://www.apple.com/feedback/iphone.html
If enough of us ask for it, we MAY be able to get screen colour temperature options and maybe even more advanced colour/contrast/gammut settings etc - something professional photographers would probably like anyway so as to showcase their work on the fly better.
Some people prefer the blue tint, some people prefer the yellow tint. If we ask Apple enough, maybe they will give us some more choice on this. I fully believe this can be far better controlled with a software update. Honestly, there's a good chance that Apple purposefully made the screen appear this way so that the icons on the dashboard and films appear to have far more colour depth and contrast and so would pop out as better to some people.
Edit 2:
Some comparison shots of my replacement iPhone 3G and my original iPhone 2G are
here
. A montage of my first iPhone 3G, replacement iPhone 3G and iPhone 2G are
here
.
Edit 3:
Some people have reported better colour tones after connecting their iPhones to iTunes and doing a full restore to factory settings.
It appears that a slightly newer firmware version is downloaded and this seems to have corrected the colour somewhat. I add that I did this with my replacement 3G iPhone by accident too because it got messed up during Apple's server activation crash so my second 3G iPhone photos are using this new build.
Make sure you backup your iPhone before trying this.