macrumors newbie
Original poster
Hi,
I was deciding between getting the 13" Touch Bar (Intel Core i5-7267U) vs the 13" Non-Touch Bar (Intel Core i5-7360U). The i5-7267U is clocked at 3.1GHz while the i5-7360U is clocked at 2.3GHz.
I was looking at online Geekbench benchmark tests comparing the two processors so I could see exactly how much faster the touch-bar model is. However, I found that the 13" base model with the i5-7360U had higher single and multi-core performance numbers than its more powerful counterpart, the i5-7267U...
How is this possible?
Attached are the pictures of what I found.
Single Core: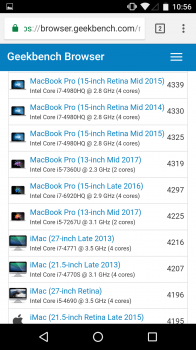 Multi-Core: