macrumors member
Original poster
I have a dual 1.25 GHZ Powermac G4 MDD, and for a 10 year old computer, it is blazing fast. However, as many of you may already know, the MDD was notoriously loud, and the culprit is the power supply fans. After hours of googling the problem, I found several sights that helped me to successfully replace the PSU fans in my Powermac. I would encourage anyone with an MDD who is bothered by the noise to do this, the results are well worth the effort.
The fans I used were the Everflow F126025DH DC, which can be found on the Thermaltake Volcano 5 heatsink. Just search for the fans or heatsink on ebay, you should be able to find them.
After removing the optical drives, I laid the Powermac on a couch so that I could access the power supply without having to rewire everything.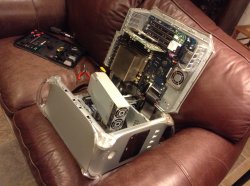 Then I unscrewed the power supply and carefully rested it on the hard drive cage.
After taking the cover off the PSU, the fans are revealed. Take note of how the red and black wires are positioned.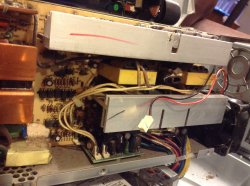 Then unscrew and unplug the fans. The tricky part is that you have to swap the connectors from the old fans onto the new ones because the Everflow fans come with 3 pin connectors and the original ones have 2 pin connectors. The yellow wires in the new Everflow fans are for speed control, and because the power supply fans in the MDD spin at a constant rate, this is not needed, so you can cut them off.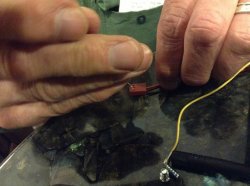 It takes a bit of work to get the connectors off the old fans and onto the new ones, but you just have to be patient.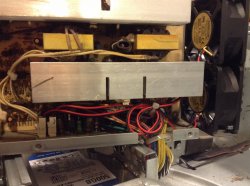 Plug the fans back in. Now just reassemble everything, and you have a quieter mirrored drive door Powermac!
Last edited: