macrumors 68030
Original poster
So I've been setting up my new mini and decided to set up Boot Camp even though I use it infrequently.
Not sure if it's a Mojave thing or perhaps because of the T2 coprocessor, but the Boot Camp assistant will not run with external storage attached.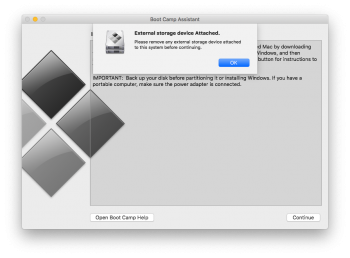 This is a problem because I have a 4 bay thunderbolt enclosure with all my extra storage and my user folder actually resides on an external drive. So now I have to create a new user on the boot drive and reboot with the thunderbolt enclosure disconnected to even try to use Boot Camp Assistant.
I haven't seen anything online about this. Any ideas what this is all about? macOS seems to be getting a bit hostile these days.