macrumors newbie
Original poster
I previously had Apple Pay under Watch OS1, and upgraded my watch to the beta versions of OS2 where I lost Apple Pay support for my first direct (part of HSBC) Visa debit and credit cards.
I upgraded my watch to the consumer release of OS2 and have upgraded my iPhone 5S to the consumer release of iOS 9.0.2, and every time I try and add a card and accept the Ts&Cs of my bank it then fails out, saying 'Card not added. Contact card issuer for more information.' with two options: 'Add a card later' or 'Try again' (screenshot below).
I've spoken to my bank and they say that they're not getting any of the requests through to add the card, and there's no problems that should prevent me from adding a card to Apple Pay. They say that the problem is that the requests are not coming through from Apple to add the card.
I've spoken to Apple, and they have escalated the problem to their engineers, but they have just been waiting for an update for a while now.
I've tried:
checking that my name/address/phone number is correct in iTunes
turning off location services (in case it was a location issue)
registering over wifi or cellular
entering card details manually rather than using the camera
waiting 48 hours between registration attempts
unpairing and repairing the watch and iPhone
restoring the iPhone and watch to factory settings, and setting up as brand new phone and watch
I've also tried registering a Mastercard from another bank that supports Apple Pay (M&S Bank, also part of HSBC) and I get the same problem with that one. Again, they say they're not getting a request through from Apple to add the card.
Has anyone else had this problem, or have any suggestions as to how to get the requests to get through to the card issuer?
Thanks in advance.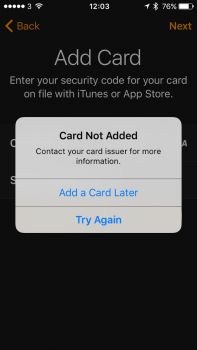 Last edited: