macrumors member
Original poster
I've just taken delivery of my late 2015 5k iMac (i7, 4.0GHZ, 1TB SSD, 395X 4GB) today
I wanted to increase the RAM to 32GB, so instead of buying the RAM from Apple, I did some research, read the reviews and bought 2 x
this
from
Amazon
:-
Before I'd even switched on the iMac, I took out the pre-installed 8GB of RAM and replaced it with the new memory, ensuring that the RAM was properly inserted into the slots. However, when I turned on the mac, it never switched on, it just started to beep.
This went on for about a minute or so before I realised that it wasn't right so I went online to find out what it could be. Im not exactly sure on the amount of time between beeps but I found out it was either:-
1 tone, a 5-second pause, repeat No RAM installed
3 successive tones, a 5-second pause, 3 successive tones RAM does not pass data integrity check
I took out the plug, took the back off to check the RAM was in position, tried to reboot and it did the same. I tried moving the RAM around, the same, I tried using two RAM cards instead of 4 but to no avail, beep.......beep. What was meant to be exciting times, was turning out to be a disaster!
I then thought I would try to use the supplied RAM back in and hey presto, the mac surged into life!
So I then thought I'd try to put 2 x 8 GB RAM alongside the pre-installed RAM to see if this would work. The machine didn't even make the beeping noise! I took it out and it fired into life.......
This RAM I bought is supposed to work with this iMac, I've seen reviews on Amazon from customers who have bought the exact same memory for their Late 2015 iMacs and had no problems, hence me purchasing it. I have noticed on Apple's website they state the memory should be DDR3 which mine isn't, however on Kingston's website they state that DDR3L is fully compatible.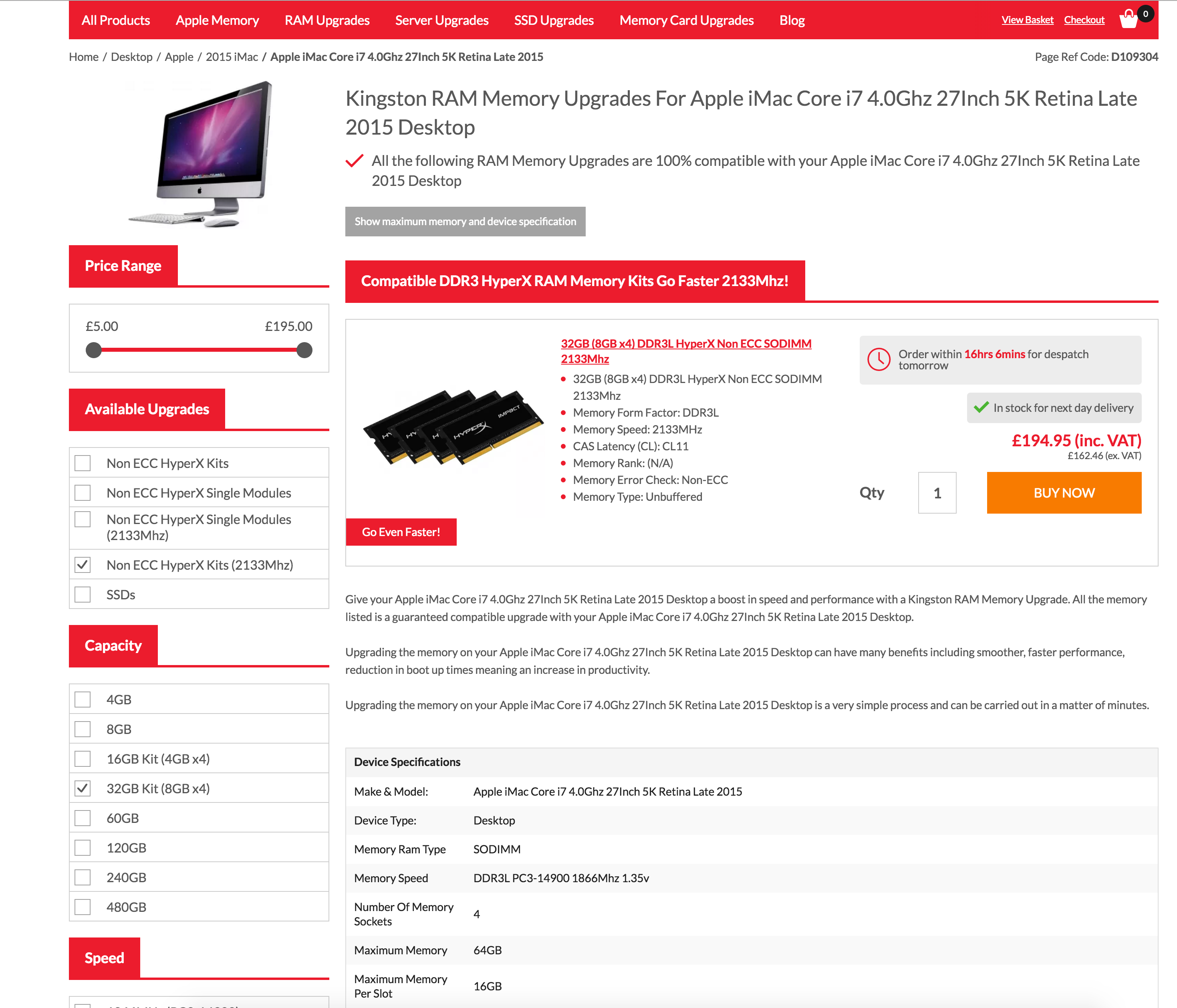 What do you think guys? Could it really be the case that all 4 x 8GB cards I've bought are faulty, do I have the wrong RAM or am I simply doing something wrong?
I just wanted to see if any of you guys have had any problems installing 3rd party RAM and take some much needed advice.
Cheers in advance.
Last edited: