macrumors 6502
Original poster
I just bought another cMP 4,1 8-Core (2.26GHz) - Apple 5870 1GB GPU - 22GB - original BT card on an auction site - a steal! It was delivered by a courier company, and my excitement all evaporated as soon as I took the packaging off. F#$kers!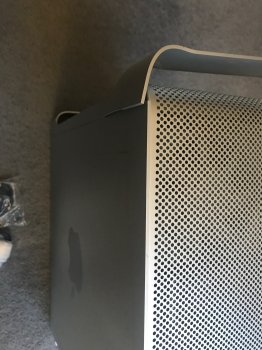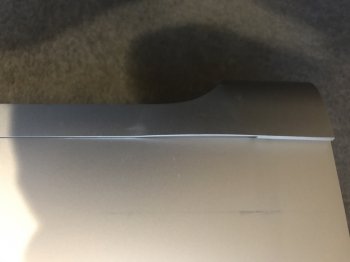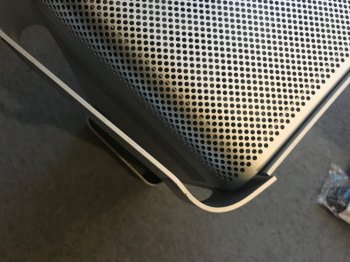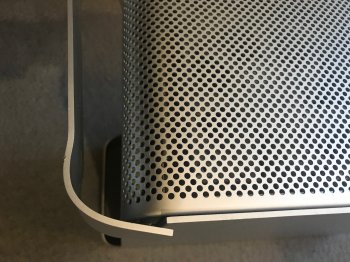 Damn!! Bloody criminals.
The couriers are likely to only pay what I paid for it - which is half what it's worth. Of course I was going to upgrade it (to two X5680s, and install a Metal GPU, NVMe PCIe, USB 3.0 or 3.1 PCIe, BCM94360CD 802.11ac/BT4.0 mini PCIe etc), and then sell it all for tidy profit, so I don't just want my money back - it's still a damned good machine with plenty of potential.
The cMP works perfectly - I've upgraded it from the original 81.x firmware up to 144.0.0.0.0. It's otherwise in PERFECT condition. So it's such a disappointment to have a broken foot spoiling the looks of it.
Couple of questions:
Q1: What is the best way to straighten/panel-beat the feet so the cMP doesn't sit on a lean? Any techniques or advice? Rubber hammer? Pry bar? (I'd remove the CPU tray first of course)
Q2: Are there any long term issues swapping the CPU tray from this cMP into my kids hexa-core cMP (both upgraded 4,1 models to 5,1 and FW 144.0.0.0.0)? I've swapped the trays between my hexa-core and 12-core a number of times, just to sort out issues - but never for more than a couple of restarts.