macrumors 68000
Original poster
** SPRING 2015 Update **
=================================
The PCIe flash marketplace for the cMP continues to expand with the addition of multiple SSD's compatible with the cMP.
April 2015 Pricing
$300 - Lycom DT-120 M.2 Adapter with Samsung 256GB SM951. (1500MB/s) - fast at a lower cost.
$500 - Sintech Apple PCIe Adapter with SSUBX 512GB - excellent performance without inflated prices (1500MB/s)
$600 - Dual Lycom DT-120 M.2 Adapters with Samsung 256GB XP941s. (2300MB/s/s)
$700 - Sintech Apple PCIe Adapter with SSUAX 1TB - Excellent storage value for the price. (1000MB/s)
$900 - Sintech Apple PCIe Adapter with SSUBX 1TB - Massive fast storage at a price (1500MB/s)
$1000 - Dual Lycom DT-120 M.2 Adapters with Samsung XP941s. (2300MB/s/s)
$1400 - Dual Sintech Apple PCIe Adapters with SSUAX 1TB (2300MB/s)
Apple PCIe SSD Options:
A Sintech Apple PCIe SSD Adapter combined with the right Apple/Samung PCIe SSD provides a TRIM compatible solution and is competitive to most M.2/NGFF solutions in price and performance.
Revisions of Apple/Samsung SSD's are clearly visible on the label:

Sintech Apple 2013/2014 PCIe SSD adapter - available for $20ish on eBay.
SSUUBX revision SSD's - This is the Apple equivalent of the Samsung SM951 PCIe SSD and is available in 512GB for $430ish and 1GB of $850ish on Ebay. All test revisions of the SSUBX are x4 PCIe devices that run at full speed in PCIe slot 3 & 4, maxing out data transfer of the cMP's PCIe 2.0 bus with max R/W speeds of 1500MB/S.
SSUUAX revision SSD's - Introduced in 2013, these SSD's are available in 128GB for $125ish, 256 for $225ish and 512GB for $350ish as x2 SSD's maxing out read/write speeds around 750MB/s. All 1TB SSDs are x4 parts and achieve 1000MB/s speeds for $650ish on eBay.
Detailed posts regarding Apple/Samsung PCIe SSD's/
SSUBX Boot Configuration testing -
Post #917
SSUBX issues with PCIe Slot#2 and 2.5 GT/s speed in the cMP -
Post #756
SSUBX slower on thunderbolt than in the cMP -
Post #707
SSUBX and SSUAX visual differences -
Post #332
1st end-user reports of Samsung SM951 based solution. 5 months before consumer availability!! -
Post #308
Pictures illustrating when the Sintech Heat Spreader should not be used -
Post #721
​
NGFF/M.2 M-Key PCIe SSD Options:
Available as the interface for the 1st bootable options for PCIe flash in late 2013, the PC industry adopted interface for the PCIe SSD's. An interesting note, all PC's built BEFORE early 2014 lack boot support for these SSD's. This thread details the 1st reported OS boot support for PCIe SSD's in a desktop platform. TRIM support is missing from these devices, but can be easily rectified with TrimEnabler by Cindori.
Lycom DT-120 PCIe adapter - Compatible with the cMP and available for $25ish
Samsung SM951 - a 3D nand SSD delivering 1500MB/s R/W performance to the cMP available in 256GB($260ish), 512GB($450ish)
Samsung XP941 - a 3D nand SSD delivering 1100MB/s R/W performance to the cMP available in 256GB($260ish), 512GB($450ish)
Multiple PCIe SSD's comparable to the XP941 and SM951 were announced in late Q1 2015 with constrained market availability in Q2 2015. More info as it becomes available.
** MID November 2014 Update **
=================================
Going into Mid-November and onto the holidays, Apple/Samsung SSD's continue to offer the best value for cMP upgrades to PCIe flash. Prices for the 1TB SSD hover between 500-600ish, and offer comparable performance to the $520 M.2/NGFF 512GB Samsung XP941.
Apple PCIe adapter $10 on ebay
The Snitech Apple PCIe SSD adapter is
currently available on eBay
for $10. While there is a newer revision with an unnecessary heat-synch, save your money and buy revision one.
Apple SSD Deals continue
Apple 512GB SSD's pulled from rMBP's have been seen on Ebay for $250(I bought one) and 256GB for $125 and offer great x2 performance at stellar prices. (this was last weekend). If you are in the market for an Apple/Samsung SSD, save some money be setting up a product watch on Ebay and buy when the deals show up.
The Fastest SSD - Ever
There have been two lucky ones purchasing 1TB Apple/Samsung SSD's on Ebay that have won the SSD Lottery! A new generation of NVMe based SSD's with 1.4 GB/s performance has started to show up prior to retail availability in any Apple product. Pushing the Classic Mac Pro as a "Benchmark" for the nMP to attain. (well once they have the SSD's.. lol) for now, we have the fastest consumer oriented SSD's available in the market... Sweet!!
What should I buy?
These day's it's hard to take a pass on Apple/Samsung SSD's for the cMP. With Adapters at $10, and great prices on gently used products for the low end, it offers a Trim ready plug and play solution to bring faster than SATA3 performance for the cMP for 128, 256 and 512GB variants. It's hard to recommend a XP941 512Gb. For <$100 more, you can jump to 1TB. The XP941 does hold the performance crown over Apple's 128/256 and 512GB SSD's, bit a hefty price increase.
September 2014 UPDATE
=================================
Now available direct from Sintech: the bootable
Apple PCIe Blade SSD adapter
for 2006-2012 Mac Pro with Trim support.
Compatible with late 2013 MacBook Pro, early 2014 MacBook air and 2013 Mac Pro blade style SSD from Apple. While Apple uses many manufacturers including Sandisk and Toshiba, Samsung variants offer the highest performance across the board. With a good supply available on eBay, Apple branded SSD's are readily available from a variety of resellers in auctions or available as buy it now. I am impressed by the quality of this adapter, compared to the products I have seen from Lycom and Bplus. Their implementation of the SSD socket locks the SSD in with a mechanical click. Ensuring proper installation.
Currently, the 1TB Samsung/Apple SSD is the best option for the Mac Pro. At an auction price of around 550 with shipping from Korea, or $750 buy it now, the 1tb part matches the 1000MB/S+ performance of nMP SSD's AND the Samsung XP941. Most 128, 256 and 512gb parts sold on EBay are limited to PCIe x2 speeds and top out under 800MB/sec.
For reference:
512gb x2 Apple ssd & Adapter costs: $450 (good deal).
1024gb x4 Apple ssd & adapter costs $600 (good deal)
The 512 gb variant is $150 cheaper than the faster xp941, and $150 more than the 256 xp941. While the 1TB configuration matches the price of a xp941 512gb setup.
The cheapest solution today is the 256gb xp941, currently selling for $250ish at newegg, delivering a complete solution for under $300.
FWIW... They also have a new NGFF adapter supporting 4x PCIE and the SATA 6g variants for those who prefer the overpriced or underpowered versions:
Bootable PCIE flash and the MacPro - 12/18/13
With the nMacPro hours from introduction, a small batch of the Samsung XP941 128GB SSD's showed up on EBAY and I jumped on the opportunity to be a first adopter of a bootable 4x SATA Express platform for the 2009 Mac Pro. This is the first of many NGFF Technologies I'll be pushing through the paces on the Mac Pro.
While there has been minimal coverage of the NGFF platform, Les Toker over at
The SSD Review
has had his pulse on the technology, most recently
testing a Mac Pro bootable NGFF solution called Raijin from IOSwitch
featuring a Plextor NGFF SSD solution. While extensive tests were completed on the Windows 8 x86 kernel, NGFF performance on the x58 based Mac Pro running OSX 10.9 has been an unknown. Until today.
I've assembled a test platform that I'll be sharing the results from the perspective from an App developer using a mix of Apple's tools.
Base Mac Pro Test Platform:
2009 Mac Pro, Intel x58 based platform
Intel 990x CPU, 6-core, 3.46Ghz
32GB 1066 RAM.
nvidia 680GTX 2GB(slot 1)
Lycom 4x NGFF PCI 3.0 adapter (slot 2)
Apricorn Velocity X2 - slot 3 & 4
SSD Test Setup
Samsung XP941 128GB / Lycom 4x NGFF PCI 3.0 adapter
Samsung 840 Pro 256GB / Software Raid - x58 SATA II
Samsung 840 Pro 256GB / Software Raid - Velocity X2 (single)
Samsung 840 Pro 256GB / Software Raid - Velocity X2 (dual)
Samsung 840 Pro EVO 256GB / Velocity X2 (Single)
LyCom 4X + XP941 Adapter info
Initial Results
The SSD appears as a Boot device, OS X installed without a problem.
There is no delay at boot. The spinner progresses for 2/3 of a turn before desktop
Black Magic Speed test reports approx 480 MB/S write and 880 MB/S READ
In XBench, the xp941 excels at small file performance.
Slow write speeds probably due to number of NAND cells. with higher performance in 256GB and greater.
XBench is one of the few apps that provides 4K analysis. The XP941 128GB offers some wins as a single drive, but quickly falls behind the Samsung 840 Pro Raid 0 with dual controllers.
Cost wise, the XP941 has the highest cost per GB @ $2.73 per GB.: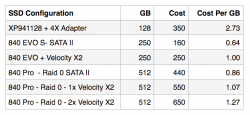 more detailed numbers and screenshots in progress.
Last edited: