macrumors 6502a
Original poster
I just got my new Macbook Pro in December, and I knew that I would need a case to protect my investment. I found that the Speck hardshell case was a great choice. I've read a ton of stories of people who had it and it saved their Macbook when they dropped it. I even read a story on Apple's site where someone got in a car accident and the Macbook was spotless because of the case.
So I got my case a few days after I got my Macbook. I took a damp wash cloth to clean my Macbook (avoiding ports and other exposed areas, of course) and dried it off, then did the same to the case, so that no dirt would get trapped inside of it. I put it on and was very impressed! It barely weighed it down and I was glad I could still see the gorgeous brushed aluminum unibody because I chose the clear case.
And then a few days ago I decided I'd use it without the case because I was at home and wanted to see what it felt like again. I thought I'd check to see how nice and spotless it looked after months of use because of the case. To my horror, that wasn't the case at all.
The first thing I noticed was a slight mark on the front side.
Not a big deal. Annoying but it's not anything that major.
Then I took a look at the lid.
I found 3 'pinhole' (?) marks near the bottom of it.
How in the hell did that even happen?
But then the thing that really pissed me off, a DENT.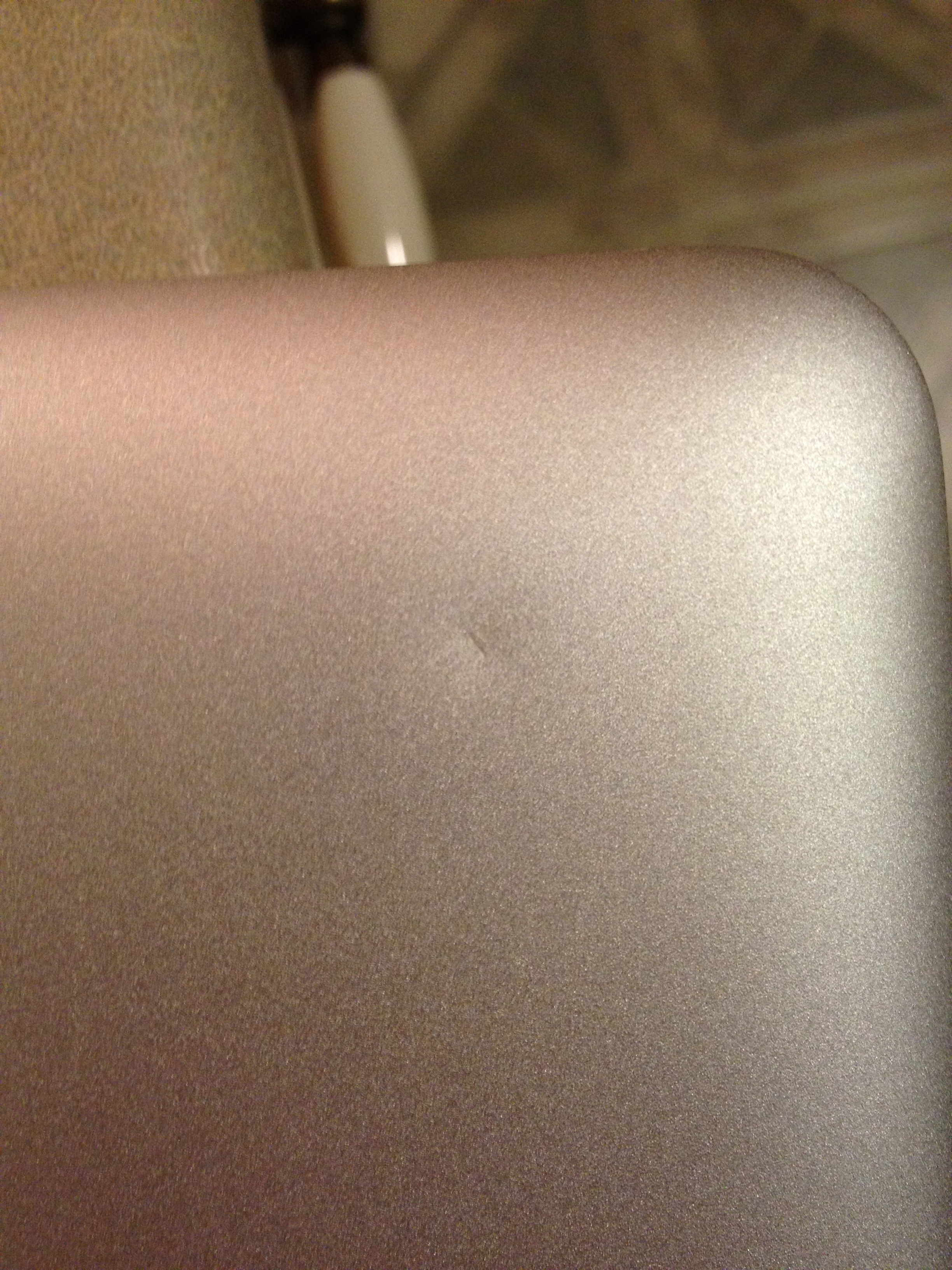 Why? How?
Not once did I ever drop my Macbook, maybe a light toss of it on my bed but it would've hit the bottom anyway (which by the way, has no marks at all). So why would these marks happen? I can understand dirt getting caught in it but when I took it off there was nothing that would cause the 3 holes or the dent, and I shouldn't have to clean dirt out of it every 2 weeks to keep marks from happening.
I bought this solely to protect my Macbook, but it would be in better condition if I never put the case on anyway!
Is there anything that I can do about this? I seriously doubt that Speck would do anything to help, but I don't see how it's my fault when the product I paid $50 for didn't do as it was advertised.
Anyone else who owns one of these, be careful.