macrumors 6502
Original poster
Considering my 128GB Jet Balck 7+ did not ship until early December last year due to fubar Sprint store preorder, thinking of using the Apple Store app this time.
However, with a 250+ page preorder thread from the 7's launch, many here reported servers not being online for t-minus 3 hours after presell went live, that may not be a good option either, as Apple's servers would need to query Sprint to confirm upgrade/additional line (3rd option) eligibility....
As I'm a glutton for punishment, I did have a long chat Sunday, getting transferred around the entire office, trying to gleen some hope or useful information about the pending preorder and if they acknowledge the issues from last year and/or had any plans to do anything different.
A
Small glimmer of light from one rep said that this year they will have live chat/order specialists that can step in and assist should issues arise: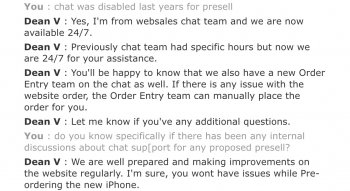 Take that, as any conversation with lower level CSR's with a grain of salt, also knowing that if they come online 3 hours late again, it's small consolation.
With the reports that the new OLED device I'm after (X/Edition) being delayed, looks like I'll have an extended wait for my new device again.
The Apple event is live in an hour, so we'll know more soon.
Looking forward to hearing from you all what your plan is, hearing all the great experiences and commiserating when things go south...