macrumors member
Original poster
Hey guys,
Looks like everyone has been hard at work with the old Mac Pro's.. I can't believe some of the things I am seeing in here..! I love that I am not the only one who knows that these computers can still have a little life left in them. Thunderbolt support seems like it's possible/being worked on, NVMe boot has been done..!
Anyhow, I have a 3,1.. I had 14GB of 800mhz in it, but I thought I'd try and see how it runs with 32gb of 667. Crammed it in, booted, fine, great, built a ram drive and tested..
I am only getting like 1200-1400MB write and like 700MB read..from a RAM DRIVE!#$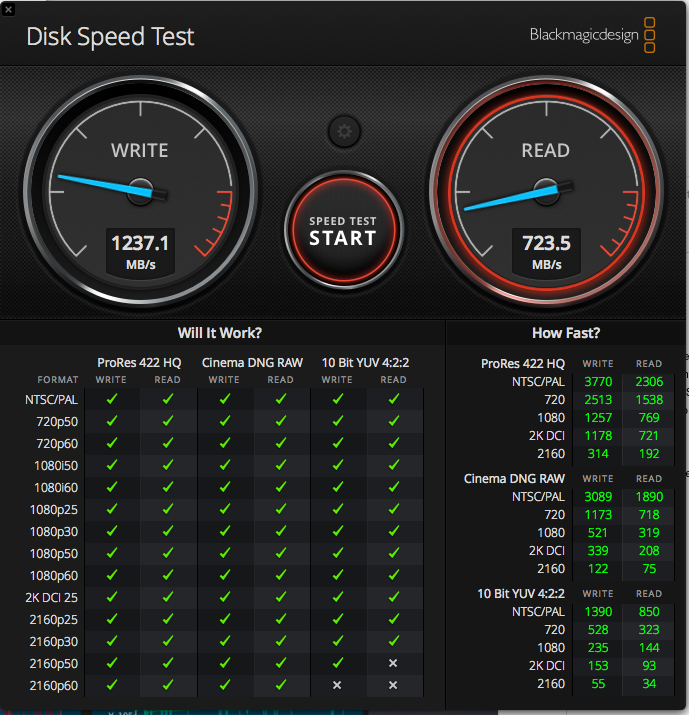 So, I am seriously considering adding some NVMe drives to my system. I can get a 970 Evo for like $160 for 500gb or $100 for 250gb, not too bad. I would eventually want 4 of these, possibly in some sort of RAID, on one of the carrier cards (amfeltec or highpoint) but the price of these cards is a bit much for me right now. I was hoping to use the SSD with just a basic M2->PCIe adapter for now.
I do love how those cards can do x4 3.0 -> x16 2.0 kind of thing.. These new PLX chips are cool, LTT was using some boards with PLX chips for graphics expansion trying to get like 7-8 high end GFX cards to pass thru to VMs in one system.
But anyway, I am worried that I won't see the performance that is possible. I am sure anything will be an upgrade from my 4x250gb raid0 which is barely pulling 200MB/s sequential anymore. My haxServe was running 4x300gb 15k SAS with 600MB/s sequential which wasn't bad..but it's time for SSDs in the workstations now..The laptops all have them.
If I can't get even 1500/1500 off a RAM drive, than solid state is a worry!
Anyone have any ideas what could possibly be causing this? Is my RAM and subsystem really just that slow? I mean, I am sure I have seen better benchmark results off people with SSDs and a 3,1 than I am posting here for a RAM drive..if it can't be moved in and out of ram faster than an SSD can handle, wouldn't the ram be the bottleneck?
I can throw my 800mhz back in and bench if needed but I am not sure that would make a huge diff. Running latest Yosemite if that makes any diff. This system was on Mavericks for a longtime and I only just went to Yosemite, always scared of breaking such an old system with an upgrade..! That, and, with Apple it's not always an UPGRADE..!