macrumors demi-god
Original poster
May 5, 2008
17,089
16,610
Somewhere at MacRumors I have already mentioned City Farming , but can't find it so... a new thread.
Did you know that the modern farm is or should be considered a heavy industrial zone, commonly responsible for polluting our waterways?
Not to imply that large rural farms will cease to exist, but City Farming, warehouse and high rise urban farms will have a huge impact on the human food chain especially in the light of the adverse effects of climate change. And after reading about this multiple times, it is an absolute no brainer to use 4% of the water used in tradional agriculture, a fraction of the space and fertilizer, 12 months of the year, with less if any pesticides, not to mention fresh, locally grown with less transportation costs. The second article argues that there will simply not be enough land available to feed the future numbers of people using tradional farming methods. This is the future.
Opinion: Why Cities Are the Future for Farming
https://www.nationalgeographic.com/environment/urban-expeditions/austin/caleb-harper-innovation-in-urban-agriculture-important-because-of-climate-change/
(published 2016)
The landscape of our food future appears bleak, if not apocalyptic.
Humanity's impact on the environment has become undeniable and will continue to manifest itself in ways already familiar to us, except on a grander scale. In a warmer world, heavier floods, more intense droughts, and unpredictable, violent, and increasingly frequent storms could become
a new normal
.
Little wonder that the theme for this year's
World Food Day
, which happens on Sunday, is "Climate is changing. Food and agriculture must too." The need for an agricultural sea change was also tackled at the recent
South by South Lawn
, President Obama's festival of art, ideas, and action (inspired by the innovative drive of Austin's SXSW), where I was honored to present.
As our global agricultural system buckles under its own weight, we're losing our farmers and we're not creating more.
In the U.S. alone, only 2 percent of the population is involved in farming
, with 60 percent of our farmers above the age of 58. We're also experiencing a dramatic move away from rural areas, our traditional growing centers. The
UN estimates that by 2050, 6.5 billion people will be living in cities
, nearly double what it is today. (Read more at link)
Farms Grow Up: Why Vertical Farming May Be Our Future
https://www.globalcitizen.org/en/content/farms-grow-up-why-vertical-farming-may-be-our-futu/
The world's largest vertical farm is now located in Newark, NJ, in the United States. Startup
Aerofarms
converted a steel factory into a 69,000-square foot agriculture center that
opened earlier this year
.
The urban farm produces as much as
2-million pounds of leafy greens
a year through a new growing system called "aeroponics," which does not use direct sunlight or soil to deliver nutrients. It nourishes the plants with special LED lighting and delivers nutrients to plant roots through a liquid mist.
Hidden Costs of Industrial Agriculture
http://www.ucsusa.org/food_and_agriculture/our-failing-food-system/industrial-agriculture/hidden-costs-of-industrial.html#.Weyoj7pOmhA
Industrial agriculture is currently the dominant food production system in the United States. It's characterized by large-scale monoculture, heavy use of chemical fertilizers and pesticides, and meat production in CAFOs (confined animal feeding operations)*. The industrial approach to farming is also defined by its heavy emphasis on a few crops that overwhelmingly end up as animal feed, biofuels, and processed junk food ingredients.

*
Where heavy use of antibiotics are required to keep these animals alive, antibiotics that consequently end up in meat for human consumption. (My comment.)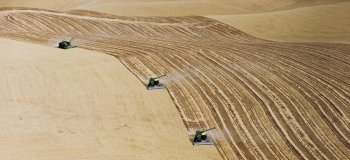 ​
Last edited: