macrumors 65816
Original poster
In this tutorial, I will attempt to show you how to enable airplay on any app which has been disabled.
-------------------------------------------------------------------​
Pre-requisites:
(1) Your iOS device
must
be jailbroken.
All iOS Devices 7.0 - 7.0.4 can be jailbroken with Evasi0n.
More information on Evasi0n can be found
here
(2) You
must
have FLEX 2.0 installed.
FLEX is authored by John Coates and can be found on the BigBoss Repo.
FLEX is compatible with iOS 5, 6 & 7.
FLEX is $3.99 from the Cydia Store.
(3) You
must
have patience!
-------------------------------------------------------------------​
Step 1:
Opening FLEX 2.0 & Patches in the Cloud
After installing Flex from Cydia, you'll notice the new FLEX icon on your homescreen. Flex has no settings to be found in the stock settings app; all of the patches/tweaks are adjusted inside the app itself. When you first open FLEX, you'll see a menu bar below with three options: Patches, Cloud & Info. Here is the break down:
Patches shows you the current patches available to be either enabled or disabled. Each patch is specific to only one app but may contain more than one tweak for that app. For example, in the patch shown below you can see there is a patch for and for the app.
Cloud shows you what patches have been uploaded and shared by other FLEX users. You should see four different categories (tabs) above: Installed, Recent, Popular & Top Rated.
The Installed tab shows you a list of apps that are currently installed on your iOS device. This is a great way to discover different tweaks for a specific app you may have had in mind.
The Recent tab shows you patches that were uploaded recently. This is great for users who want to test out the latest patches being shared by other users.
The Popular tab shows you patches that have been downloaded many times. This is a great place to find cool patches for your apps.
In the Top Rated tab, you'll find patches that have been highly recommend by other users. This is a great place to find patches that are consistent and stable.
When you tap on one of these apps, it will give you a list of tweaks that have been created and shared by other users specifically for that app. Go ahead and choose the app that has airplay disabled by default and see if there are any patches available to enable airplay. Once you find the patch you'd like to install, tap the patch name and you'll see more information that the uploader may have provided. It's a good idea to read the information on this screen if its available to get a better understanding of what the patch does and if it's reliable based on it's rating.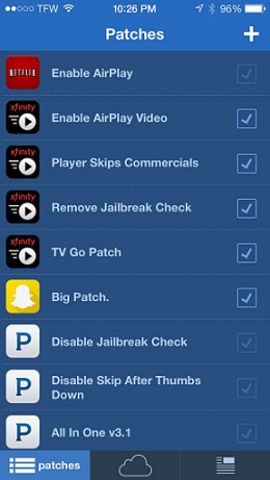 ​
One of the great features of FLEX is the capability to share the patches you've made with other users. Under the installed tab, you will find all the apps you have installed on your phone. Here you can select the app you are looking for to enable airplay. After selecting the app you can see the available patches uploaded by other users. The other three tabs should be self explanatory but here you go anyways: [Recent] are recently shared patches, [Popular] are patches that have recently been downloaded frequently by other users, and [Top Rated] are patches that have been given a high rating by other users.
-------------------------------------------------------------------​
Step 2:
Creating Your Own AirPlay Patches!
In this step I will cover the Xfinity TV Go Patch I created for myself. Hopefully, it will help you in creating a patch for XYZ app that has airplay disabled.
First, tap on patches on the menu bar below to open the patches tab. Now, in order to begin creating a new patch, tap on the plus sign in the top right of the screen.
​
Last edited: