Hi everyone.
I'm a Mac software developer working on VectorStyler (
https://www.vectorstyler.com
), a new vector graphics software for Mac.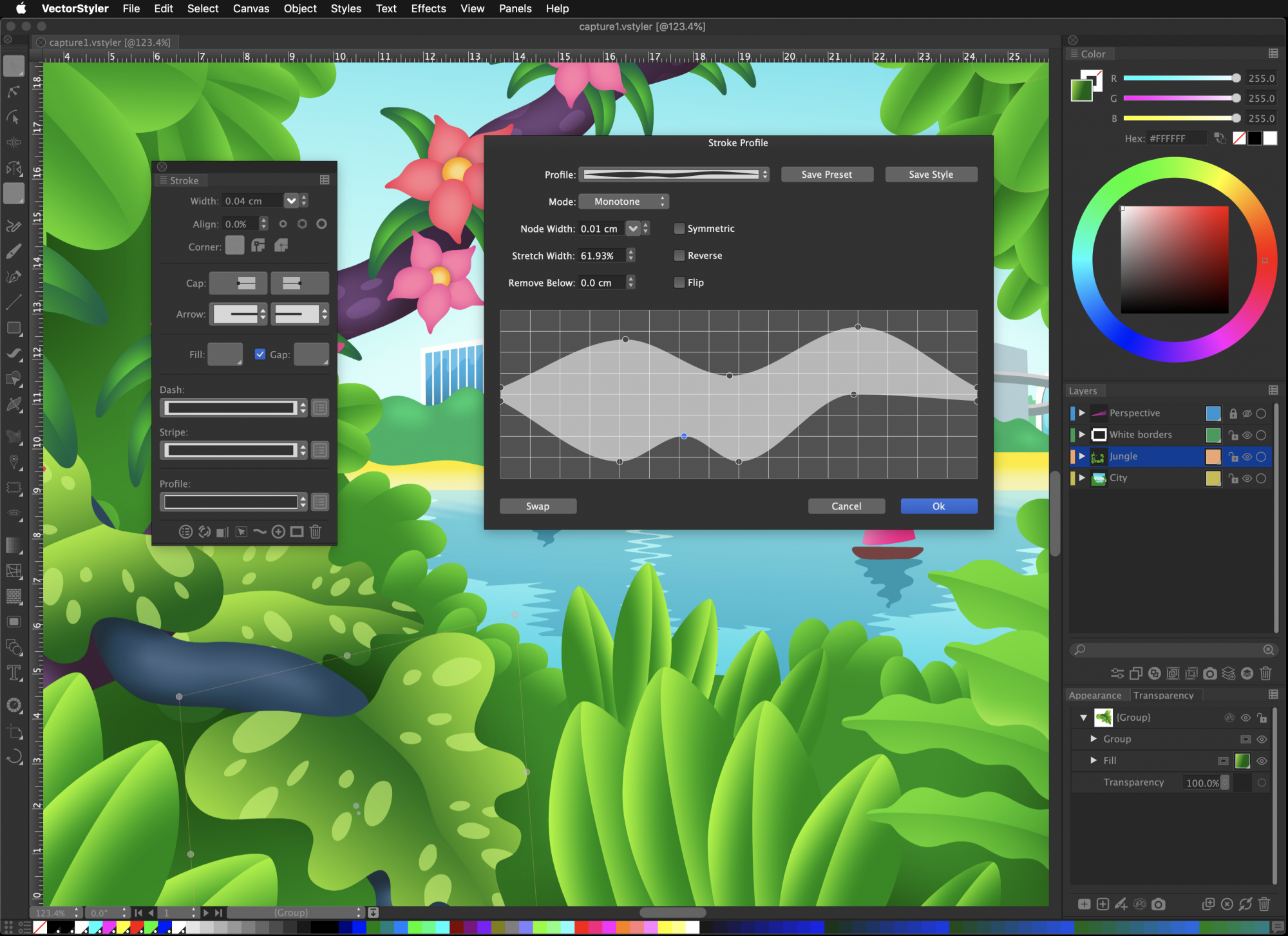 VectortSyler is a drawing and illustration software designed for the Mac, with the goal to offer a complete vector graphics solution for illustrators and design professionals.
The detailed list of features can be found at:
https://www.vectorstyler.com/detailed/
Some highlighted features of VectorStyler:
- color effects to adjust color of selected objects.
- object blend and contour effects.
- over 100 nondestructive image effects applied on vector objects, vectors remain editable.
- adjustment layers and adjustment objects: apply image effects on object backdrop.
- selecting objects by attribute (fill or stroke style similarity)
- symbols and style overrides.
- variable width strokes and interactive tool to adjust local stroke widths.
- multiple fill and stroke on objects.
- artwork masking and clipping options.
- bend distortion: stretch a group of objects along a curve, while using variable width for stretching.
- elastic warp distortion.
- mesh and envelope distortion.
- mesh gradient and interactive editing of meshes.
- shape distortion (vector) effects.
- real vector brushes: the content of the brush are and remain vector objects.
- brush types: artistic, pattern, scatter and bristle brush types.
- pencil and brush stabilizer modes.
- rotated guidelines, grids and rotating the document view.
- collision snapping for precise object positioning.
- vector tiling pattern fill.
- gradients with custom shapes.
- multiline paragraph composer.
- text on path and interactive editing of position of text along the path.
- flow text in multiple frames and artboards.
- import native AI files, retain swatches, brushes, tiling patterns.
- also import PSD with layers and adjustment effects.
- and many more...
The public beta is now available and can be downloaded from:
https://www.vectorstyler.com
If you use a Mac (post 2014 models recommended, MacOS 10.11 or newer), and would like to try a new vector graphics software, please download the public beta and let me know how it works for you.
Any feedback is appreciated.
And thanks for considering,
Csaba Raduly-Baka
developer of VectorStyler at NumericPath
Last edited: