macrumors bot
Original poster
Apr 12, 2001
49,579
10,893
https://www.macrumors.com/images/macrumorsthreadlogodarkd.png
Changewave has [url='http://www.changewaveresearch.com/articles/2011/att_verizon_iphone4_20110405.html"]released[/url] information on survey's they've performed since the release of the
Verizon
iPhone 4. The Verizon iPhone 4 was finally launched in
February
after nearly 4 years of AT&T exclusivity in the U.S. AT&T was frequently criticized for poor reception and call service. Changewave's survey found that new Verizon iPhone users are indeed experiencing fewer dropped calls than their AT&T counterparts: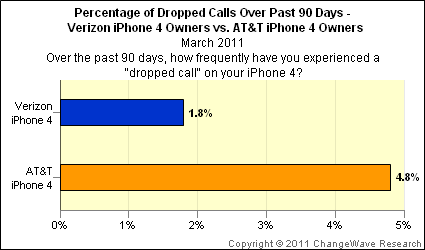 The percentage of dropped calls for Verizon and AT&T correspond to non-iPhone users on the same networks. Changewave notes Verizon is still in the early stages of its iPhone 4 offerings and that additional network pressures could affect their systems. In particular, it seems that future iPhone buyers seem to be planning on buying from Verizon over AT&T:
Verizon revealed that the iPhone 4 launch has been
their fastest selling launch
in history, though neither Apple nor Verizon has released any breakdown in their sales numbers.
Article Link:
Verizon iPhones with Fewer Dropped Calls