This is a thread dedicated to what is needed to make Catalina work with the now unsupported mid-2010 and mid-2012 Mac Pros with a METAL supported GPU. If you want to discuss about why Apple removed support, please go to this thread
10.15 won't support MP5,1 anymore, support starts with MP6,1
.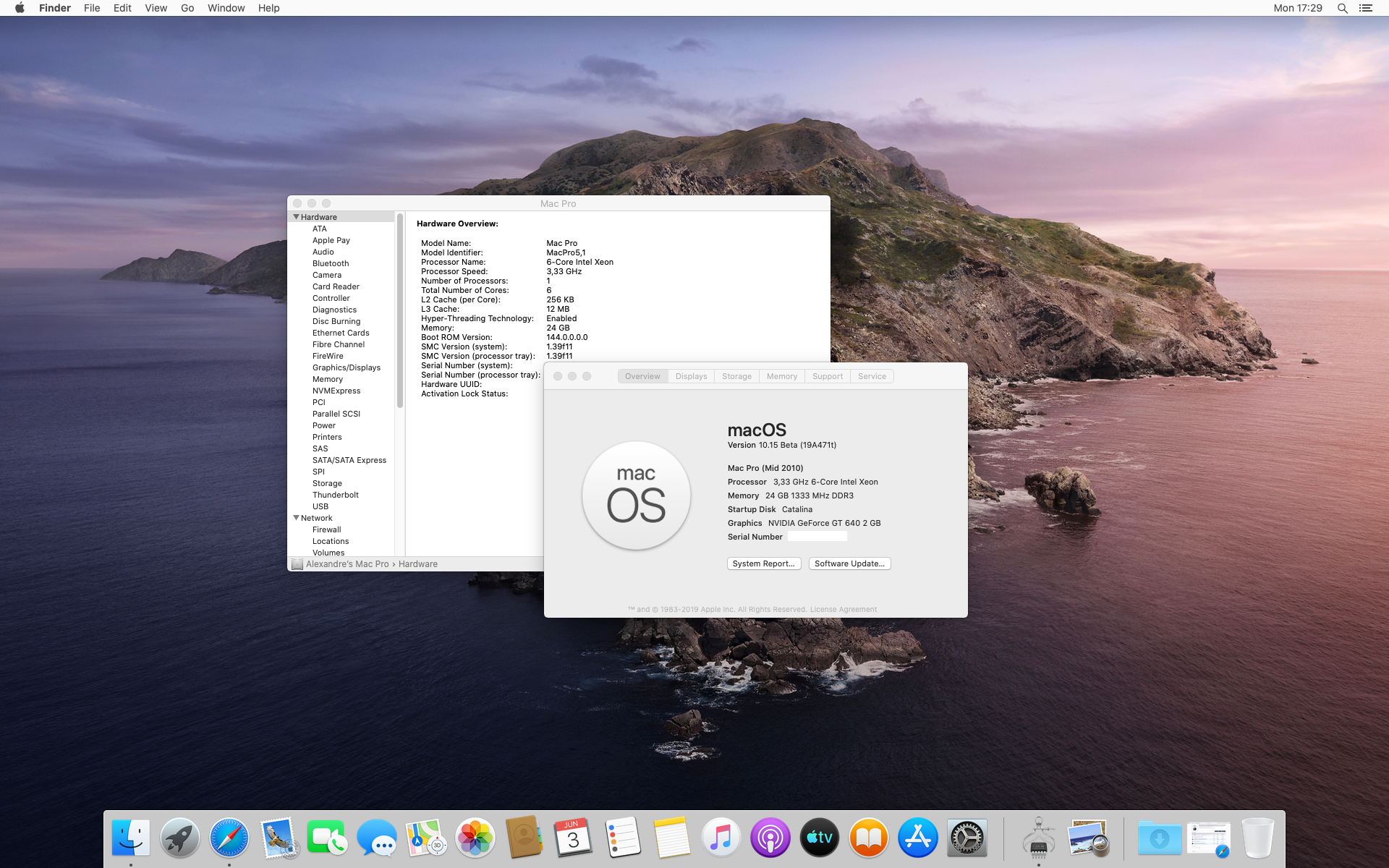 If you install Catalina with a supported Mac then move the drive to your MP5,1 (with a METAL supported GPU) or use Target Disk Mode, or
use VMWare Fusion to install to a disk
you just need -no_compat_check added to the Mac Pro NVRAM boot-args, after that 10.15 "works" with a MP5,1.
It's a little slower than Mojave, not unusual for a beta with all the debug settings activated, and have some problems, but you really just need -no_compat_check when you install the Catalina Developer Preview with a supported Mac.
You need SIP disabled to change boot-args and you need to do it before installing your Catalina drive. No need to keep SIP disabled, it's just needed to set the boot-args. Btw, you can set NVRAM boot-args directly from the Recovery partition without disabling SIP. If you do it from Recovery, no need to use sudo. Open Terminal and type:
Code:
sudo nvram boot-args="-no_compat_check"
FAQ:
Does Catalina support MP5,1? No, Apple removed MP5,1 from Catalina supported list of Macs and is actively blocked. See below how Apple blocked, it's in the distribution file (InstallESD.DMG/OSInstall.mpkg/Distribution). It's a double block, since you need to add the boardID to the list of supported ones. Same block that Apple uses for installs is used for updates too, so you can't update Catalina with a MP5,1 - this could be overcome in the future with a patch emulating VMM.

Where I can get the AirPortBrcm4331.kext? Mojave kext still works with Catalina and you can find it on /System/Library/Extensions/IO80211Family.kext/Contents/PlugIns/AirPortBrcm4331.kext.
Does Bluetooth still work? Yes MP5,1 original Bluetooth 2.1 module still works. Bluetooth 4 is required for AirDrop/CAT/etc, tho.
Where is the thread about AirPort/Bluetooth upgrades? 802.11ac, BT 4.0 and Continuity & Handoff are working on Mac Pro 2010 (Keep Updating)
Does Sidecar work with Mac Pro? Only if you already have a MP7,1. Sidecar is blocked on MP5,1 and MP6,1 read post #59.
Does macOS updates work? There are two types of updates, macOS point releases and Security updates have the same blocks as full installs while Apple app updates like Safari or iTunes (it's a example, iTunes is dead with Catalina), usually don't have the same checks as macOS updates. It's exactly the same var nonSupportedMacs test showed in the screenshot above. For the blocked updates, you can use a VM with raw disk support to update Catalina or use a Catalina supported Mac to do the updates. A new way to spoof the VMM flag, to make Catalina think that is running in a VM, is being developed by OpenCore, but no release dates.
- Problems found so far:
MP5,1 AirPort Extreme: Apple removed the driver for BCM94322MC, AirPortBrcm4331.kext, from Catalina, the original AirPort Extreme card from both mid-2010/mid-2012 Mac Pro. If you updated your AirPort Extreme to BCM94360CD or BCM943602CD, both models work with Catalina. The original Bluetooth module works, both Ethernet works. (Mojave AirPortBrcm4331.kext still works with Catalina DP1).
Apple native support for NVIDIA Kepler GPUs: People are reporting that DisplayPort output don't work anymore and Apple NVIDIA native drivers are buggier than the usual, with black bars on the Safari tab bar all the time - screen capture don't show it, I had to take a photo. Safari sometimes corrupt renders when you use a NVIDIA GPU. Lots of black blocks on Finder file lists too. I'm using a flashed eVGA GT 640 2GB with this Mac Pro:

- Developer Previews & Public Betas:
| Date: | Developer Preview / Public Beta: | Build: | Notes: |
| --- | --- | --- | --- |
| 20191003 | 10.15 DP11/GM | 19A582a | |
| 20190923 | 10.15 DP10 | 19A578c | |
| 20190923 | 10.15 DP9 | 19A573a | Still works with MP5,1, still the same restrictions like no AirPortBrcm4331.kext, SideCar actively blocked and etc. |
| 20190910 | 10.15 DP8 | 19A558d | Still works with MP5,1, still the same restrictions like no AirPortBrcm4331.kext, SideCar actively blocked and etc. |
| 20190828 | 10.15 DP7 | 19A546d | Still works with MP5,1, still the same restrictions like no AirPortBrcm4331.kext, SideCar actively blocked and etc. |
| 20190819 | 10.15 DP6 | 19A536g | Still works with MP5,1, still the same restrictions like no AirPortBrcm4331.kext, SideCar actively blocked and etc. |
| 20190731 | 10.15 DP5 | 19A526h | Still works with MP5,1, still the same restrictions like no AirPortBrcm4331.kext, SideCar actively blocked and etc. |
| 20190716 | 10.15 DP4 | 19A512f | Still works with MP5,1, still no AirPortBrcm4331.kext. |
| 20190702 | 10.15 DP3 | 19A501i | Still works with MP5,1, still no AirPortBrcm4331.kext. |
| 20190624 | 10.15 PB1 | 19A487m | Same as DP2 |
| 20190617 | 10.15 DP2 | 19A487l 19A487m | Still works with MP5,1, still no AirPortBrcm4331.kext. Better/less buggier native NVIDIA Kepler support. In place update won't work. Same Sidecar block as DP1 |
| 20190603 | 10.15 DP1 | 19A471t | Works with MP5,1, no AirPort Extreme kext. Very buggy NVIDIA Kepler native support. Sidecar is blocked on a MP5,1 |
Last edited: