Hello,
I bought a couple of RX 580's pretty cheap and will probably sell one off them.
I switched from a Gigabyte GTX 970 G1 so I got everything working with cables...
In terms of power (1 x 8-pin) I thought it would be okay to plug both the cards in and see if I could run both.
My bet is that I will get a shutdown with prober benchmark software. I just ran a Unigine Heaven test in osx and got the same score as with one card.
Is it because of Heaven, osx instead of windows or maybe drivers that number two card doesn't pitch in?
Any ideas?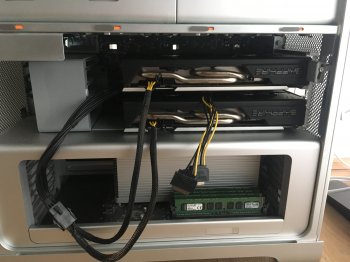 Last edited: