macrumors bot
Original poster
Apr 12, 2001
62,073
28,007

Apple last week launched watchOS 10, the latest major software update for compatible Apple Watch models, as well as the new Apple Watch Series 9 and second-generation Apple Watch Ultra, both of which come with watchOS 10 pre-installed. Headline watchOS 10 features include a new Smart Stack interface with widgets, new watch faces, and more.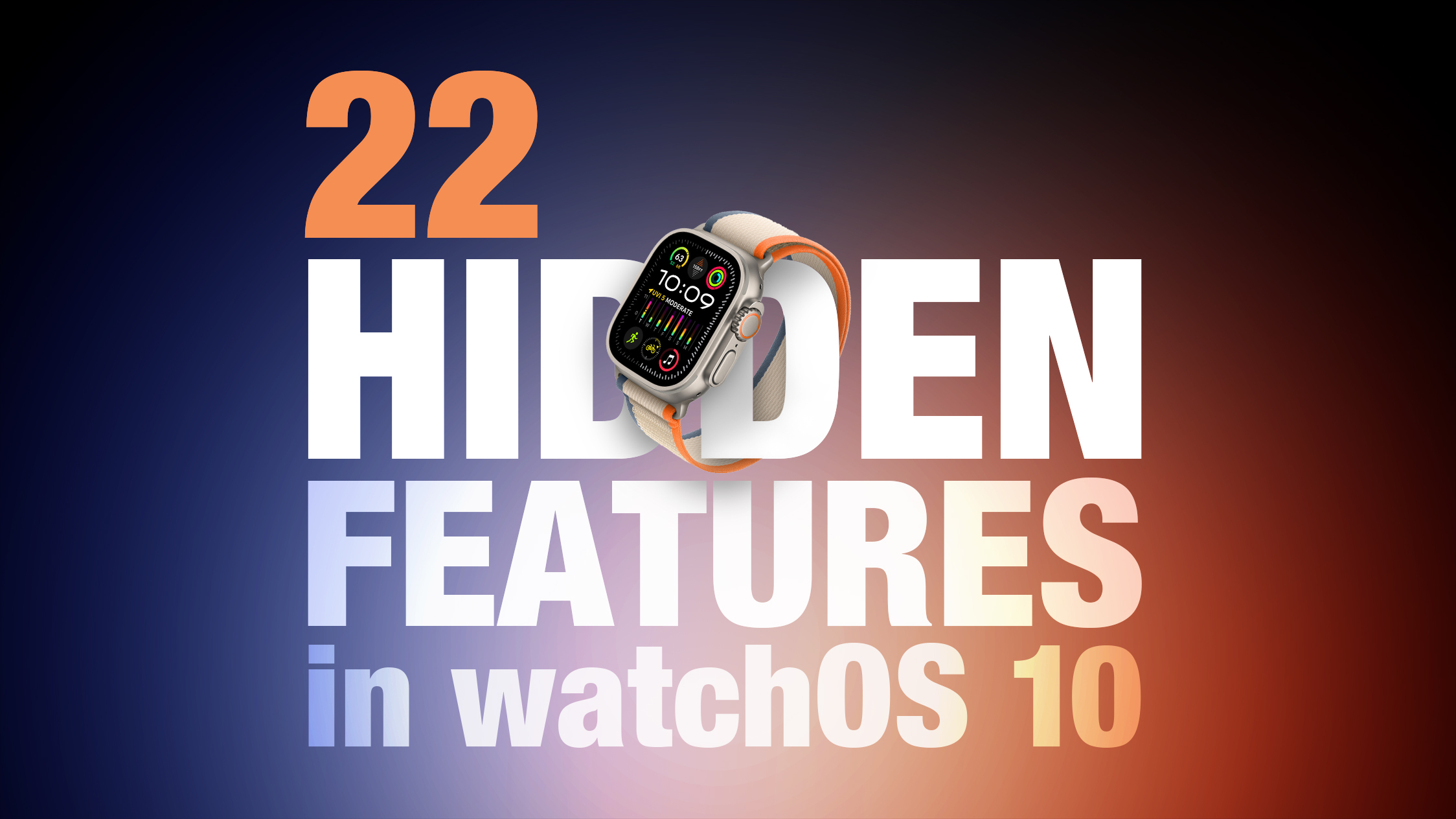 In this article, we've listed 22 other features and enhancements in Apple's new smartwatch software, many of which may have gone under your radar. Bear in mind that ‌watchOS 10 requires Apple Watch Series 4 or later and an iPhone XS or later running iOS 17.
1. Automate Night Mode
On Apple Watch Ultra models, watchOS 10 brings a new Modular Ultra watch face that, like the Wayfinder face, supports Night Mode. Night Mode puts a red filter on the display, and previously could only be manually activated by turning the Digital Crown.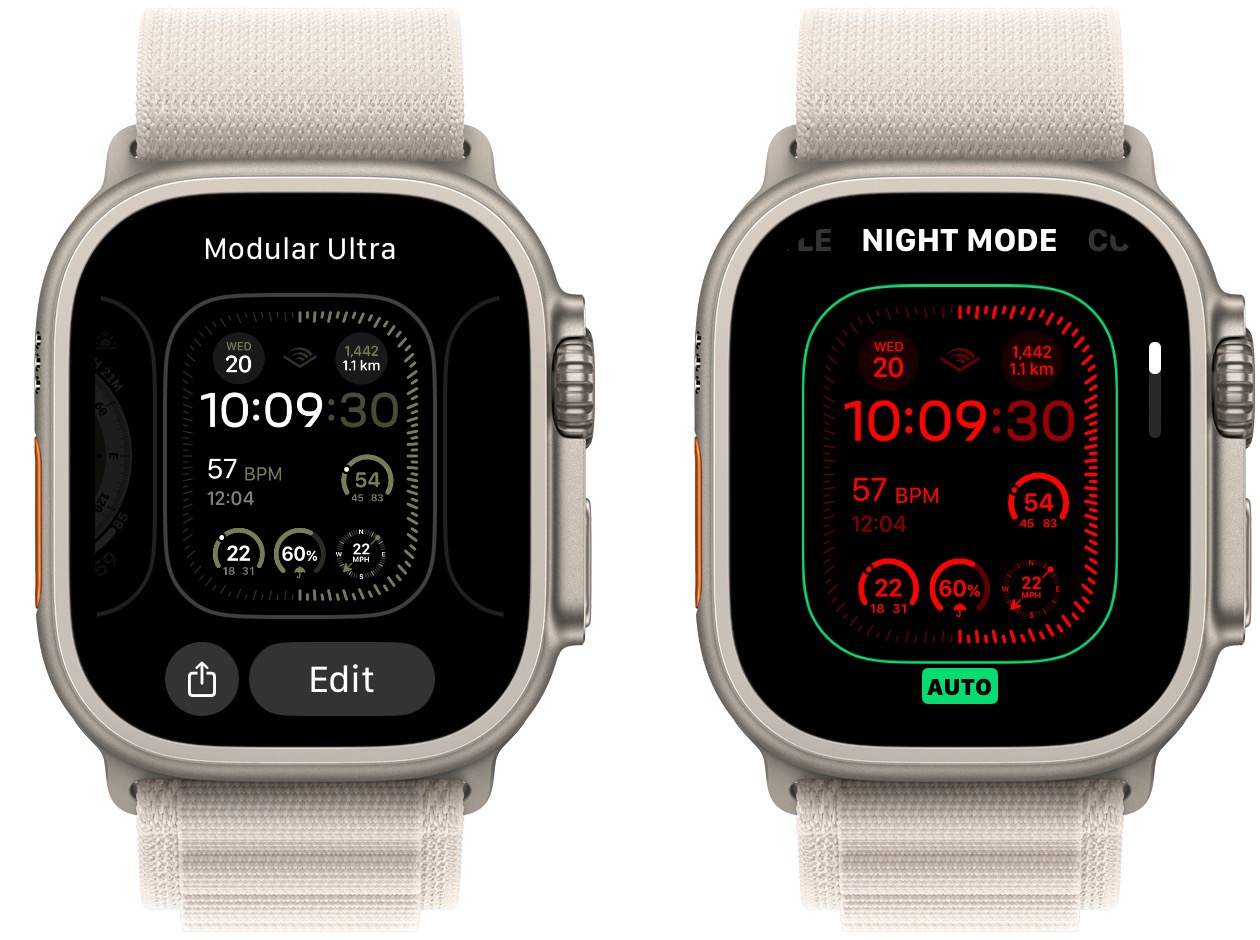 In watchOS 10, however, there's a Night Mode setting in the watch face edit screen for these two watch faces that lets you set it to Auto or On/Off. On the Auto setting, Night Mode will automatically activate in poor lighting conditions, such as when your sleeve is covering your watch or when you look at it in a dark room. Note that turning the Digital Crown no longer works, as this action now brings up the new Widget Stack.
2. Check Control Center Status
Small icons at the top of Control Center indicate the status of certain settings — for example, that your Apple Watch is connected to cellular, your location is being used by an app, and features like Airplane Mode and Do Not Disturb are on.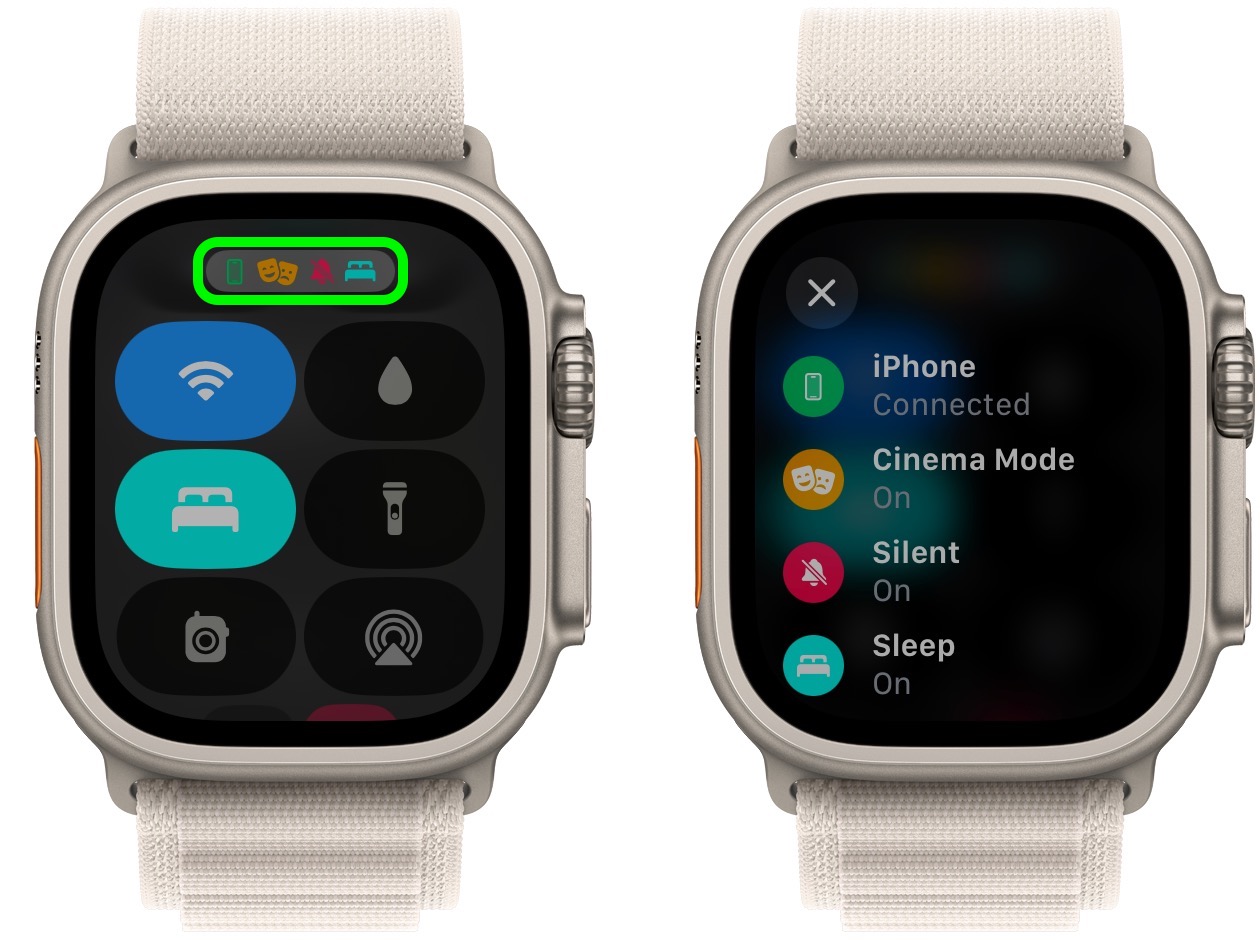 If you're not sure what a displayed status icon means, you can now tap the icons to get details.
3. Set Multiple Timers
Like iPhones running iOS 17
, you can set multiple concurrent timers on Apple Watch and label each one to distinguish them easily.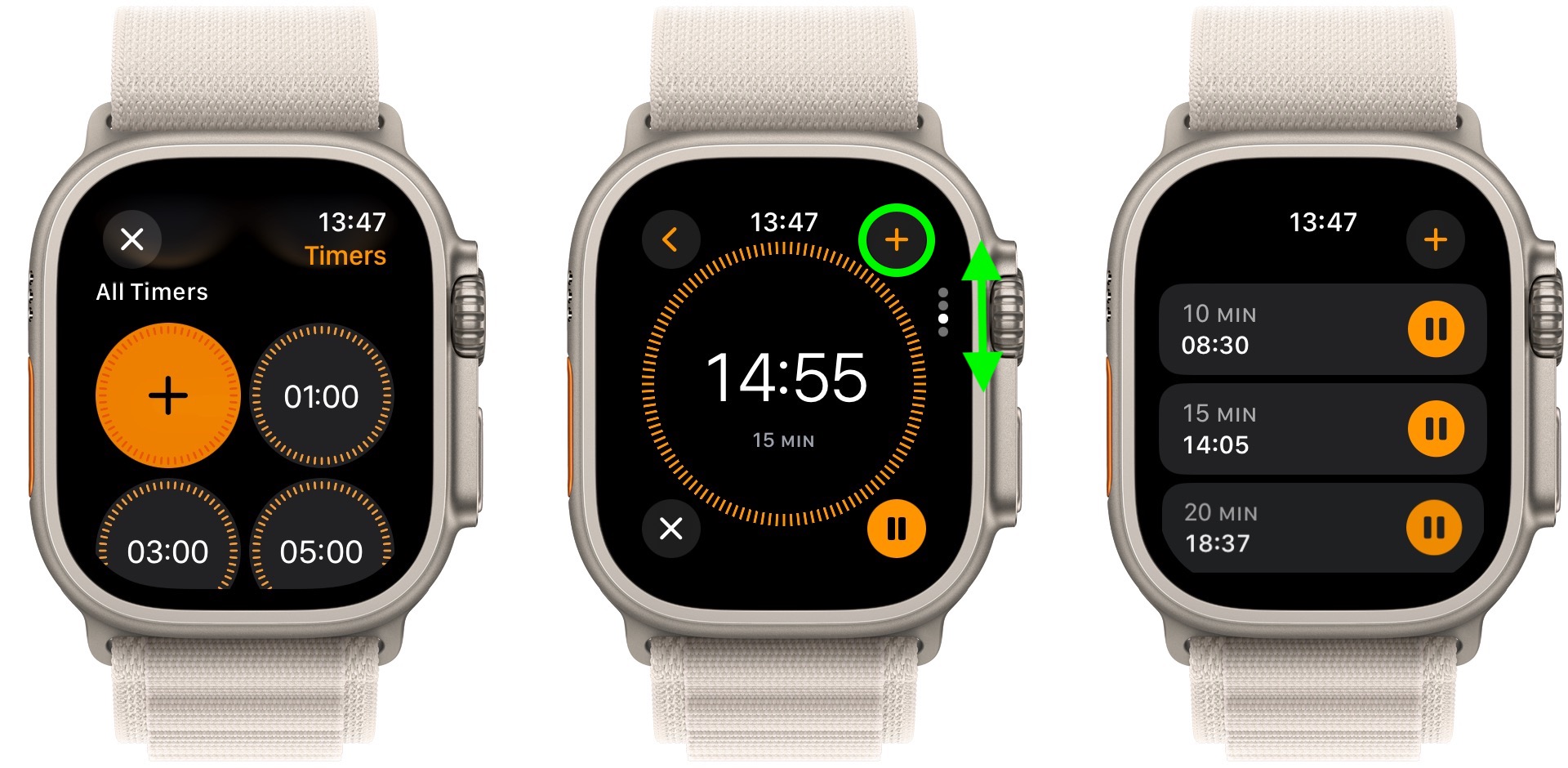 Open the Timer app, create and start a timer, then tap the + button in the upper right corner to return to the Timers screen, where you can create and start another timer.
With multiple timers counting down, you can use the Digital Crown to switch between timer displays, or alternatively you can keep track of them in the timer list. To assign a label such as "cupcakes" to a timer, use Siri. Raise your Apple Watch, then say something like "Set a 12 minute cupcakes timer."
4. Access the App Switcher
In previous versions of watchOS, you could access the Dock by pressing the Side button, but in watchOS 10 this action has been reassigned to the Control Center.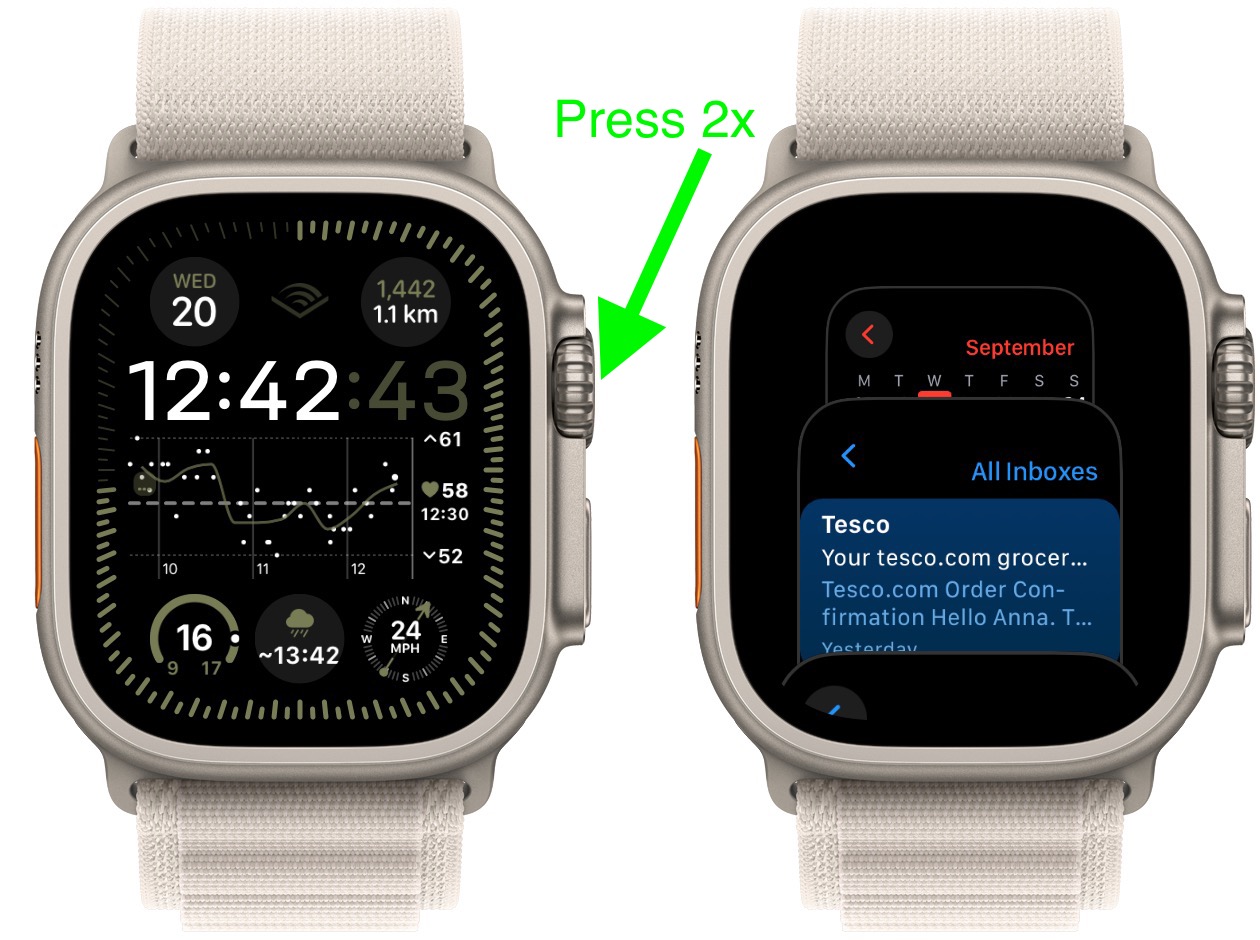 You can, in fact, still access the Dock (now called the App Switcher) with a double press of the Digital Crown. Turning the Digital Crown scrolls through apps, and the most recently used app appears at the front of the Dock with other apps behind it, in the order they were last opened. Apps that are currently running a session — a Maps navigation session or a Workout session, for example — appear at the front.
You can also remove apps from the App Switcher: turn the Digital Crown to the app you want to remove, swipe left on the app, then tap X.
5. Adjust the Flashlight
When the flashlight it activated, you can now adjust the brightness intensity by turning the Digital Crown up and down.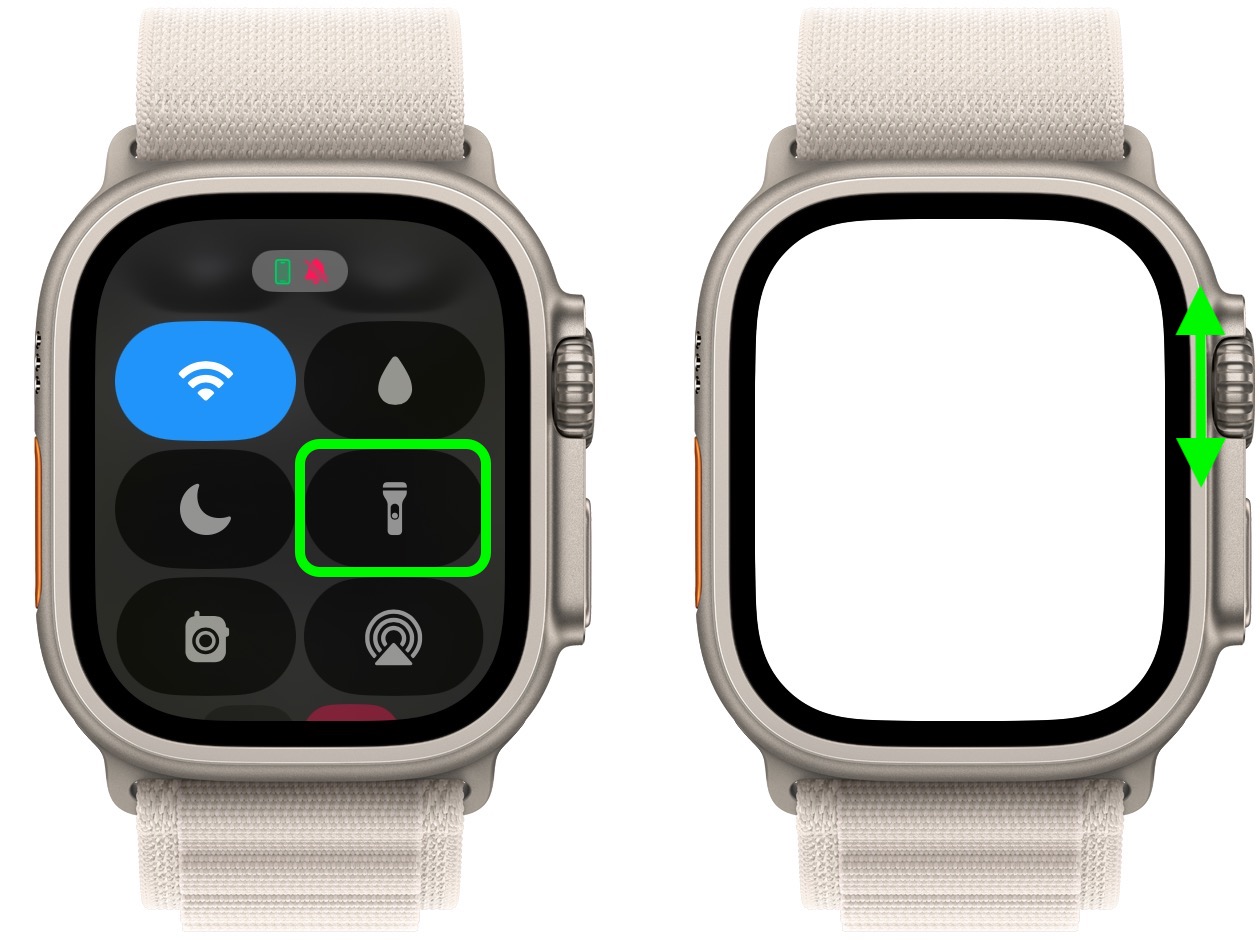 To turn on the flashlight, press the Side button to open Control Center, then tap the Flashlight button. Don't forget, you can also swipe left to choose a mode — steady white light, flashing white light, or steady red light.
6. Set a Target Elevation Alert
In the compass app, you can set a target elevation and receive an alert after going beyond it. The new alert option is designed to help you stay safe and remind you to rest and acclimate as you move.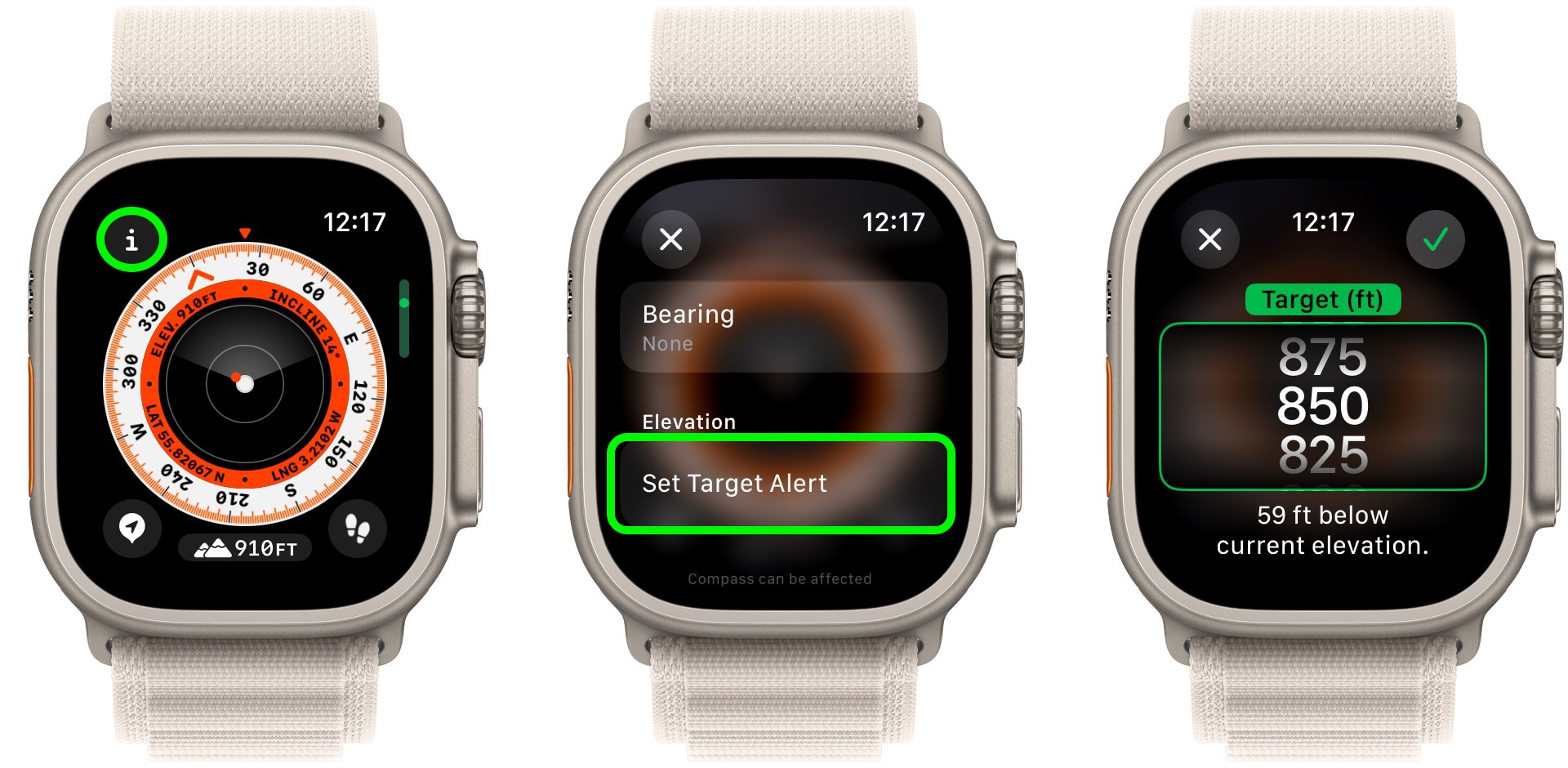 Open the Compass app, tap the info (i) button, then tap Set Target Alert. Turn the Digital Crown to set the target elevation, then tap the check button, and you'll receive the alert when the elevation is exceeded.
7. Get Relative Waypoint Elevation
Each screen that shows the compass dial in the Compass app has a new Elevation button at the bottom of the display.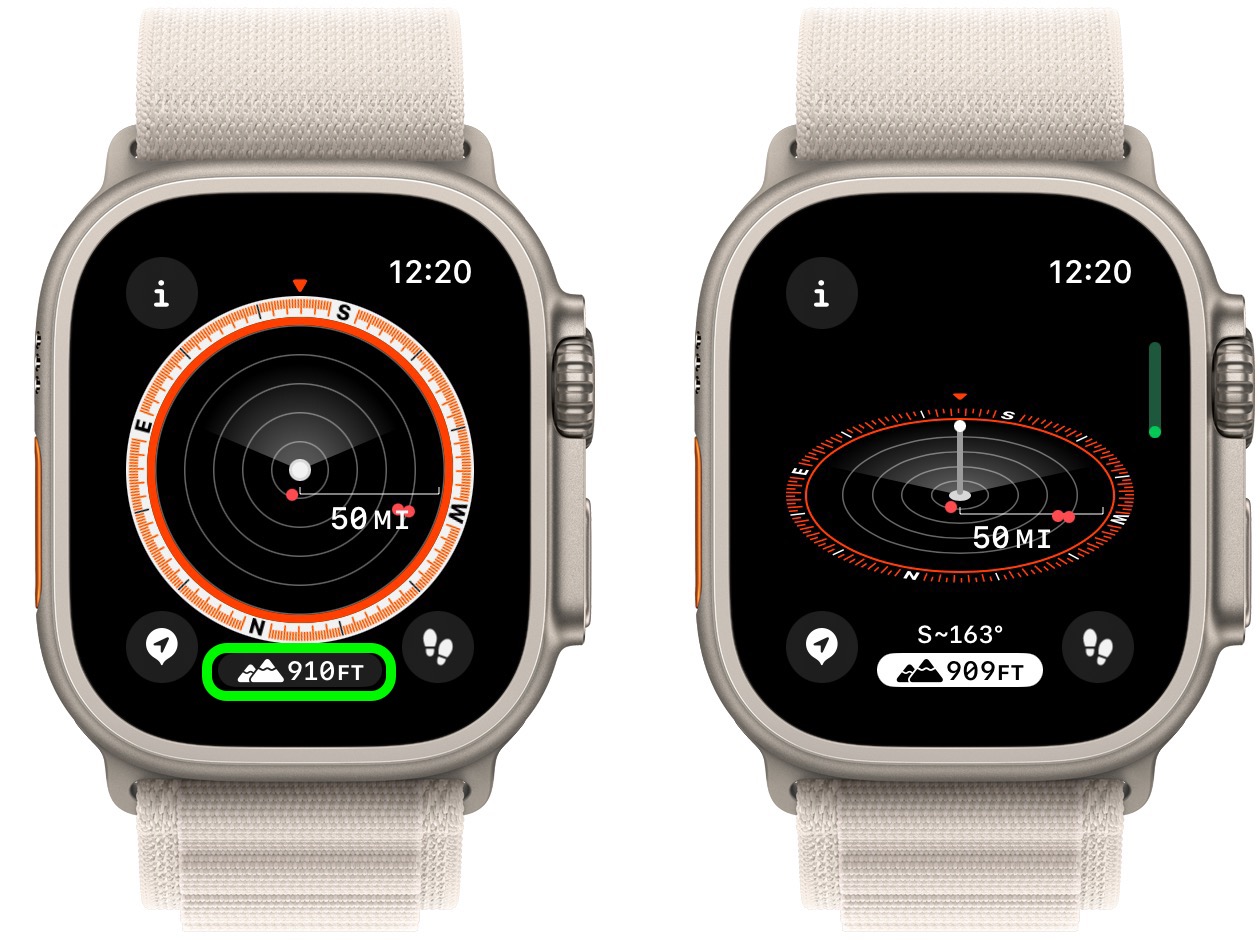 Tap it, and you'll get a 3D-like view of your waypoint elevations relative to your current elevation.
8. Browse Waypoints
In watchOS 10, you can browse waypoints, including those you've created in the Compass app as well as waypoints from guides in the Maps app.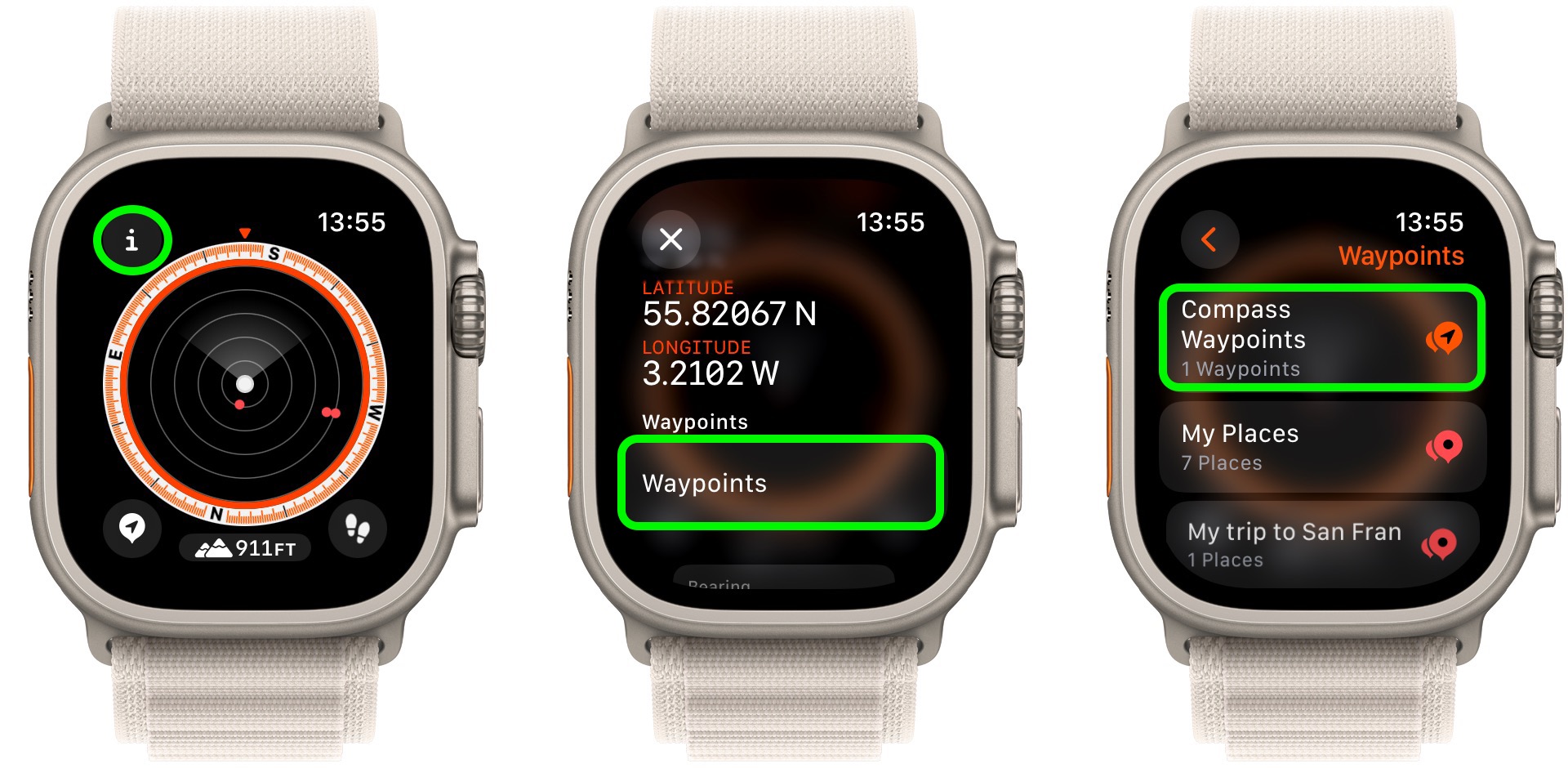 In the Compass app, tap the info (i) button, then tap Waypoints. Tap Compass Waypoints, and you'll see any waypoints you've created as well as automatically generated waypoints such as the location of your parked car and the last estimated locations where cellular connectivity and Emergency SOS were available.
You can also tap a guide, such as My Places or a guide you created in the Maps app, to view those waypoints on the compass. Note that waypoints that are more than 50 miles from you won't appear on the compass dial.
9. Find Your iPhone With Directions
The Apple Watch Series 9 and Apple Watch Ultra 2 share the same updated Ultra Wideband chip as can be found in the iPhone 15 series, so if you have one of the latest Apple Watch models you can use Precision Finding to ping your nearby iPhone 15 and get accurate directions to it...
Click here to read rest of article
Article Link:
22 Features You May Have Missed in watchOS 10
Last edited: