Maybe I'm just missing something......
So I bought Blade Runner 2049 since the original was one of my favorite movies. Another reason I bought it though was because it was in 4k as shown here....
It is also listed under the 4K & HDR section of iTunes Movies on my AppleTV 4K.
However when I select it in my purchased section OR even in the 4K & HDR section of iTunes Movies on the AppleTV 4K I see this.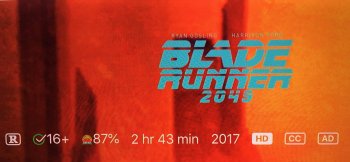 (Above pic is specifically from the 4K & HDR section of iTunes Movies on the AppleTV 4k)
Just HD?
Television does a fine job upscaling and colors look good however I would like to know I'm getting the best visual fidelity possible (and what I paid for) prior to watching it.
Other movies in the 4K & HDR section show 4K and my other 4K purchases still show and play in 4K HDR.
I tried a "restart" and verified the TV is set to 4K HDR (4.2.2 Chroma) and like I said other movies work. Is there something I'm doing wrong?
If nothing else would someone mind wading through the iTunes Movies section to Blade Runner 2049 to see if your info shows 4K?
Thanks in advance.
[doublepost=1525136329][/doublepost]Never mind, scratch that. I originally thought I purchased this movie through iTunes. After calling them they didn't have a record of that. I may of bought via MA or something (still looking). But I have a feeling that maybe the case.
I'm just now learning that non 4K purchases through MA only give you the HD copy. And looking further I can unfortunately see all my MA purchases that were originally 4K are not. Should have watched it sooner I guess.