This has happened about 4 times on my 2013 MBA, while browsing in Safari.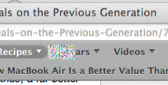 I'm kind of assuming it's a graphics card issue with the Intel HD Graphics 5000. When I move my cursor over the pixelation, it goes away.
I called Apple, reinstalled Mountain Lion, and it has happened one time since reinstalling. I don't think it's a hardware issue, especially because I was able to take a screenshot of it. Everything else on the computer is working flawlessly.
Seems like it's a firmware issue. I'll be keeping in touch with someone at Apple so that they can hopefully fix it. Has anyone else seen this?