macrumors newbie
Original poster
After learning a lot from the great people on this forum and upgrading a couple of MacPro 4,1 and 5,1 with new CPUs, Vega video cards, NVMe and a lot more good stuff I just want to participate myself by providing a hopefully interesting upgrade that I have not seen before (at least not without a lot of hot glue ;-) ).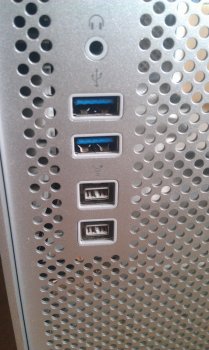 I designed a small PCB that stacks on to the MacPros font IO board and replaces the two USB 2.0 ports by USB 3.0 ports and connects to a USB card like a inateck KT4006 via a 19pin cable. The PCB is a 4-layer one with controlled impedance and length matched tracks. You will lose the ability to boot of a USB stick plugs into the front USB since you can't boot of PCIe USB cards.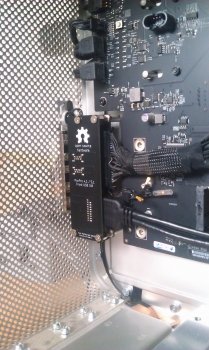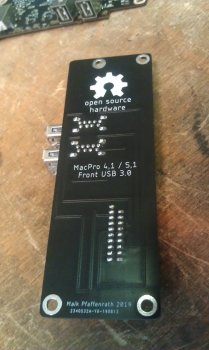 You need to desolder the original USB ports form the font IO board and cut out a bit of metal and plastic from the CPU cage at the moment. But I think about designing a custom board that completely replaces the font IO board, but there is actually quite a bit of circuitry on the board: a FireWire hub plus voltage regulator and xtal and what seems to be a DAC for the headphone jack. Digikey still hast stock on the FireWire hub IC but it's not cheap, about 15 $ plus tax... Would anybody be interested in this more involved solution that dose't require cutting the CPU cage ?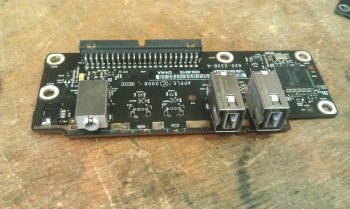 I attached the eagle schematic- and boardfile, a 3D STEP file and the gerber files I used to oder the PCBs from JLCPCB so you can replicate the project!
The PCB type to use is controlled impedance JLC7628 4-layer 1,6mm thickness. I used HASL-RoHS surface finish to get away without nasty lead and matt black solder mask.
The 19pin USB 3 pinheader can be found on aliexpress if you search for "cltgxdd USB 3.0 19P 19 pin USB3.0 19P male connector 90 degree motherboard chassis front seat expansion connector" (I wasn't able to find them at one of the big component distributors like mouser or farnell)
The USB 3 type A connectors are made by Steward the par number is SS-52000-002. You can buy them for example at mouser.
You need to cut of the small folded over parts ant the very front of the USB connectors with a pair of sidecutters before soldering them in to make them fit, but its under one minute of work...
To space the boards apart you need four 9/16" long male to female spacers with #6-32 threads, also available at mouser for example.
Infos for the next step of designing a completely new board
:
Connectors:
44pin connector to the backplane board
: Molex 878334420
3pin connector for the power switch
: Molex 537800370
USB 3 connector
: Steward SS-52000-002
FireWire 800 connector
: Aliexpress "IEEE 1394B 9P USB Connector 1394-9P Female Socket SMT 1394 Socket" (just ignore that they called it a USB connector...)
headphone jack
: to be determined...
ICs:
FireWire 800 Switch
: Texas Instruments TSB81BA3EPFP (not the original chip apple used but better availability)
FireWire protection ICs
: to be determined...
voltage regulator
: to be determined...
Last edited: