macrumors demi-god
Original poster
May 5, 2008
17,253
16,940
Which do you prefer and why?
I have a Garmin Nuvi 1490 which is close to 10 years old and a new iPhone 10XR so this may not be a fair comparison. We drove from the CDG (Paris DeGaul) airport this morning down to Versailles about 25 miles away. I had both of these units hooked up and navigating, the Garmin sitting on the dash and phone in a cradle hooked to a dash vent of our rental car.
In essence the XR using the Waze App navigation had a vastly superior display, variable distance, with smooth scrolling. I appreciate the posted speed limit on it, however it had no lane guidance which is a big disadvantage to not have.
I downloaded a new Europe Map for the Garmin and the display seems dated to me, the display is not a as smooth, maybe due to having 10 year old technology in it, relatively limited view ahead that can be adjusted, but stays the same, ie not dynamic where it zooms in and out, depending on how close a turn is. One possibly huge advantage it does have is self contained maps, while phone navigation uses GPS Sat data, my impression is it relies on cell coverage to feed the maps as data to the phone, large amounts of data. Over a decade ago, I remember when being charged for data by the unit, (instead of unlimited) how navigation would drive your monthly bill up quickly to it's cap if there was one.
For the Garmin, I don't remember seeing a posted speed limit in it's display, (I'll check again next time I drive on Saturday*), but a distinct advantage in heavy traffic on the highway was its lane guidance, instead of just a left or right turn showed in Waze. One thing that irritated me, was that the Garmin Display would go blank for about a minute and then come back. Another advantage it had was when going through long tunnels, several on this route, although both devices lost GPS guidance the Garmin would continue to track based on last known speed, while the Waze app, the position of the car would freeze until GPS reception was restored.
* This article says it likely does:
https://support.garmin.com/en-US/?faq=uhS9iMGAoG5zHs6FqwN5u5
Waze is owned by Google. In fareness, as an Apple user, I should try both Google and Apple maps. I just read that Apple is redoing their maps since last summer, and that they added lane guidance. So I'll try them on future segments on this trip. My impression is that Google has a big leg up on Apple and includes more peripheral local business information than Apple does, but I've not used Apple Maps much because, I really like Waze's ability to enter your own traffic hazard information such as slowdowns for a variety of reasons, such as road construction, a stopped vehicle, accident, the location of police speed traps, etc. And imo, which maybe in error, that Waze is more agressive than Apple or Google about offering reroutes for slow traffic.
So far:
Waze
has the advantage of a cleaner robust display with posted speed limits,
Garmin
has the advantage of lane guidance and tracking while GPS reception is lost.
Garmin Display-
I've not seen this on my Europe map, an exit display, but remember something like this or the next image, driving in the States.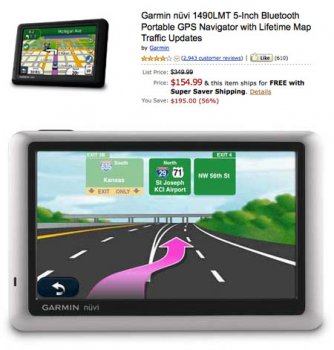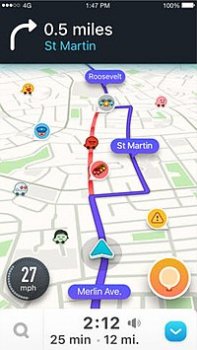 Waze Display





Apple Maps
has the cleanest display.
​
https://www.macrumors.com/2018/06/29/apple-maps-to-be-rebuilt/
https://www.apple.com/ios/feature-availability/
https://medium.com/@the_manifest/apple-maps-vs-google-maps-which-is-better-9ceaf28f9bf0
https://www.reddit.com/r/waze/comments/8mnwmw/come_on_waze_lane_guidance/
Last edited: