macrumors 6502
Original poster
As mentioned I was working on a new more compact overview of all the bands Apple released.
Its completely build from scratch. Took me some time, but here it is.
The new graphic is based on bigger images with a much higher resolution.
Unfortunately it seems I deleted a folder with some Hermes bands, or cant find it right now. So if anyone downloaded the images which are missing or in low resolution, please let me know.
I re-arranged the bands in terms of colors (Thanks to
@emiaj
for the inspiration and great work) and added additional pin colors and the model number to every band—if available. Or if I could find one. Seems not to be an easy task.
The new graphic is less confusing and more compact—like a poster I would like to print out in full size. You still get most of the information you had before, like name, first release, and availability. So if you looking for a specific band or really like a color, the only information is missing, if Apple sold the band for few seasons. (But I try to figure out, if its possible to put this around the box as well.)
And its finally up-to-date.
I build the whole file in a different and more comfortable way, so updates will be an easy and fast task to do. The last one was really messy.
This is nice! Out of interest, what software are you using?
Photoshop. But with linked (not embedded) objects, so I can edit the boxes separately.
This is not meant to be instead of the version
@emiaj
updated the last months. It more a different approach on the same topic, and depends on what you like to do with it, you might like the one or other better.
*** Low Res
https://www.dropbox.com/s/l26y0sg8yl7u2ew/171007-stateof-applewatchbands-v2-lowres.jpg?dl=0
5000x7000, 3.4 MB
*** High Res
https://www.dropbox.com/s/oxwhg0oc78vngpz/171007-stateof-applewatchbands-v2-highres.jpg?dl=0
10000x14000,
18 MB
Let me know what you think, or of you find a mistake.
Cheers!
Known issues:
— few images were missing
— the generation dots at Classic Buckle are not correct as for now (Photoshop is not updating the linked object)
P.S. I added the link bracelet in gold to the overview. You cant buy it. At least not from Apple, but was made by Apple for some celebrities. Not sure it should be part of it.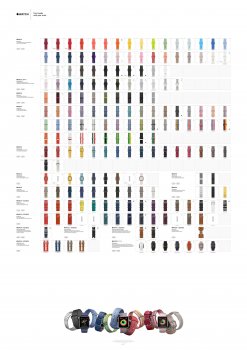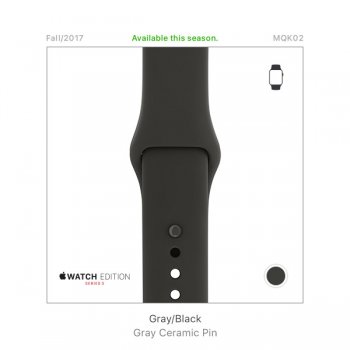 [doublepost=1507411758][/doublepost]
Ah... well,

@applewatchcollector

implied there was a Series 0 Edition (i.e. 18K gold) Concrete Sport Band. I don't think there was though?
No. There were "only" seven models of the Edition. And bundled with a Sport Band only in white and black.
Do you know, so that I can update my spreadsheet, if it was available in 38mm and 42mm, or just 38mm?
Not sure. Couldn't find any 42mm, so might be 38 mm only.
Last edited: