macrumors newbie
Original poster
I just upgraded a 2009 Mac Mini 3,1 to High Sierra. The first thing I did was to take the original Hard Drive and using a cloning appliance I cloned the old MacOs HD (120GB) onto a 250GB SSD I had laying around.
Unfortunately, that created a 120GB partition with the OS and a 130GB "Free Space" partition I cannot use at all.
I tried installing High Sierra Using the regular MacOs partition, but it would not install. I had to usse APFS and then it installed.
Even on the old OS I tried to increase the partition right after the cloning but no matter what I did I got an error or it went through the motions but in the end the partition remains at 120GB and Free Space at 130GB.
I went ahead and installed High Sierra on the Mac Mini and the only way High Sierra would install was if I formatted the SSD drive in APFS.
So far so good, except that the partition with the MacOs is 120GB and there are 130GB of "Free Space" left over I would like to give to the Boot partition.
Before I go any further, here are the specs of my Mac Mini:
Code:
Mac mini (Early 2009 late 2008)
Processor: 2 GHz Intel Core 2 Duo
Model Number:    A1283
Mac Mini: 3,1
RAM: 3GB DDR3

MacOS High Sierra 10.13.6 (17G66)
HD is a Samsung SSD 850 EVO 250GB Media
I quickly found that that is impossible while the Mac is booted up on that partition, so I used the installation USB disk and tried to increase the partition that way.,
Unfortunately, I got the same error I did before:
Code:
Operation failed…
Running operation 1 of 1: Remove "--"…
An internal error has occurred and the disk for one of the specified operations could not be found. This may be a temporary issue, try again.
I tried more things, and at some point I gave up and decided to utilize the "Free Space" Partition so I could at least mount it.
I selected the "Free Space" hit "Format" and… Now my booth drive has two names. It creatd another partition, empty, in the same space the original partition was and I still have 130GB of "Free Space".
I am at my wits end. How do I increase that APFS partition from 120GB to 250GB?
I also would like to do it without wiping out the boot disk, if possible. I can always install High Sierra again, but I'd rather not if possible.
Can anyone point me to an error free way to increase the boot partition size to include the full drive? And what's the story with the double drive? Never seen that before (I'll post a screenshot as soon as I am back on the Mac Mini).
All I want to do is increase the partition. In fact, I just found another 500GB SSD where eventually I'd like to move the partition to, but until I understand how this formatting works, I am not confident I can handle it.
Edit: Here are some Screenshots of what I see now on my Mac Mini Disk Utility:
Screenshot composition 1 - I numbered the screenshots. The "Athena"partition should have been "free Space" instead for some reason it appears as if I have 2 partition occupying the same disk space. Never seen anything like it.
Machintosh HD is the original 120GB boot Partition (The one I would like to extend to 250GB, something I have been able to do since I owned a 512K Mac Plus)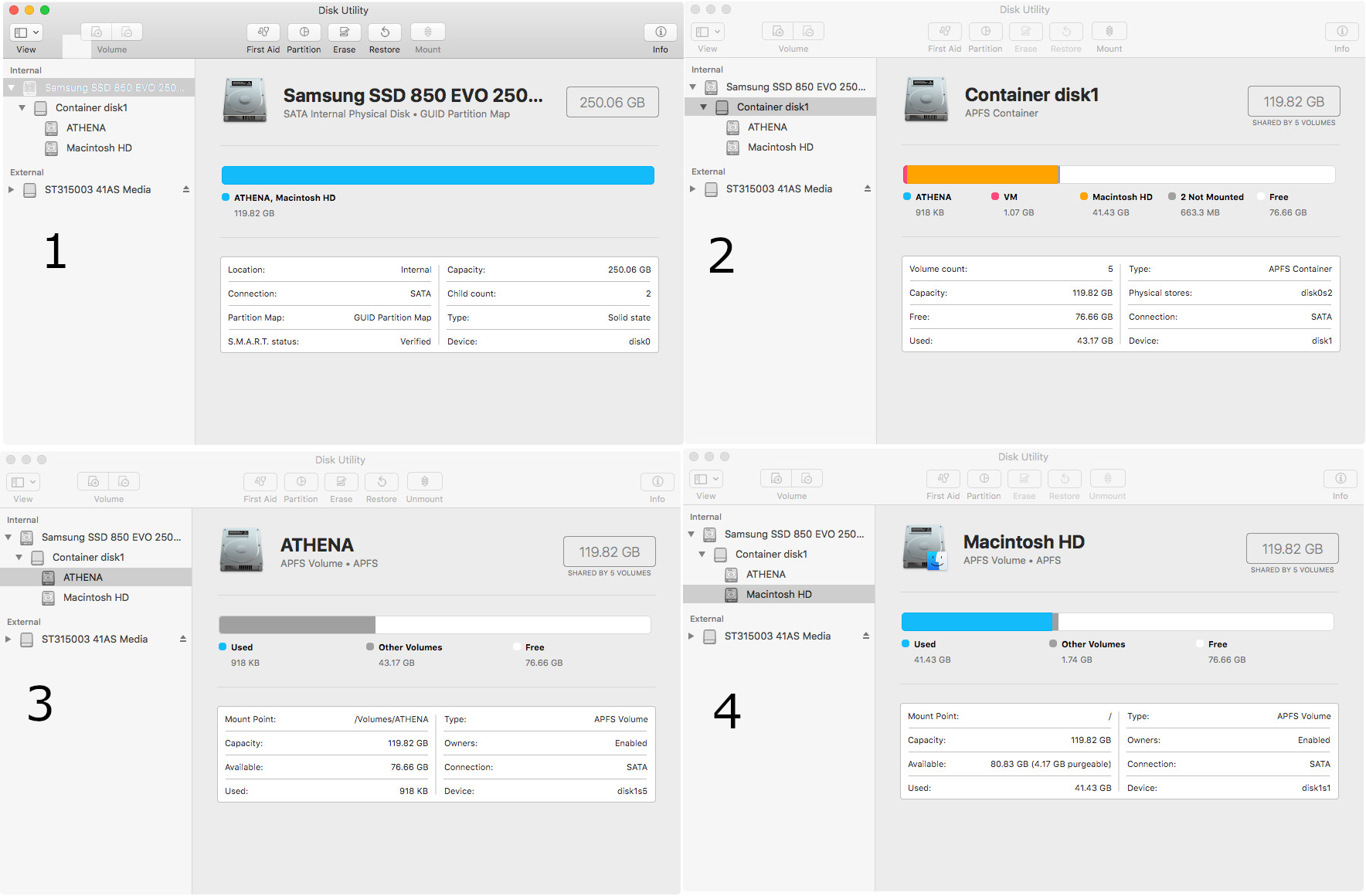 Second screenshot is also a collage of screens to illustrate what happens when I try to extend the partition.
in Pic 5 you can see the Macintosh HD Partition and the "Free Space.
In Pic 6 I instructed the partition to expand to 250GB
In Pic 7 It asks me if I want to proceed and
In Pic 8 it gives me the error I already indicated.
There are times when instead it looks like everything is working fine, but when I go back to the disk, it's still partitioned as if I did nothing.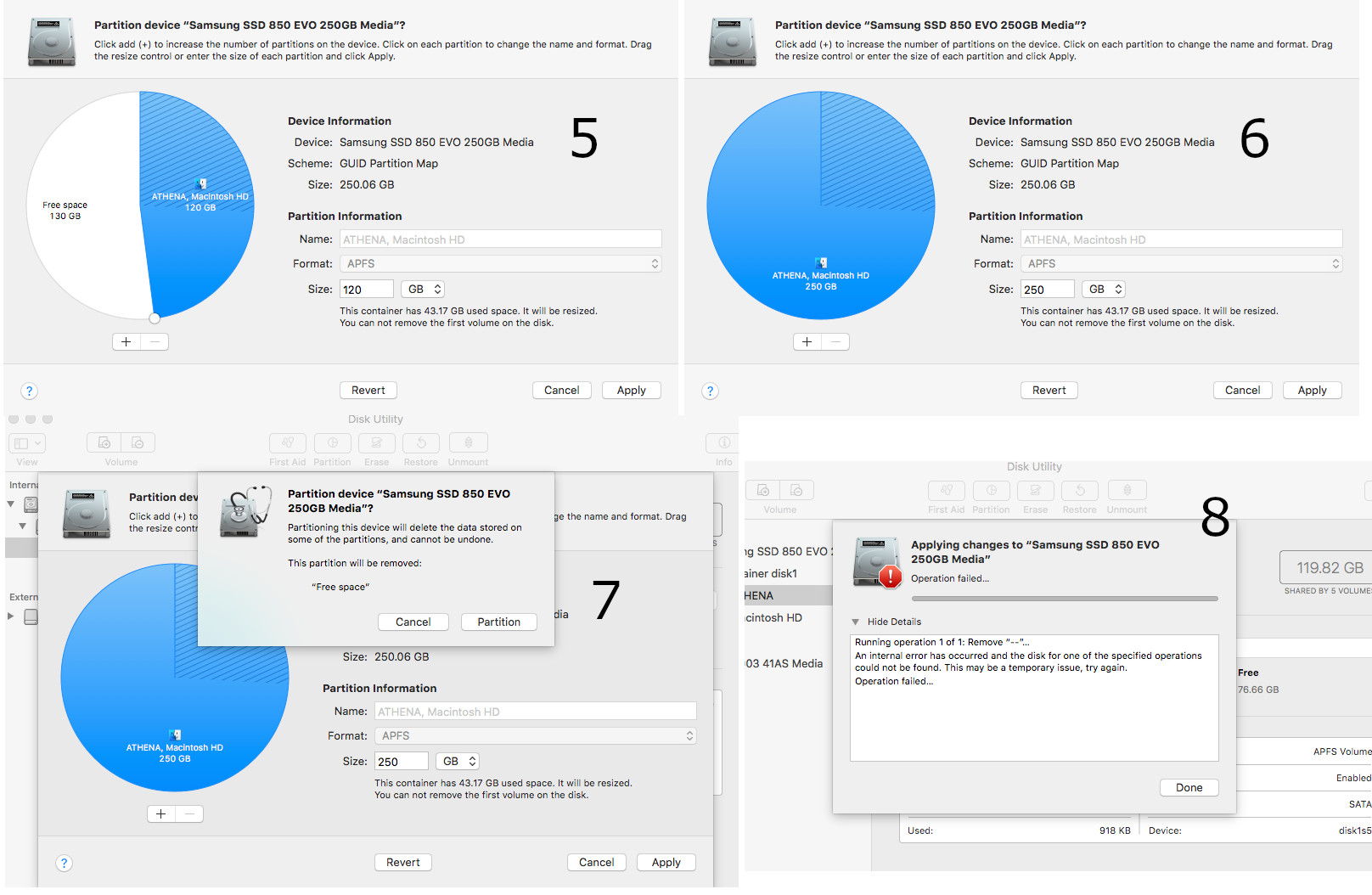 Thank you for any help. I am as frustrated by this as I am thrilled to have a decent MacOs to play with again.
Last edited: