macrumors 6502
Original poster
Hey all!
Like many of you, I was caught up in the iPhone Upgrade Snafu last year. If you don't remember, this was when Apple allocated only in store units for iPhone upgrades, and thus caused massive chaos for folks looking to upgrade at launch since they ran out of phones almost instantly.
Well, poking around the website and checking my iPhone Upgrade eligibility, I spotted this "Trading in your iPhone" section, and saw something that made me truly giddy - a by mail Trade-in Kit: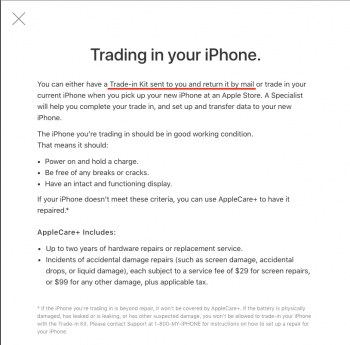 Now I may be late to the game and I searched the forums a bit already to see if anyone has mentioned this and I couldn't find it. So I hope that you all can rest a little easier this upgrade cycle knowing that it looks as though we should have the option to get a new device mailed directly to us and mail our old ones in. This is great, since Apple can centralize stock and hopefully avoid the fiasco from last year.
Happy upgrading everyone - can't wait to start getting the FlightAware streams and flight tracking setup, I did it right when our wonderful community started catching on as well back with the iPad Air and earlier launches! If it ships this year I will be there tracking along with you!
EDIT: To access this page I screenshoted, simply go to the Apple website, go to buy an iPhone, then click on this link underneath the buy options:

Once you do, sign in with your Apple ID, then click on the "Trading in your iPhone" link on the eligibility page.
Last edited: