macrumors 65816
Original poster
So,
I was daydreaming one day and I said hell, why not make a App Store for Leopard? Apple doesn't make it, so I will! I like working on projects so I thought I would do it, cause, why not?
The idea is to provide pretty much a souped up version of the PowerPC Archive website but in a full app that I intend to work just like the App Store we see with Snow Leopard and above. Have ratings and reviews and stuff for each app. I feel that this will revive the Leopard users and can make the migration for people to PowerPC a bit easier. As much as I would like to get this done in the next week, I have so much work I need to do. I just got done with the bare interface and need to figure out how I'm going to make everything work. I think I will have it all done by Summer!
The image below is my concept of what it will look like, so please post feedback and ideas so I can make this the best possible! Thanks!
Update Feb. 15:
I am happy to see the interest, really makes me proud! I have decided on the name
Leopard Market
(thanks tampasteve!) as I feel it sounds good and we can all agree upon that. The interface I had made in the concept below is extremely challenging to build in Xcode so I will be going with a Mactracker-like approach, with categories of software on the side and a way to view them. Possibly in the future my concept will be what the Market looks like!
I have already been asked multiple times when a public beta will be out, and to be honest I have no clue. When I get it all working to a point where it is slightly usable, then I'll go ahead and release a beta with buttons to leave me feedback n stuff.
Update Feb. 16:
Ok, today I actually got to work on getting the layout working, and so far I have the about the app
window just about how I want it. Each thing in [brackets] will link back to code which will be different
for every program. With this, so will the App Icon and in the image box will be previews.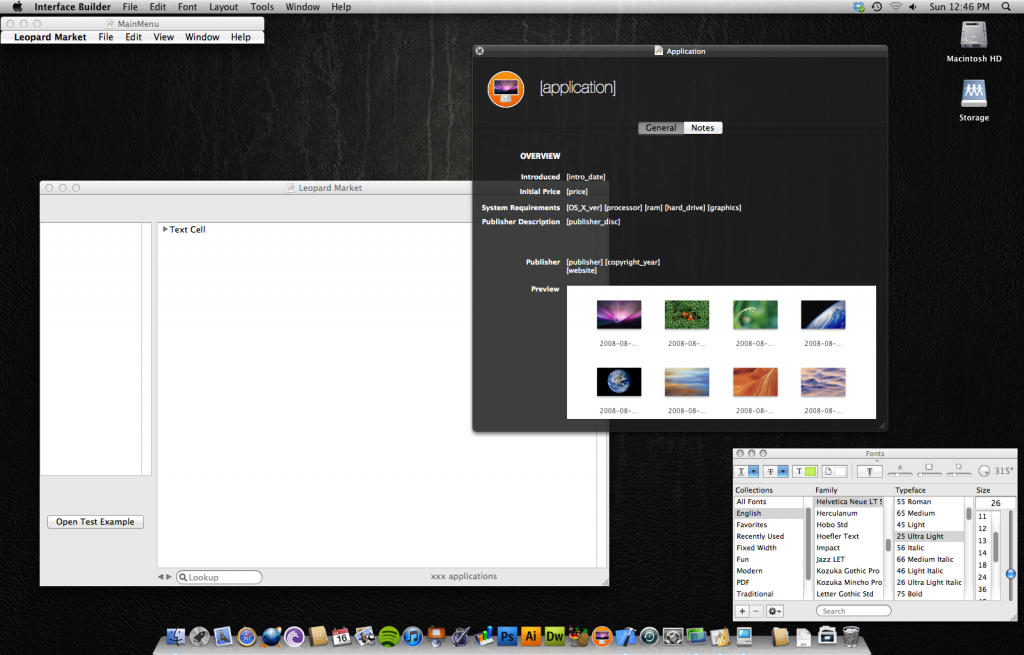 Some people have even mentioned other projects that people were working
on in the past, only thing different is that I'll be the one making it a reality
Thanks for all the support guys! Really appreciate it!
Update January 24, 2015:
This project has not seen any progress in almost a year. However, today I am happy to say that Altemose and Keaton are assisting me in the project, and we are putting quite some time into it!​
If you guys want more updates almost instantly or something like the
PPC Archive
Facebook page!
Almost always new updates there on PowerPC mac stuff!
FAQ
I figured I might as well add this!
Q:
When do you plan to have a public beta?
I'd personally like by the end of February but the reality is more like maybe late March/early April
Q:
How will you be hosting downloads?
I will be putting my trusty G4 MDD to work as a server for all of this data. If I can get enough money
in donations I'd like to get more hard drive space and a faster internet connection!
Q:
Will there be freeware and shareware?
Absolutely. I want to make sure people both new and old to the Mac can get an excellent
experience if they choose to use a PowerPC Mac running Leopard. Most software will be freeware
but if we can get developers to allow me to sell a old version of paid software in the Market, I plan
to do so. I will personally be working on in-house apps which some will be shareware to help me cover
the cost of time and energy to keep this all going!
Q:
What's the System Requirements?
My prime intention is OS X Leopard (Ver 10.5), However I will attempt at making this run on Tiger
(Ver 10.4) by either making a separate Market or using the Leopard Market but greying out
Leopard-software only. The Leopard Market will run on G4 and G5 systems.
​
Last edited: