macrumors 65816
Original poster
Updated to v2 (03/04/20)
Here it is. New and improved over the stock 16.04 release. You can use as a live dvd / recovery system, or install it. What's changed since the original release back in 2016?
Added SpiderWeb, SpiderMail, InterWeb and Arctic Fox (modern web browsers and email client)
Added wifi firmware, sound modules, and windfarm (fan) modules loaded by default
Added battery indicator for laptops
Added right click for ibook/powerbook users via 2 finger tap (PB) or left ctrl + click (IB)
Added inxi and neofetch cli system info scripts
Added midnight commander (mc) cli file manager / editor / ftp client
Added discord and facebook messenger plugins for Pidgin
Added custom wallpapers and better default theme
Added Libre Office 6.2
Disabled the annoying crash reporter that always ate cpu cycles
Added conky desktop system monitor with custom layout (menu -> run, type conky -b)
There might be more that i'm forgetting, but that's the basics anyway.
Download is roughly 1.5gb
Sound is enabled, but muted by default. Open terminal, type alsamixer, right arrow key until you highlight "pcm", up arrow key to set desired volume level, esc key to exit. If you have a laptop add pmu_battery to /etc/modules and reboot to get a working battery indicator.
Here's some known yaboot parameters to boot with:
The default option is 'live' (try this first)
Nvidia Geforce 6600 & FX5200 use
Code:
'live video=TV-1:d video=offb:off nosplash'
Nvidia Geforce 6800 use
Code:
'live video=TV-1:d video=TV-2:d video=offb:off nosplash'
Radeon 9xxx cards use
Code:
'live radeon.agpmode=-1 radeon.modeset=1 video=offb:off nosplash'
ATI Rage 128 use
Code:
'live video=aty128fb:1024x768-16 video=offb:off nosplash'
Generic frame buffer drivers when all else fails
'live video=radeonfb:1024x768-16 nosplash'
'live video=nvidiafb:1024x768-16 nosplash'
'live video=rivafb:1024x768-16 nosplash'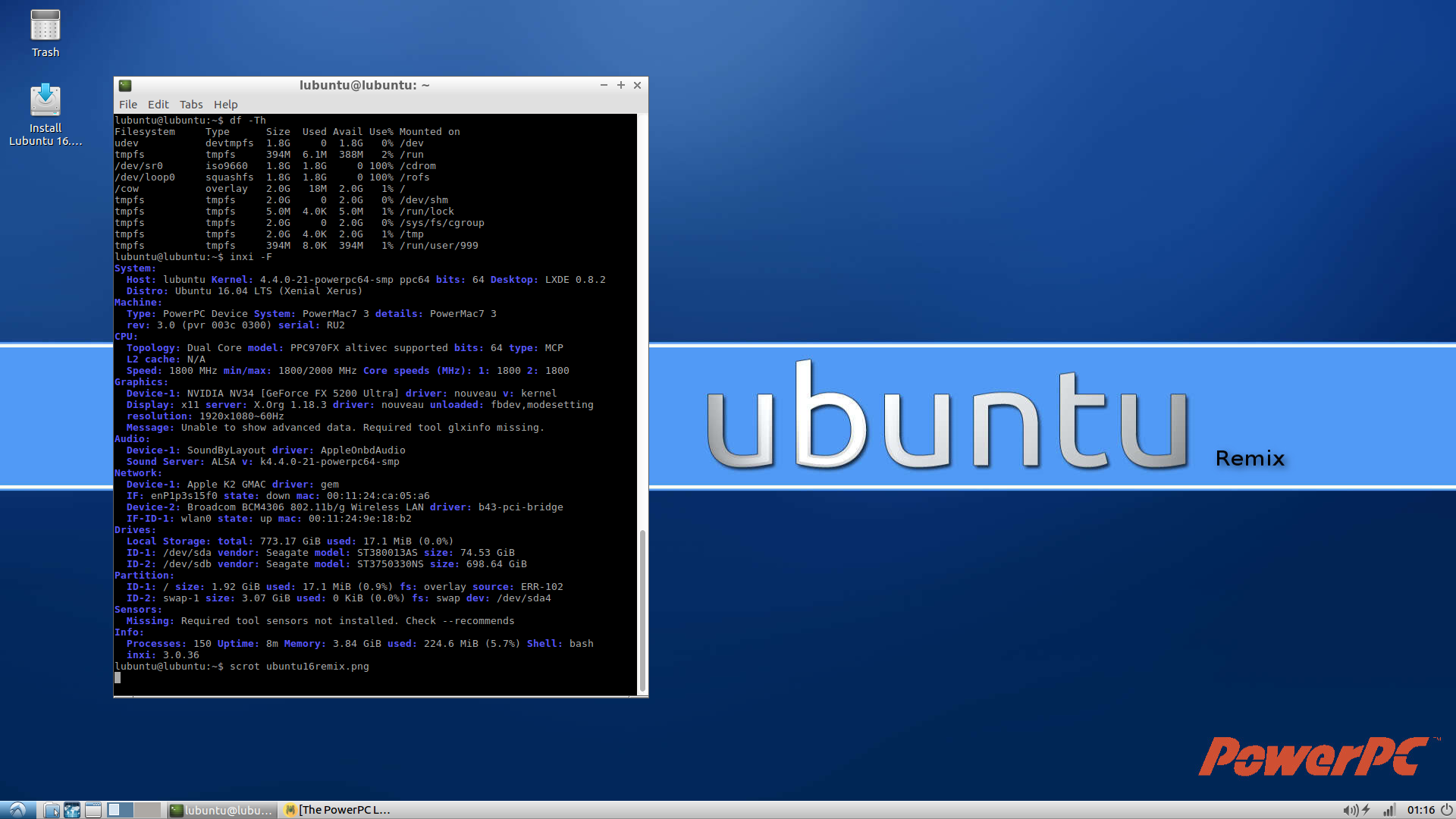 How to update 16.04 with more current software from Debian ports packages.
Download the attached guide below and you could get results like this.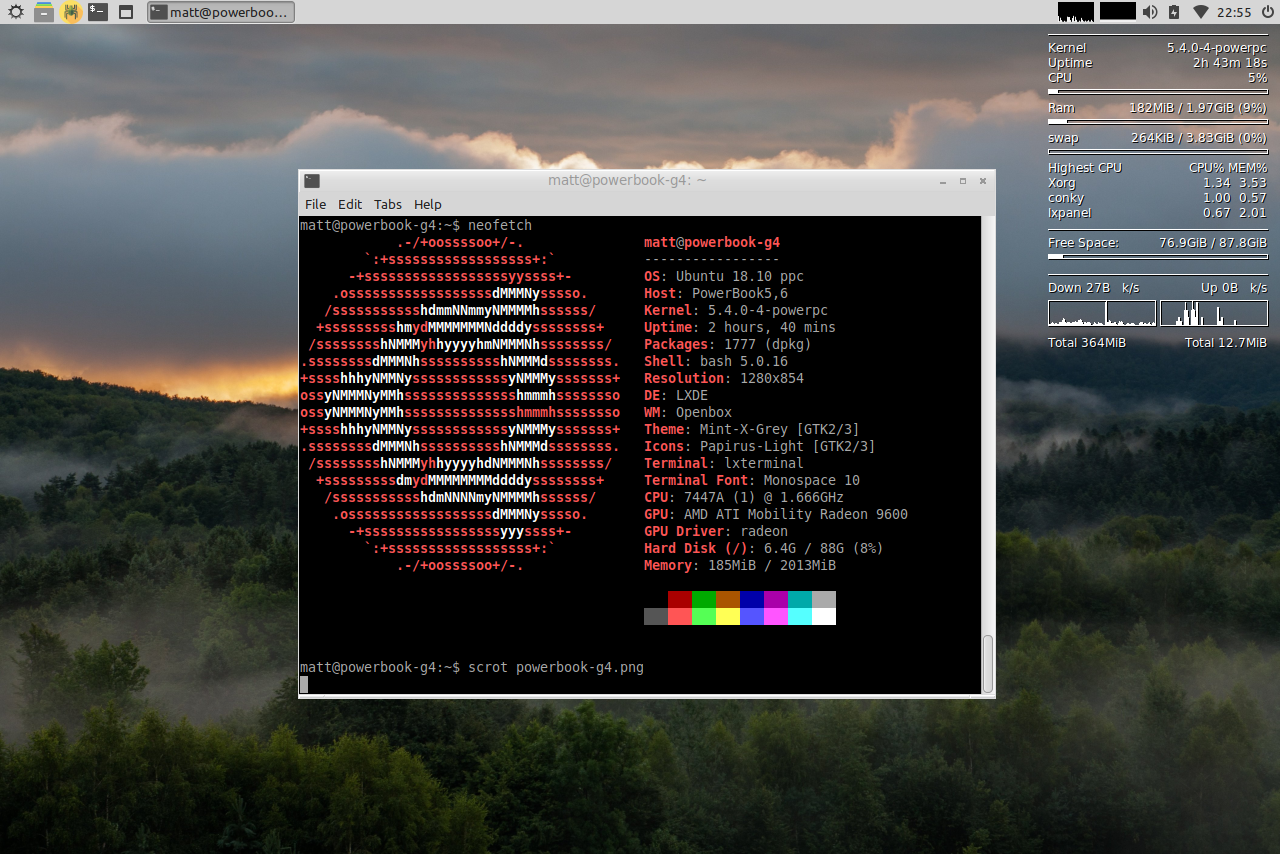 NEW: Lubuntu 12.04 Remix
-
v4 (updated 04/15/20)
I did pretty much the same as i did for 16.04 remix. Updated the browsers, tweaked some configs, enabled sound, wifi, fans etc. This absolutely FLIES on my mac mini G4 and G5, and is probably better suited for G3/G4 machines. I decided to do this as the software and base OS are more "period correct" for the hardware, and it shows. Even the live DVD is fast (once booted).
Same as with 16.04, sound is enabled but you need to run alsamixer and unmute "pcm".
To block ads on the live CD or installed system
: sudo cp /etc/hosts.deny /etc/hosts (now enjoy ad free surfing)
New in v4:
Updated the installer slideshow
Added i2c-dev for keyboard backlight on powerbooks
Added youtube-dlg (graphical front end to youtube-dl)
Added new default wallpaper and icons
Added mouseemu for better control over the trackpad.
Added latest ArcticFox, SpiderWeb, InterWeb browsers and SpiderMail (thunderbird-like email/news/rss client)
Added updated 2019 ca-certificates
Added a bunch of extra useful software
Added an "extras" folder on the DVD with kernel 4.19.113 for G5 users. Also included greasemonkey for all 3 browsers, a modern theme for spiderweb, and viewtube for spiderweb.
I compiled and included the latest ffmpeg, irssi, screen, mtpaint, pidgin, uget, transmission, putty, scribus, bluefish and rebuilt, xchat, xournal and mplayer/mencoder (1.2.1) as well. Also updated abiword to 3.0.0 (couldn't get newer to build without rebuilding a ton of libraries).
Grab it here (about 1.2gb):
lubuntu-12.04-remix-v4-ppc.iso
If the new ffmpeg got replaced during upgrade grab it
here
and copy both files to /usr/bin (as root)
Original 12.04 remix-v1 for machines without a dvdrom drive (about 670mb):
here
Shown running live DVD on a powermac g5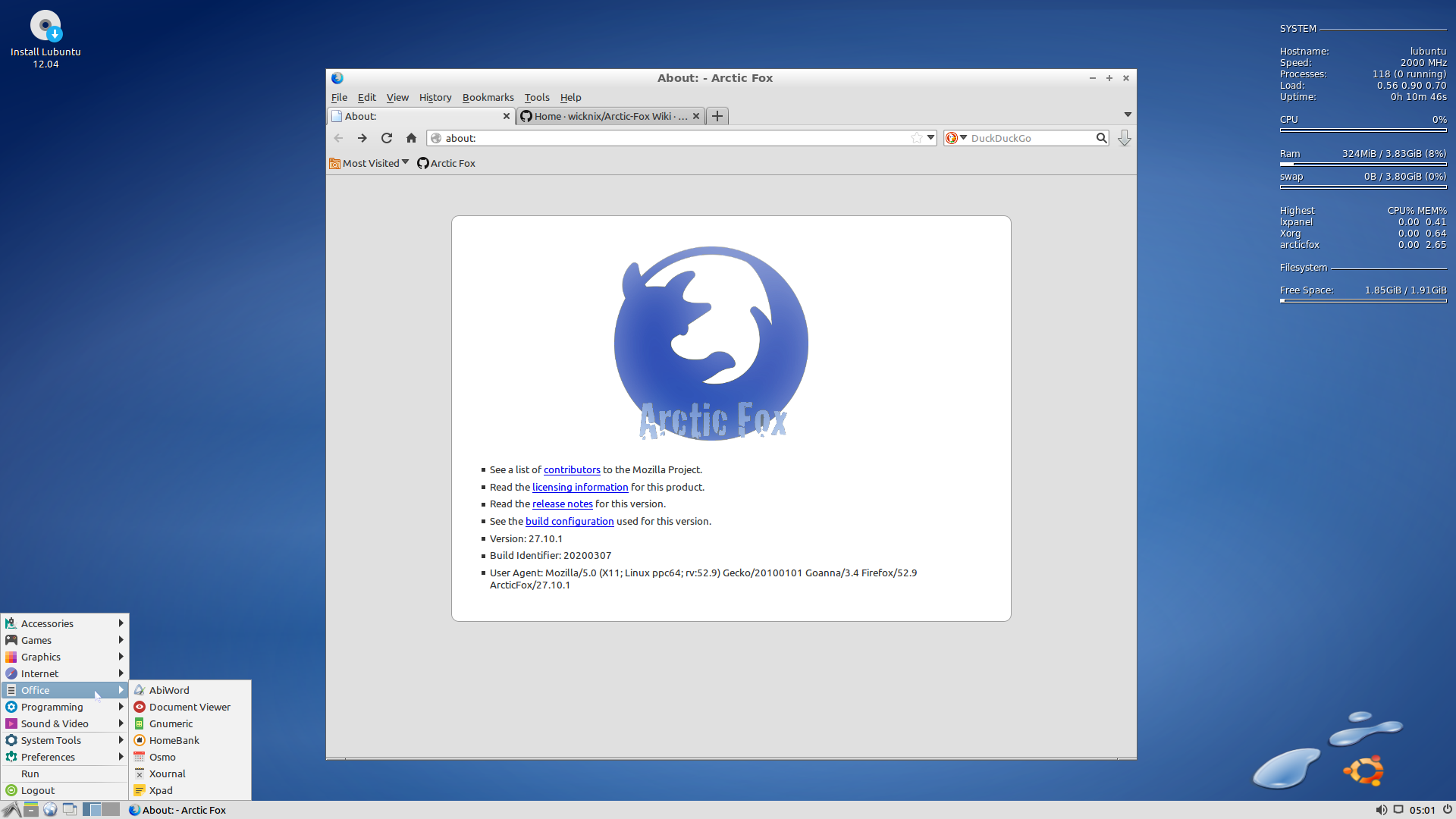 BONUS:
I built the latest kernel 4.19.113 for ubuntu12 64bit (G5's). Get it
here
.
BONUS:
Here is kernel 3.13.0-170 for 32-bit ubuntu12 (G3/G4's). Get it
here
.
ANOTHER BONUS: (added 04/22/2020)
Macbuntu!
This is pretty much the same as 12 remix-v4. The only differences are i included gparted and mixxx software-wise. However this is aimed at resembling OS X Tiger/Leopard for that familiar look and feel. Also this DVD.iso includes both kernels linked above, and the README.txt has been updated to explain how to get youtube to work smoothly and set up docky (the dock) to your liking.
Download (about 1.3gb)
macbuntu-remix-ppc.iso
My dual G5 with custom conky config (one is included, but not this one)
BONUS:
I patched snes9x to bypass OSS and /dev/dsp and use asound instead on ubuntu12. It's attached below.
Cheers
Last edited: