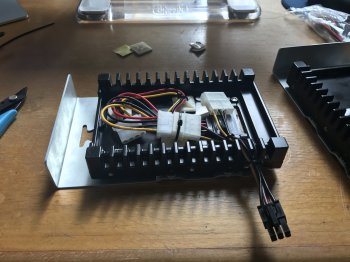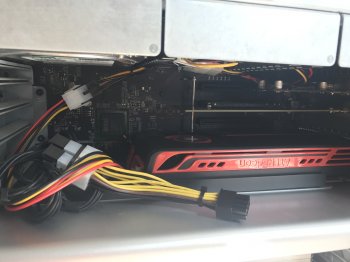 Today I prepare some solution and try to share with all of you.
I want to try 2 sata to 6pin and original dual 6 pin to 8pin to drive my new comming 1080Ti... It is PC asus FE edition as I want to work with a 120GT in slot 2 for boot screen.
To do this project, i found if i can use a 2.5" hdd to 3.5" hdd mount to connect the SATA cable. It more firm as i just plug in mac pro stock sata power head beside, I also can do cable management inside.
Finally, fixed all stuff and plug the SATA to 6pin in my 5770 and tested half day.
I have tried run some heavy test that i only see the current in HDD bay 3 is 1.45A and bay4 below 1A or 1.2xA. I believe may be 5770 is not serious then 5870 or comming 1080Ti. I will do more test tomorrow when I received the card Tomorrow. one thing is important ... less cable show out is a must!