macrumors 68020
Original poster
Inspired by the dicussion about the end of the Dropbox-Client for PPC I tried to establish
file-sharing
not only for my
Tiger/Leopard-PPC
s but also for
os9
.
Connectivity with Tiger/Leopard(PPC) and late OSX (ElCap) works fine and is easy to establish.
But it took me a while to find out, how things may work with
os9
:
"AppleMenu => Chooser => AppleShare (AppleTalk activated) => ServerIP-Address (192.168.xxx.xxx)"
After editing the credentials for the RemoteMac/Server there will be an Alias for each Server both on the os9-desktop and at the
"AppleMenu => ...Servers"
Very convenient!
I managed to connect with my 12"G4-PowerBook/Leopard for file-sharing. Smooth handling!
Unfortunately so far no success to get connected with my 15" early-2008 MacBookPro (ElCapitan). Error messages claims "incompatible version of the AFP-protocol"
Anyone here with a clue to solve that problem?
I really wish to fully integrate my old os9 machines into our home-network and my workflow.
(IMAP, VNC, File-Sharing, webDAV, Office, Fax)
Getting easy access to file-sharing with a Dropbox-capable Mac would make the Clamshell and iMac-G3 a nice non-distracting workstation.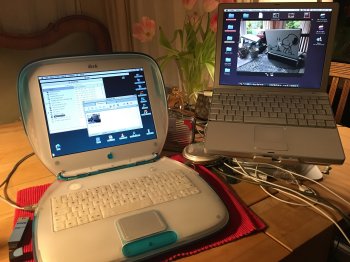 Last edited: