macrumors bot
Original poster
Apr 12, 2001
61,401
26,811

Apple's Beats brand in April 2019 unveiled
the Powerbeats Pro
, a redesigned wire-free version of its popular fitness-oriented Powerbeats earbuds. Like the AirPods, Powerbeats Pro come with a dedicated charging case that offers 24 hour battery life and an H1 chip for fast connectivity to your devices and Hey Siri support.
Our Powerbeats Pro guide has all of the details you need to know about Apple's newest earbuds, which are a highly appealing alternative to the AirPods.
Design and Fit
The Powerbeats Pro feature a design that's similar to prior Powerbeats models, but Apple says they've been entirely overhauled for an ideal wireless fit.
Apple aimed for the best possible fit for most people, testing more than 20 configurations before arriving at the final design. Apple says the Powerbeats Pro use a new "ergonomically angled acoustic housing" that fits comfortably in the concha bowl of the ear.
Apple designed the Powerbeats Pro to be 23 percent smaller and 17 percent lighter than the previous-generation Powerbeats 3 earbuds.
Like prior Powerbeats models, the Powerbeats Pro feature earhooks that fit over the ears to keep them in place. Apple says the earhook is adjustable, and the Powerbeats themselves can be customized with four sizes of ear tips.
The Powerbeats Pro are designed to create a tight fit in the ear to isolate sound, and there's no ambient noise mode, which is something to keep in mind.
Powerbeats Pro come with a clamshell-style charging case that's available in black. Like the AirPods charging case, it uses a magnetic closure to keep your Powerbeats Pro safe when not in use.
Sound
According to Apple, sound was its "highest priority" when developing the Powerbeats Pro. The earbuds were reengineered "from the inside out" to add an upgraded linear piston driver that leverages pressurized airflow to create a "powerful acoustic response" in a small package.
Apple says Powerbeats Pro users will get "incredibly low sound distortion" and "great dynamic range" across the entire frequency curve.
Water Resistance
Apple says the Powerbeats Pro are sweat and water resistant, making them ideal for working out and other fitness activities. Apple told
The Verge
that the Powerbeats Pro have been engineered to handle "all of your sweat without fail."
Powerbeats Pro have an IPX4 water resistance rating, which means they're certified to hold up to water splashing against the enclosure from any direction, but have the potential to fail when immersed or exposed to jets of water. With an IPX4 rating, the Powerbeats Pro should be able to survive sweat exposure, though heavy rain and immersion should be avoided.
We did a series of water resistance tests and the Powerbeats Pro held up well to splashes of water and 20 minutes of submersion.
Battery Life
Each Powerbeats Pro earbud features nine hours of listening time, which can be extended to more than 24 hours with the included charging case. At nine hours of listening time, the Powerbeats Pro offer a longer battery life than the AirPods 2. Powerbeats Pro provide six hours of talk time, compared to the three hours available via the AirPods.
A Fast Fuel feature lets you get 1.5 hours of music playback after five minutes of charging, and 4.5 hours of playback after 15 minutes of charging.
The Powerbeats Pro come on when taken out of the charging case and power off when they're placed inside. A motion accelerometer is included to detect when the earbuds are idle, putting them into sleep mode to conserve battery life.
The charging case itself does not support wireless charging so you will need to charge it up with a Lightning cable through the included Lightning port.
Physical Buttons
There are physical volume and track controls on each of the Powerbeats Pro earbuds, so you can control volume and skip tracks on the earbuds themselves.
There's also a button for answering and declining incoming phone calls.
Live Listen
The Powerbeats Pro, like the AirPods, support Live Listen feature for using the earbuds as a directional microphone.
Sensors and H1 Chip
The same H1 chip that's in the second-generation AirPods is in the Powerbeats Pro, allowing for fast connections to your devices and faster switching. The H1 chip also enables "Hey Siri" functionality, allowing for hands-free access to Apple's personal assistant.
There are optical sensors in the Powerbeats Pro that allow the earbuds to detect when they're in your ears, playing and pausing music appropriately.
Phone Calls
There's a speech-detecting accelerometer in the Powerbeats Pro, along with two beam-forming microphones on each side that are designed to filter out external sound so incoming phone calls sound crisp and clear. In our testing, the Powerbeats Pro sounded great on calls and people had no issues hearing what we were saying, nor were there disconnects or other issues that we ran into.
Connectivity
Along with an H1 chip for "Hey Siri" support and quick connections to your devices, the Powerbeats Pro use Class 1 Bluetooth technology for extended range and "exceptional cross-body performance."
As with the AirPods, you can use both Powerbeats Pro earbuds at once or choose to use just one.
Powerbeats Pro connect to your iPhone or Mac just like AirPods. Simply open the case to prompt a pairing mode, and Powerbeats Pro will pair automatically with any supported devices signed into your iCloud account. This feature requires an iCloud account and macOS 10.14.4, iOS 12.2, and watchOS 5.2 or later.
Compatibility
Full functionality, such as quick device connections and Hey Siri support will require an iOS device, but Apple says the Powerbeats Pro will also work fine with Android devices.
Colors
The AirPods are only available in white, but Apple made the Powerbeats Pro available in Black, Ivory, Moss, and Navy.
Apple in June 2020
released the Powerbeats Pro
in four new colors: Spring Yellow, Cloud Pink, Lava Red, and Glacier Blue. The new Powerbeats Pro are identical to the prior version that came only in Black, Ivory, Moss, and Navy, with the exception of the brighter colors.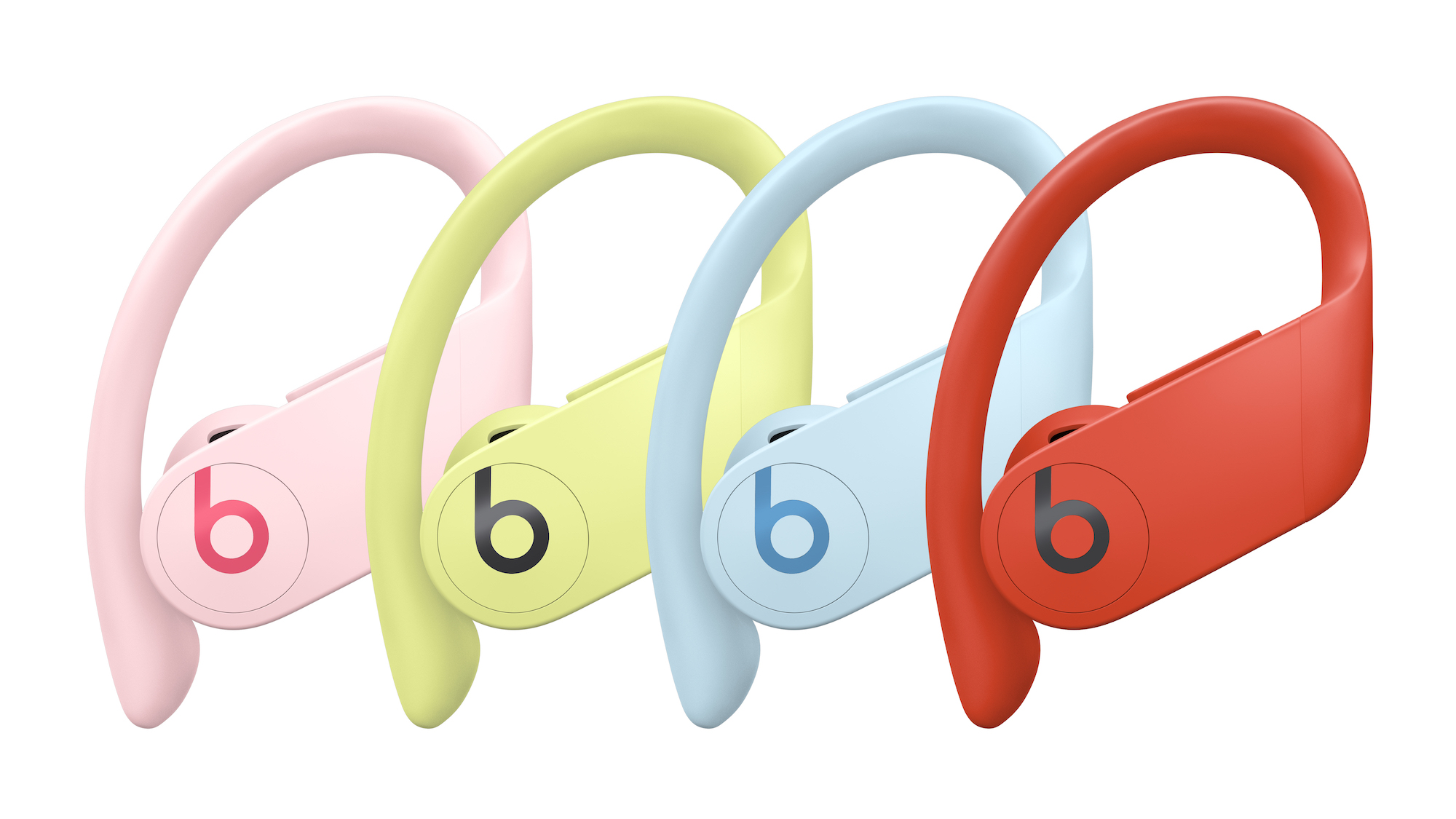 Reviews and First Impressions
First impressions and reviews of the Powerbeats Pro have been largely positive, and the new earbuds are getting high praise for their comfort, stability, battery life, and other features.
We tested out the Powerbeats Pro were impressed with the design. The earhooks are light weight and comfortable, and are going to keep the Powerbeats Pro firmly in the ear even during vigorous activity. Multiple tips ensure a good fit, and the sound quality is great for earbuds this size. Even glasses wearers should find the Powerbeats Pro to be comfortable.
All of the AirPods features are here, so these function just like AirPods 2, and while the battery life is excellent, there's a downside - the Powerbeats Pro case is large, bulky, and not as pocketable as the AirPods case, nor does it have wireless charging. On the whole, we think the Powerbeats Pro are worth it for anyone looking for the perfect earbuds for an active lifestyle or those who prefer a more traditional earbud fit.
Reviews from other sites have also been overwhelmingly positive, which is no surprise given how well the AirPods have been received and the fact that these match the feature set of the AirPods.
Pocket-lint
highlighted the slimmed down size and weight compared to the previous-generation Powerbeats, and said they're much more comfortable to wear because of the softer angles and contours. The earhook grips the ear but doesn't tug or dig.
As for audio,
Pocket-lint
found it to be "genuinely great" for an earphone in the $250 price range. "At the low end, very low bass notes like the kick of a bass drum - or low bass guitar notes - were tight and controlled. Similarly, both treble and baritone vocals were clear and dynamic, while songs with plenty of reverb were given space to expand, without ever feeling like one aspect was giving way to the other."
Digital Trends
wasn't a fan of the larger charging case, but loved the fit of the Powerbeats Pro. Songs were "clear and potent" with bass that "doesn't cloud the upper registers."
iMore
said the Powerbeats Pro are "way more comfortable than AirPods," even after wearing them for five hours straight. Compared to AirPods, the Powerbeats Pro are "massive in size" and while the earhooks are comfortable, they can get caught in longer hair. Sound was clear and "not bass heavy at all," with an overall EQ balance that's impressive.
Additional Reviews:
9to5Mac
and
PCMag
.
Powerbeats Pro How Tos
Price
Powerbeats Pro are priced at $249.95 in the United States.
Comparisons
To see a detailed comparison on how the Powerbeats Pro measure up to the second-generation AirPods, make sure to
check out our AirPods vs. Powerbeats Pro guide
. We've also done a
comparison between the Powerbeats 3 and the Powerbeats Pro
for those who are thinking of upgrading.
How to Buy
Powerbeats Pro can be purchased from the
Apple online store
, Apple retail stores, or third-party retailers
like Amazon
.
Powerbeats Pro 2?
Apple in April 2020 seemed to have
quietly refreshed
the Powerbeats Pro with a new model, as regulatory documents for a new model with no design changes were shared with the FCC and various regulatory bodies in different countries.
There were rumors suggesting that Apple would launch a second-generation set of Powerbeats Pro based on this documentation, but it instead appears that Apple made a minor internal tweak to the existing design rather than releasing a new model. The new Powerbeats Pro colors released
in June 2020
carry the updated model numbers, which explains the Powerbeats Pro 2 rumors.
Guide Feedback
Have questions about the Powerbeats Pro or know of details we've left out? Let us know in the comments or
Send us an email here
.
Article Link:
Powerbeats Pro: Apple's Sporty AirPods Alternative
Last edited: