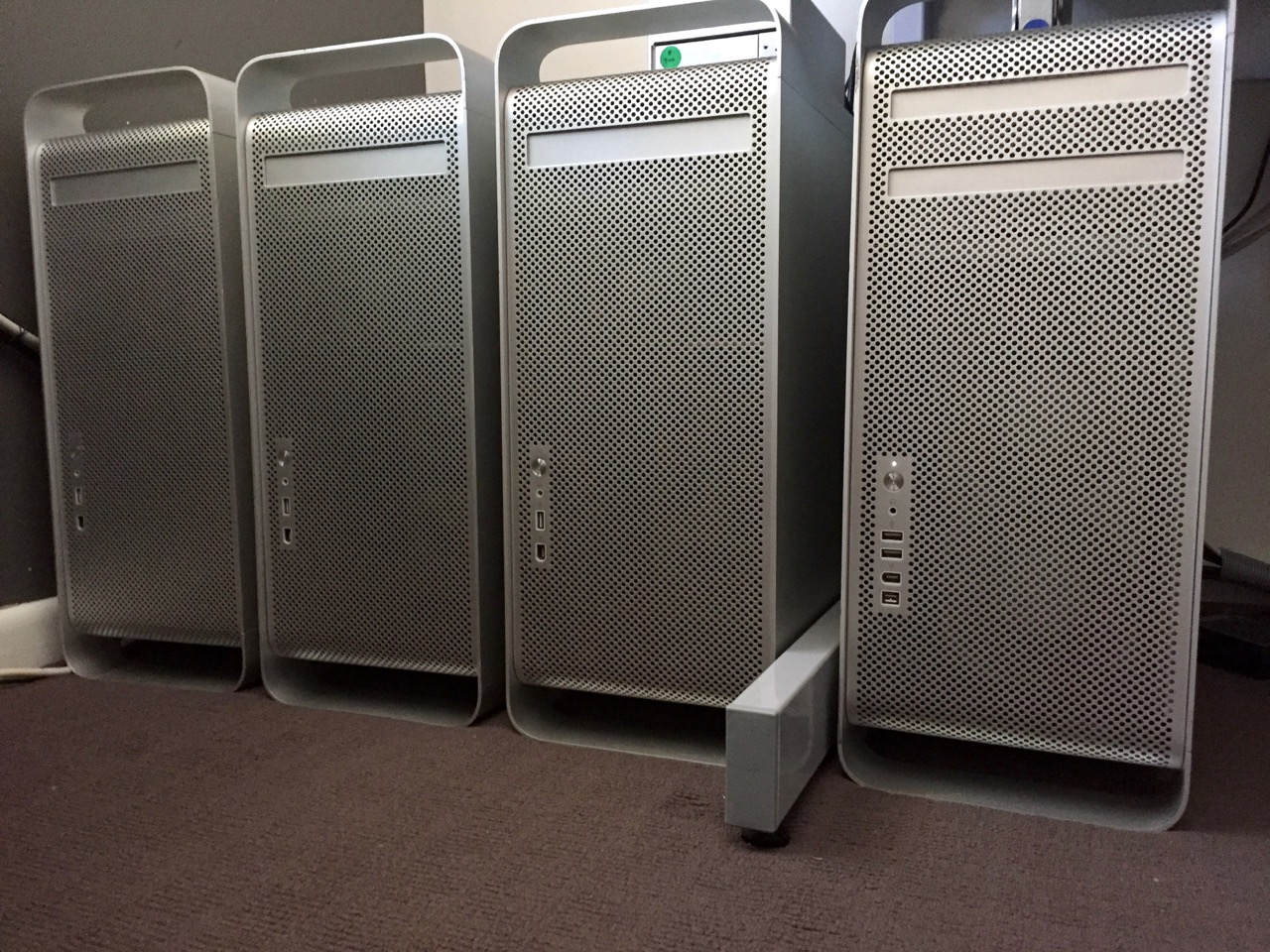 Left to right:
1.
Power Mac G5 (7,2)
Dual 1.8Ghz, 3GB RAM, Nvidia FX 5200 64MB
2.
Power Mac G5 (7,2)
Dual 2.0Ghz, 8GB RAM, Nvidia GeForce 6800 GT 256MB
3.
Power Mac G5 (11,2)
Dual-Core 2.3Ghz, 16GB RAM, Nvidia Quadro FX 4500 512MB
4.
Mac Pro (3,1)
, Dual Quad-Core 3.2Ghz, 16GB RAM, Nvidia GeForce GTX 680 2048MB
Introduction
I started with the Dual 1.8Ghz, which I purchased in 2004, ex-demo through an Apple Firesale. The machine ran perfect for many years with an
ATI Radeon 9800 Special Mac Edition (256MB)
. After more recently having my equipment in storage for 5 years, I pulled it out and drove over 2,000kms with it all last year.
Within a week of setting it up in my new studio, the G5 gave up the ghost. The graphics card and the AGP controller on the logic board both failed. It started with some glitches which were only evident on VGA, then DVI and ADC failed and it refused to boot entirely with a graphics card installed. I was able to confirm that it was still working headless, but ordering in a simple FX 5200 graphics card to attempt a cheap repair didn't help the conditions at all and it still wouldn't boot.
Setting out to repair my faithful old friend, I found a Dual 2.0 and Dual-Core 2.0 from a seller not too far from home (about 120kms). Both machines were listed as non-working, so I planned to just harvest parts from them. I took a drive to hand over the cash and pick up the two metal monsters.
Upon inspection, both were beaten up and not booting. They had busted out bottom stands and the seller said to me "Yeah mate... It must be a design flaw". I told him G5s don't just fall apart and they have both clearly taken a fall, to which I got no response. Ultimately I offered him less than what he asked for because of the condition, which he did accept.
I got them home and began the diagnosis...
The Dual 2.0Ghz
The Dual 2.0 was in pretty poor external condition, but internally okay. Just very dusty. There were no signs of corrosion or any shorted electronics, the power supply was responding and there was a chime.
There wasn't a graphics card installed, but an extra molex power lead had been split off the optical drive. I figure there was an upgraded card in it which the seller sold separately. The hard drive was dead and didn't even attempt to spin up.
I replaced the HDD with a known working Leopard boot drive, installed the FX 5200 and huzzah! That was all. It ran through AHT perfectly fine and had 2GB RAM already installed.
The Dual-Core 2.0Ghz
The DC 2.0 was a different story. It had a busted base, but otherwise it looked pretty clean and unscathed. Upon closer inspection however, there was a sticky brown substance in the gaps and down the sides of the top of the tower. This goop continued inside the machine and also through the front inlet, into the front fan and onto the Logic Board. The RAM bay was also coated in this sticky substance and there was corrosion built up on the connectors of the RAM DIMMs. I guess the tower was a good spot to keep a can of coke...
First things first, I didn't have a power lead for this machine, which requires a "C19" cable with a 15amp female plug at the PSU and a 10amp standard male plug at the wall end. When I asked my local electronics store dude about this special cable he told me "NO! There is no such thing. A 15amp lead must have a 15amp wall plug".
I asked him if I could buy the 15amp lead, cut off the plug and install a 10amp male plug. He told me it's not legal and he can't advise that I do it. I assured him there is no way the G5 will ever draw anywhere near 10amps over 240V (2.4kW). I'll take the risk and just forget I mentioned anything.
Before even attempting to boot though, I took a day to dismantle the tower and thoroughly clean the logic board and fans with isopropyl alcohol to remove all the sticky business.
I stripped the machine right down to it's components, cleaned out the internals of the power supply and dismantled the aluminum casing to clean out the sugary mess as well as reshape, repair, clamp and glue in the popped out standoffs holding the bottom half of the tower together.
Once I was happy that everything was cleaned up, repaired and the logic board was free of corrosion, I put it all back together and attempted to boot. Pressing the power button resulted in a "beep beep beep", which as suspected, indicated the RAM was fried. So I ordered a pair of 2GB PC2-4200 (533Mhz) DDR2 DIMMs cheap from Hong Kong and waited.
Back to the Dual 1.8Ghz...
While the DC was on ice, I returned to my original plan to repair the 1.8. I stripped down both the 1.8 and the Dual 2.0, cleaned up all the internals (and PSUs) and made a mashup, using the parts which were in the best condition out of the two to build a better 2.0 in the cleanest case. I also repeated the process of dismantling, reshaping and repairing the banged up tower base, with all of it's popped out standoffs.
It's amazing how much dust the PSU's will hold. It was like emptying out a cyclonic vacuum cleaner, except it was all caked on. It's no wonder they ran hot and LOUD!
Next I found an exact replacement logic board for the Dual 1.8, which I ordered in from the US to "show my respect" to the G5 which I had used to produce my best work. My original plan to simply harvest parts became a labour of love to get all three G5s running perfectly, and in the process, maxing out the specs where I wanted them.
I ordered more RAM, this time of the 400Mhz variety for the Dual 2.0 to max it out at 8GB. I also ordered in the top-of-the-line-at-the-time
GeForce 6800 GT (256MB) AGP8x
card, which would go into this slugger.
And then; How the DC 2.0 became a BEAST.
After a couple of weeks waiting, the 4GB of 533Mhz RAM finally arrived for the DC, which I promptly installed. It fired up A OK and ran Leopard like a pro. It was much more responsive than the Dual-processor machines and internally has a far better thermal design. This DC machine runs cooler and the fans are much quieter than the previous models. The 1MB L2 cache (per core) also makes a big difference over the 512K L2 caches in the prior models.
I haven't had any experience with the liquid cooled units, but from reading accounts of leakages and pump failures, I think I prefer the air cooled design.
I got excited about the speed of the DC and wanted to max it out, so I ordered in
another 12GB of RAM
, a
SATA II PCIe card
and a
3G OWC Mercury SSD (480GB)
. I also found a perfect drop-in replacement
Dual-Core 970MP 2.3Ghz CPU+Heatsink
module for only £15 from the UK. Next up was to research and find the ultimate monster of a graphics card for the beast. I managed to locate a
Quadro FX 4500 (512MB)
top-of-the-line-at-the-time PCIe 16-lane, double height, monster of a card, which was brand new and sealed. Then I waited for all the parts to come rolling in.
Once it all arrived and with everything now maxed out, this machine became an absolute power house. It runs Final Cut Studio 2 beautifully. Breezes through Photoshop and InDesign and I got some ridiculous benchmarks out of Doom 3 and Halo (which I forgot to write down). Needless to say, this is my favourite PowerPC. Geekbench2 scored it a step above my
MacBook Unibody (Late 2008) Core2Duo 2.0Ghz
with it's 1067Mhz system bus and 3MB L2 cache (per core).
The Mac Pro
During all of the trial, error and waiting for parts, I needed a desktop machine to keep working on. So, I decided to buy a secondhand
Mac Pro (Early 2008)
, which I am still thrilled about. It's an absolute pleasure to work on with HiDPI enabled on a 27" WQHD (2560x1440) IPS display and even boots back down to Leopard if I want to keep a Leopard-Only environment across the board. I typically run El Capitan as standard on this machine and have countless VMs with almost every version of Mac OS X (10.1 through to 10.13 beta) and various Linux and Windows instances available at any time.
I documented the flashing of the
GTX 680
graphics card
here
.
A micro-cluster of parallel processing power.
For fun, I did setup both Pooch and Xgrid on the G5s, mixed with a mac mini G4, and an 8-core Snow Leopard Server VM on the 'Pro. It's fun to watch the speedometer shoot off to nearly 40Ghz of power!! But alas, I don't know what to do with it. I will have to nut out Final Cut Pro's Qmaster tools to create a render farm (If I ever finish a new video project). I could also configure Xcode to do distributed builds.
The only other thing I thought of was a cluster-powered h264 encoder to re-encode a huge library of divx/3ivx/mkv movies. Handbrake and VLC can't talk Xgrid, but I read about an abandoned Mac app called VisualHub which used to do it. Trying it out lead to a dead end when I couldn't get the required custom vh131ffmpeg tools to compile for PowerPC.
In conclusion.
All in all, I think I spent way too many hours on these old Macs, but it was all for my own satisfaction. It's a shame I didn't document the adventure with photos!
Just for fun, here are some benchmark results: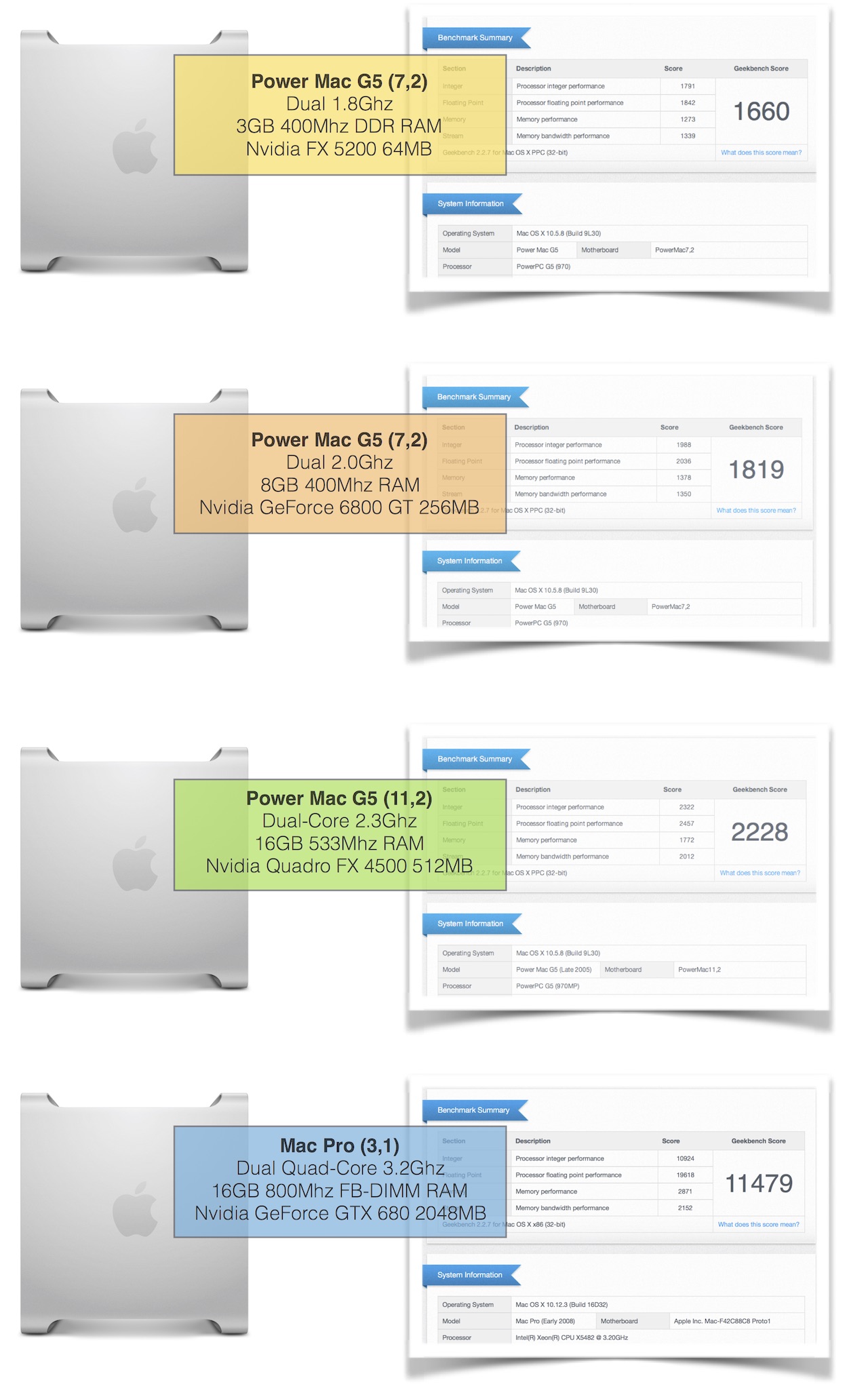 Last edited: