I was heading into a lecture today and noticed a bunch of old IT equipment at the foot of the stairs of the Computer Science building. I always look out for that sort of thing, but it's almost always Pentium Dell machines that nobody could care for. But alas, today, I finally join the ranks of the lucky garbage looters I am so jealous of.
A plastic Apple logo caught my eye from what could only have been one of the last plastic cinema displays, and it looked like a good size one. I was due to my lecture in 2 minutes so I had to leave it but I was itching to get back to the pile asap.
When I got back to it, I realised the monitor was gone
. But, something else remained, also an Apple product.
It was a desktop tower, with the service door opened down onto the floor in the manner only G3 and G4 Power Mac's do. I inspected it closer and closed the door to find to my surprise, a Power Mac G4 Quicksilver!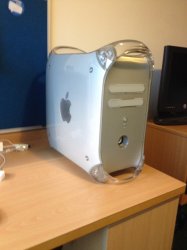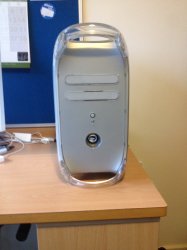 I asked at the office about if it was all junk and they said I could take as much as I liked. The monitor had apparently been nabbed by a professor only a few minutes ago!
I took the Power Mac and some old Dell LCD display and hauled them back to my apartment on the other side of campus. Thank Jobs for handles.
I gave it a little wipe down with a damp cloth and inspected the insides. It's a 2002 DP 1Ghz model. It had 512MB RAM on purchase but looks to have been upgraded further. It still has it's 80GB HDD. It has the nVidia Geforce4 MX 64MB graphics card.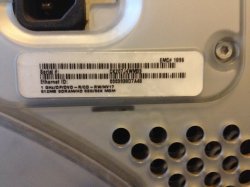 It was in such good condition that the plastic packaging covering the Superdrive was still unpeeled! It looks almost like it was just taken out of the box. When I plugged it in to power and pressed the on button it chimed thus signalling that it is probably working fine. I have yet to test it with a monitor as I have no VGA cable in my room. I'll bring one up next week and I can begin to play away.
I'll order ran Airport card on
eBay
. I am deciding between putting OS X 10.4 or 10.5 on it so any suggestion would be great.
(Also, I just tried to register it on my Apple Support Profile and nobody registered it before. It's officially mine now mwhahaha!!)
Last edited: