macrumors 68040
Original poster
El Capitan 10.11.3, 15 inch Retina MacBook Pro (late 2013).
I never had any issues with Mail until recently. I have the app constantly open on a separate space. 50% of the times I check it, it shows an exclamation mark in the sidebar, like this: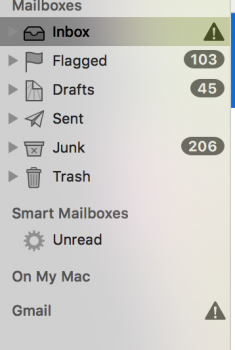 I have a Gmail and iCloud account, and it always happens to both simultaneously so it has nothing to do with Gmail or iCloud. In fact, I can always check Gmail online and that always works. It also always works on my iPhone with the Gmail app.
When I click the exclamation mark, it just says there are connection problems. I click Connection Doctor, and there's a spinning wheel for the IMAP connections, while the SMTP connection is always fine. I don't really know what that means.

If I turn WiFi off and back on again on my Mac, it usually immediately fixes the issue, until it comes back again soon.
But nothing else ever has connection issues. So there's nothing seemingly ever wrong with my internet connection in general (browsing in Safari is always fine, and other internet apps are fine).
I'm not even sure if this is a problem. I seem to get all my emails just fine - I can't tell if I'm getting them delayed because of this. But it would make me feel more comfortable if it wasn't reporting errors, who knows, maybe one day I won't be able to send an important email and it won't even tell me, since Mail generally sucks at telling you when something's wrong.
Anyone else with this issue? Is there a simple way to diagnose and fix this? Should I just start using a mail client that doesn't totally suck?
Last edited: