macrumors 68020
Original poster
Basically the idea to start this thread came from here ...
https://forums.macrumors.com/threads/os9-late-osx-no-file-sharing-via-afp.2167422/
PS: Many thanks to all fellow MR-PPC-Forum members - without their genius help and advice things wouldn't have got so far by now
---
I'd like to use
FileSharing
between old PPC-Macs with
os9
and
intel-Macs
(mine currently running on
ElCapitan
).
AFP
on os9 only allows connections to OS X 10.1 - 10.5.
Currently I use a workaround to connect os9 to a virtual LeopardServer-session on ElCapitan.
Yesterday I found a very promising link about how replacing
/System/Library/CoreServices/AppleFileServer.app
in
Yosemite
by the same file from Leopard can reachieve AFP-connections between os9 and late OS X.
http://www.applefool.com/se30/#leopardfileserver
When I tried this on ElCapitan tonight, all came to an halt, when Finder refused to copy the Leopard-version of AppleFileServer.app into the named folder on ElCapitan. I wasn't even able to rename the file on ElCapitan.
Could someone give me help, how to trick in ElCapitan to change stuff in the /System/Library/CoreServices/ - folder?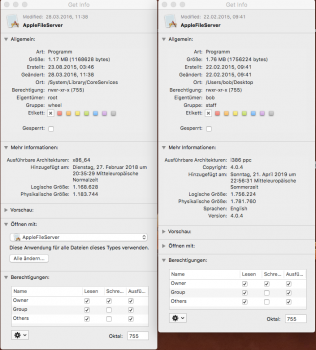 Left side: ElCapitan-version; right side: Leopard-version (extracted from my PowerBook)
Would I need a "pure" intel-version from a Leopard-installation on an Intel-Mac?
Does anyone have an intel-Mac Leopard-installation to check, if that AppleFileServer.app file is also labeled as "i386 PPC" ?
Last edited: