Suspended
Original poster
So I am looking for an honest opinion/review of the Watch. I know the capabilities, I have read the reviews (by all the major tech websites), and watched all the reviews on YouTube. But none of these really answer the questions (and maybe problems) I have about the Watch. Let me start off with a short story that sort explains why I am even asking.
So, my best friend was hanging out with one of his friends who bought an Watch. Well my friend loved it, and bought one. Well now, my best friend is trying to get me to buy one. I told him, If he could 'Sell it to me' I would buy one. For the most part, everyone I have talked to loves it. However, the only reason my best friend gave me was, 'Because I like it, and its cool'....sigh.... So the problems/questions I have with the Watch.
First, and the hardest selling point to me has to do with comfort. I personally I am not really a fan of watches, for multiple reasons, but the biggest is that I really don't like wearing things on my hands or wrists (I am little weird in this regard). Even if I am wearing a sweatshirt or long sleeve shirt I always roll up the sleeves. So 1) is the Watch comfortable?
The next question on my mind is fitness, in particular playing drums (only drummers with an Watch need answer). I am not the most fitness conscious person, however I do walk my dog 5 miles everyday, and play drums almost daily (when I have time). So, 2) is it okay/comfortable to play drums with an Watch on? (EI. Will it damage it, is it to heavy, will it track fitness)
The final question, it is kind of open ended. So my second issue with watches, is that I am kind of a minimalist, so I see watches as doing nothing my phone can't. I challenge you with my final question to change my mind on that. So, 3) what value does the Watch add to the iPhone? (EI. what do it do the iPhone can't, what does it add to the iPhone experience)
I have already thought (If I decide) of which one I would get, and even found where I would buy it from. I would get a
Watch Sport Space Grey
. I would also buy an orange (my favorite color) Watch sport band, and do a sort of mismatch, where I keep one side black and the other orange. And would probably use the X-Large face (I am a minimalist) in orange to match the band.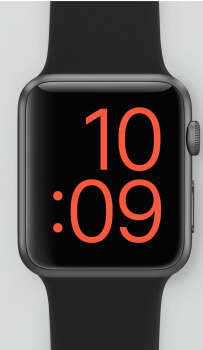 So do your best, and try to convince me (you can also try to dissuade me but I am already kind of there). If anything please answer the three questions I have. Also I know the Watch2 is around the corner, so don't try to convince me to wait.