macrumors Core
Original poster
In a little under two weeks, the eyes of the footballing world will be focused on eastern Europe as the 2012 European Championships kick off. The continent's footballing elite will be competing for national pride and ultimately the Henri Delaunay Trophy – but also for the most prestigious prize the sport can offer, a MacRumors Fantasy Football Championship.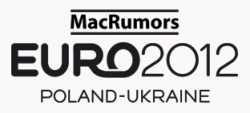 ​
We've run a fantasy football competition based on the Premier League for a number of years now, but this is the second based around an international tournament. The previous – staged during the 2010 World Cup – was won by
Tilpots
. No doubt though a host of other MacRumormongers will be eager to claim his crown as our International Champ.
The version of the game we'll be playing is the one being run by ESPN – many of us will be familiar with their fantasy site as it's used to run MacRumors leagues in a number of sports, including American Football and baseball.
How do I sign up?
Simply
visit the ESPN site
and register your team – it's free to do so. Once that's done, drop me a PM and I'll send you back the code you need to join the MacRumors competition – if you could tell me your team name in the PM that would be useful too! I'm planning on posting updates as the competition progresses, and by posting usernames rather than real names we can protect folk's privacy a bit.
How does the competition work?
ESPN are running a slightly simplified competition for Euro 2012, as it's a rather short tournament (only six rounds in total). Unlike our Premier League game, there's no budget to worry about – like an international manger you've free rein to pick your perfect XI from the players competing. Each team has a 4-4-2 formation, so you need to pick one 'keeper, four defenders, four midfielders and two strikers – and in terms of transfers, you can completely rebuild your team from round to round.
The key with this game is to pay close attention to the fixtures and use your skill and judgement to pick the eleven players you think will rack up the most fantasy points in that round.
Scoring works in a similar fashion to the Premier League game, and is
outlined on this page
. Don't forget to assign one of your players as your captain – your skipper will earn you double points.
So prepare your squads and good luck!