macrumors 68020
Original poster
It would be interesting to compile a collection of real world PowerPC benchmark results with different configurations of solid state drives from factory sealed 2.5" PATA SSDs, mSATA and the various adapter caddies and CF solutions.
There is a lot of information floating around, but nothing that solidly states the advantages or real world differences between the configurations for our old Macs.
Over time, we could compile an extensive list to highlight;
1. Which PATA/IDE SSD or CompactFlash config performs best in each G4, G3, 60x and m68k Mac when working within the limitations of the hardware.
2. Which would be the best value for money based on the machine's restrictions.
3. Which option best provides reliability / longevity.
----------
Here are
Xbench
results of two of my PowerBook G4s with SSDs;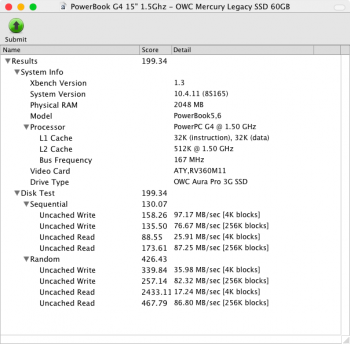 Machine:
PowerBook G4 15" 1.5Ghz
SSD:
OWC Mercury Legacy Pro 60GB SSD
IDE/PATA Adapter:
None
Purchased:
2016
Price:
AU$190 inc shipping to Australia (approx US$150)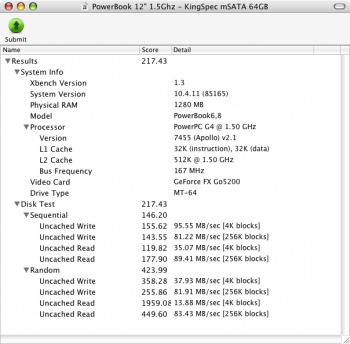 Machine:
PowerBook G4 12" 1.5Ghz
SSD:
mSATA Kingspec 64GB mini-PCIe
IDE/PATA Adapter:
Lindy mSATA<->IDE 2.5" PATA interface
Purchased:
2017
Price:
AU$99 total inc shipping to Australia (approx US$78)
As you can see, they both fare pretty evenly. In real world performance, I would say that the cheaper mSATA/Lindy config does feel faster, but this may be just the slight difference in age. Another consideration is the OWC Legacy boasts a series of endurance and failsafe features, which could account for the overhead. (Either that or it is just marketing hype to justify the higher cost).
My initial impression of the OWC Legacy drive was pretty poor because in the beginning I didn't feel it was much of an improvement over my 7200rpm spinning HDD. Since doing further research, I realised that this was due to the way I installed the OS. I simply used Disk Utility to transfer the previous drive's contents straight across. Since erasing the SSD and starting again with a clean install it has made a world of difference, especially in Leopard.
I think the main reason I felt so underwhelmed with performance was that the OWC Legacy was my first non-SATA SSD and I didn't have any first hand experience of how much of an impact the PATA bus restriction could have. My expectations were pretty high after getting comfortable with 1.5Gbps SATA SSD speeds on the G5.
----------
Benchmarking Software
Xbench 1.3:
QuickBench 4.0:
http://macintoshgarden.org/apps/quickbench
AJA System Test 6.0.1:
Wayback Machine
----------
Post your benchmark results and your SSD/CF configurations!
Last edited: