Macintosh PowerBook G3 Wallstreet "PDQ"
What an absolute beauty of a Mac!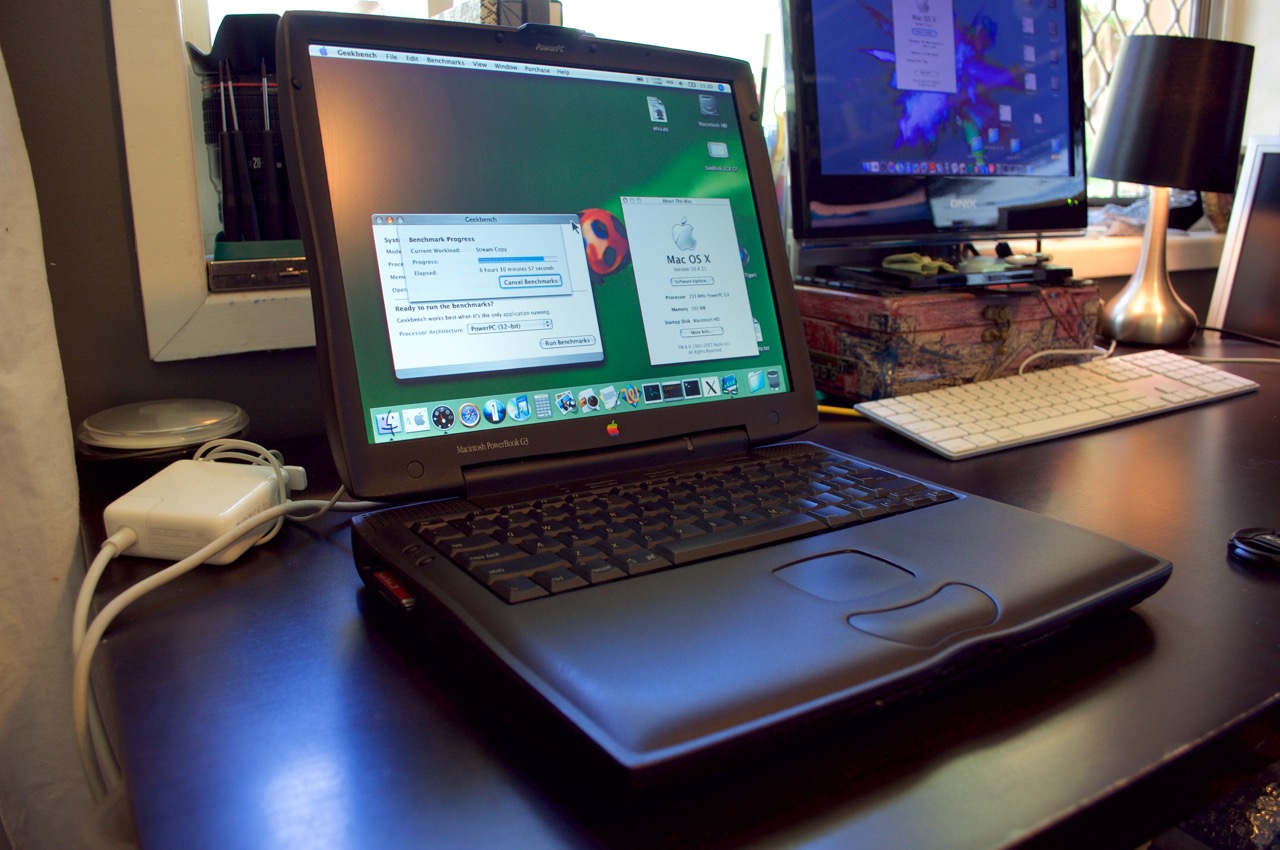 I had a pleasant surprise in the mail on my Friday afternoon to find delivery of this near perfect example of a September 1998
Macintosh PowerBook G3 Wallstreet Series II
or
"PDQ"
.
233Mhz PowerPC 750 "G3" with 512K L2 cache, 32MB of PC66 RAM, 2GB 2.5" HDD
. Sold as "untested" due to a missing power supply for a total of AU$50 (+ shipping).
When I first plugged it in and powered it on I was greeted with a MIGHTY boot chime. Is it just me or does this old Mac sound more GRAND than it's more youthful siblings and cousins?
Honestly though, the first thing that struck me is the absolute weight and girth of the beast. Weighing in at 3.3KG, it is heavier than even the last generation of PowerBook G4 17 inchers.
The PDQ feels so SOLID. It makes my Pismo feel cheap and skinny (which is a mighty feat in it's own right). Everything is finished with a glorious matte texture. The keys have travel unlike any other Mac I own and the trackpad click has a deep, but responsive "clunk". It's hard to describe, but it's not the typical hollow click as found in most portable Macs. This clicker takes me back to my early experiences with PowerBooks like the 170 or Duo 230, which I was fortunate enough to have spent some time with as a kid.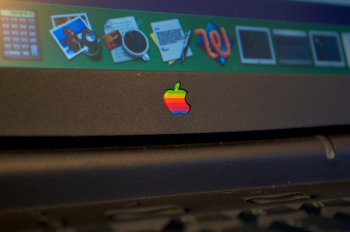 ​
The separate volume and brightness controls are a nice touch. The entire machine captures such a distinctive 90's design quality and to top it off, we have a pretty little Apple logo bleeding in all 6 original colors below the display.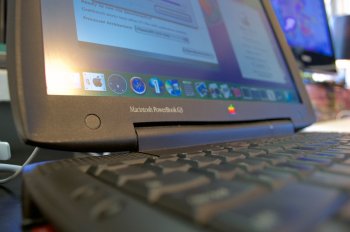 ​
From what I can see, the PDQ (and Lombard) may have been the last to carry the "Macintosh" label, before it was officially shortened to just "Mac".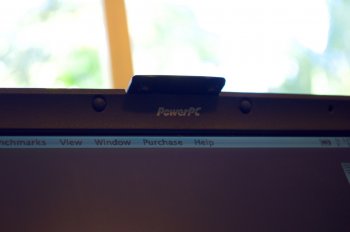 ​
We are reminded of the architecture here with the little
"PowerPC"
badge below the display latch.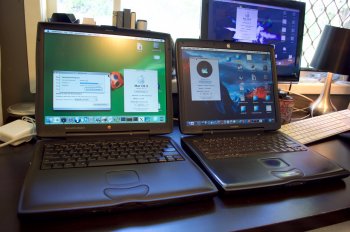 ​
I've set both the PDQ and the Pismo side by side here to spot the difference. I know my Pismo is well worn, but everything about the Wallstreet / PDQ just feels more "generous". Even the lip of the display bezel has a substantial depth.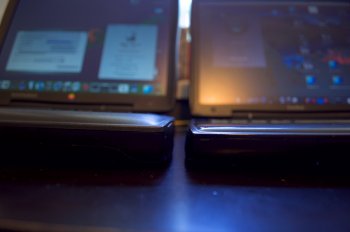 ​
It's hard to get a feeling for this with photos, but the thickness of the PDQ is quite striking "in the flesh". The curves are designed to diminish a lot of this thickness at a glance though.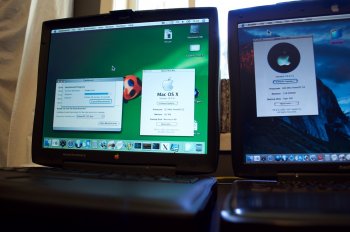 ​
So on first boot we were dropped into the previous owner's Mac OS 8.5 installation, which with 32MB was a very smooth experience. I then did some reading up on
XPostFacto 4
and decided I would try Tiger on my now lowest-spec Mac. To begin with, I hunted around for some more RAM and came across 128MB + 64MB PC100 SO-DIMMs to install.
I initially installed 256MB PC133 + 64MB PC100 and it caused the machine to crash on boot. I then removed the 64MB SO-DIMM and it booted with the single 256, but only recognized it as 128MB. I figured I would stick to PC100 sticks and settled on the 192MB total config, returning the 256MB stick to it's place in one of my TiBooks.
To combat the noisy 2GB "angle-grinder" HDD, I dug out the 6GB HDD which shipped with my Pismo (and fortunately had a fresh installation of Mac OS X 10.4.6 + Mac OS 9.2.2 pre-installed). Getting inside the PDQ is great. It has been so thoughtfully designed. Everything is so easy to get to. I especially enjoyed finding the hidden keyboard release latches inside the expansion bays.
Initially it wouldn't boot Mac OS 9.2.2, so I had a thought that maybe 9.2.2 wasn't supported (due to the New/Old World ambiguity). So I booted off a Mac OS 9.0.4 CD and did a fresh install of the classic Mac OS on top of the Tiger installation. I then rebooted into OS 9.0.4 and launched XPostFacto, which made it dead easy to boot into OS X.
Tiger ran through everything as expected. And just like any other Mac I have, I was able to install all of the software updates, pulled down from Apple' servers via the 10mbit Ethernet port. This brought it up to 10.4.11. I then installed a series of apps, albeit HDD space is limited, even with 6GB, so I didn't install my usual Xcode 2.5 configuration (or MacPorts / Tigerbrew).
I let Geekbench start before I went to bed and when I woke up, the machine was sleeping and had paused the benchmark. Once it finishes, I'll post the results.
Unfortunately, the PDQ is "pretty damn slow" in Tiger. I think if I were to get the right 256MB SO-DIMMs to max it out to 512MB, then it would be much more comfortable. That and installing a small SSD (or CF) in place of the HDD would speed things up quite a lot. I understand OS X must be installed on the first partition less than 8GB in size to boot.
In comparison, my Pismo (G3 400Mhz, 1MB L2 cache, 1GB RAM, 32GB mSATA SSD) flies through Tiger and my usual array of apps, including Photoshop 7.
I'll let the PDQ run with Tiger for now, but once I get a better/faster internal storage solution for it, I think I'll play around with either Jaguar (supported) or Panther (XPostFacto) to get a smoother OS X experience from it.
Now I have to go about rebuilding another WS/PDQ/Pismo battery to make this a portable "heavyweight".
-AphoticD



P.S. Screenshots to come once Geekbench finishes.. maybe by lunchtime on Sunday?
Last edited: