macrumors 68020
Original poster
so as ever with these threads I recommend you check out the threads that come before this one
https://forums.macrumors.com/threads/making-a-g4-pismo-upgrade-at-home.2019269/
https://forums.macrumors.com/thread...2-putting-the-power-into-flowerpower.2040272/
with that out of the way
im pleased to announce that I have been able to successfully swap the G3 PPC750L in a first generation iBook G3 clamshell for a G4 7410
as I have mentioned in the previous threads, there are a number of PowerPC CPUs which are (or are mostly) pin compatible with each other
I have (as well as a few other members) have been doing a lot of research and work into figuring out what CPUs we can swap with what other/better CPUs (both for PowerPC and intel macs...)
one of the ones we figured out was the PPC750L is very pin compatible/friendly with the 7400/7410 G4 CPUs
so as per my previous posts I have (and a couple other members) have been working on physically de-soldering the PPC750L in various macs and soldering in a 7410 (since the 7410 is the best compatible G4)
part of the fun was figuring out which Macs used what CPUs exactly (theres a reason I ask for close up die shots and detailed system information, apart from the fact I just like seeing them
)
and it was noticed the first generation iBook G3 clamshell uses a PPC750L! which as mention prior is very G4 friendly, so quite a while ago after I had finished with the iMac CPU Swap I set out to Make a G4 iBook G3
and today it finally came to completion it took a lot longer then I was expecting/ideally like but on the upside my new soldering workstation is much better then what I used on the Pismo/iMac G3
I would like to say a big thanks to
@CooperBox
for he donated to me the Clamshell used to perform this mod
without his generous donation I would not be able to bring you todays post
(he also sent me a Dead iBook G3 logic-board for me to practice/play with which has come in very useful during this adventure, said Dead board is now missing its RAM L2 cache and CPU
)
Now its time for pictures
now that the iBook G3 has a G4, of course it can run leopard
due to the iBook being a uninorth machine (it is in fact the very first uninorth mac from apple) Leopard did not need any tweaks/hacks to boot. I think its pretty damn cool to see Leopard running natively on a Clamshell iBook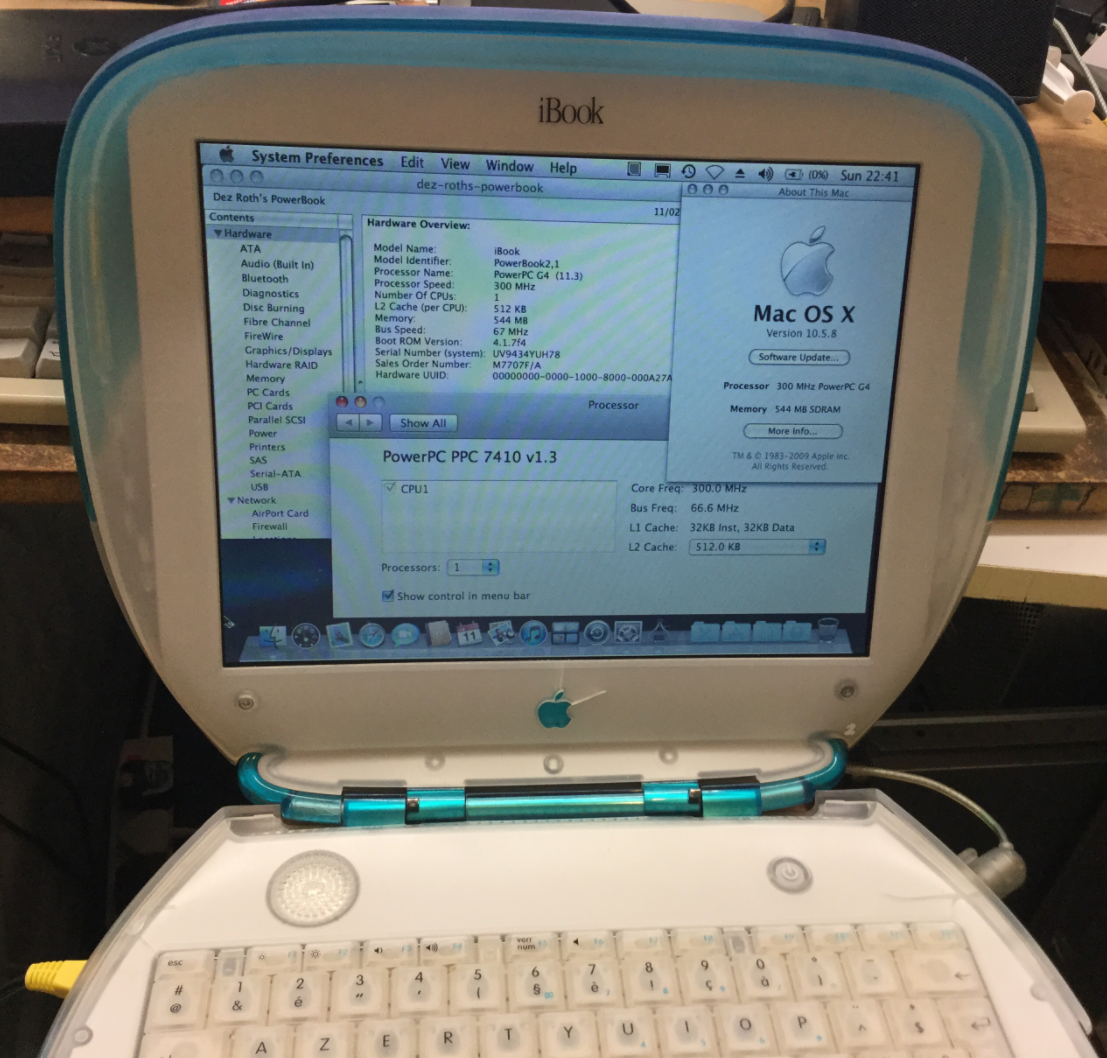 heres a shot of it running Mac OS 9.2.2, as you can see I left it at 300Mhz as the CPU has barely a heatsink as im sure anyone who has torn down an iBook has found out. so I left the speed at 300Mhz to keep thermals in check as I have not made any mods to the cooling system. (running loops of gauge Pros Memory test the CPU hits a max of "66c") its worth noting that the temperature sensor in the 750-7410 CPUs are more often than not, not accurate. so take the figures with a pinch of salt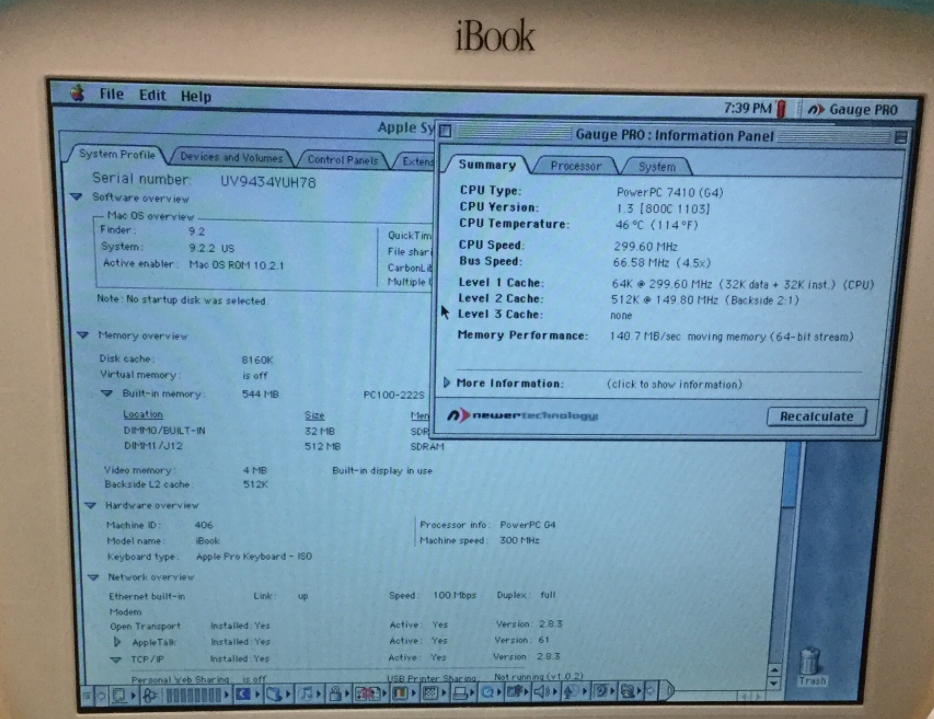 heres the shot of the Pads just after I removed the old PPC750L CPU, cleaning the pads up on this was a bit of a PTIA, its much easier to clean the pads up when you lift the chip and most of the solder balls stay attached to the old CPU rather then the PCB, none the less I managed to clean the pads up good enough for the "new" 7410 to solder down nicely to
the tin foil is there so I dont melt any nearby connectors especially that one right next to the CPU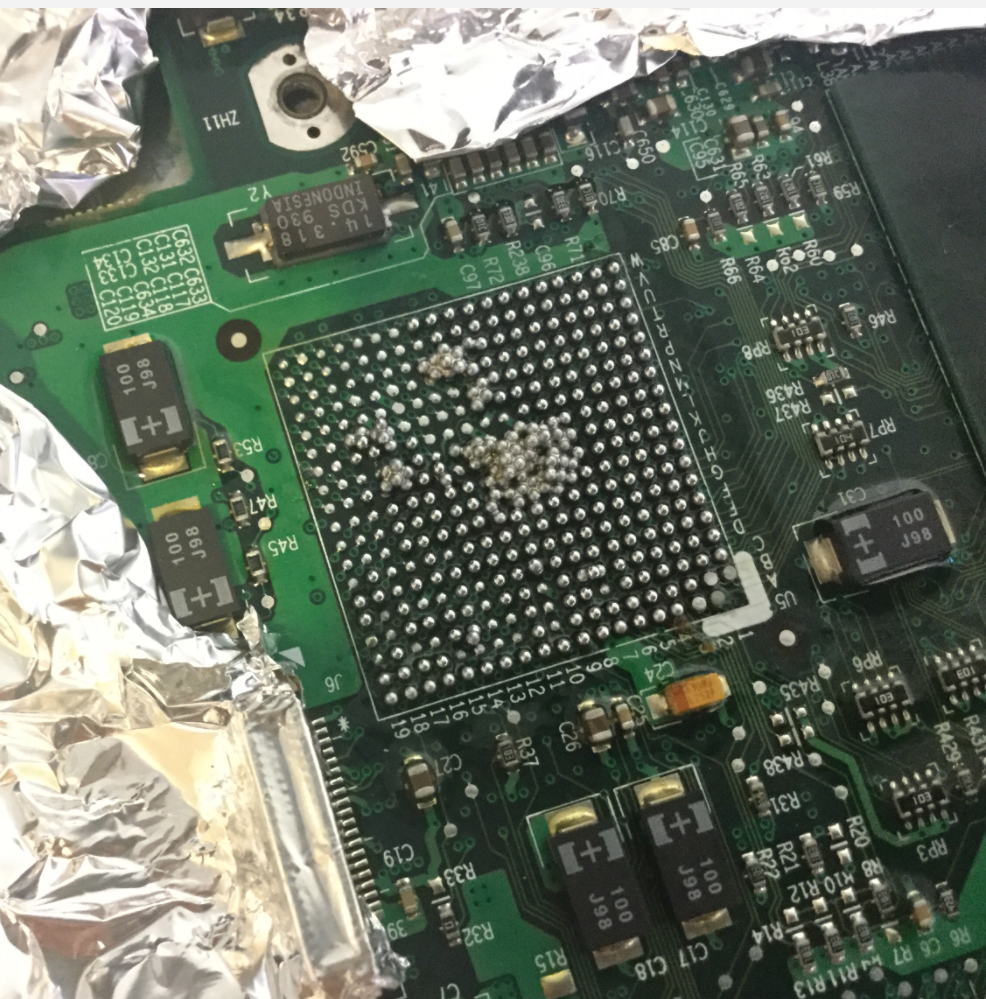 heres a side on shot of the 7410 freshly soldered, it was still cooling down when i took this shot
its worth noting that, most PPC CPUs use 0.89Mm solder balls, but for whatever reason 0.89MM Balls and stencils dont seem to exist anymore...(if anyone knows where one might find 0.89Mm solder balls and stencils please do let me know
) so anyone doing this today has to use 0.76Mm balls which work fine apart from the fact the CPU sits lower down then originally intended, so depending on your heatsink setup you might need some sort of copper or so shim so the heatsink makes proper contact. on my iBook I left the original thermal pads intact but also added a generous blob of thermal goop to the CPU to be on the safe side.
and heres the money shot
this CPU is from a 533Mhz PowerMac G4 DA CPU card, so in the future if/when i get better cooling setup I should be able to clock the G4 iBook G3 quite high im hoping to hit 600Mhz which uses the highest multiplier the 7410 supports which is 9x (66*9=600)
I also have the L2 cache from the PMG4s CPU card, so I do plan on trying to upgrade the L2 cache in this iBook from 512KB to 1MB at some point so stay tuned for that
(for those wondering this CPU was made 50th week Y2K)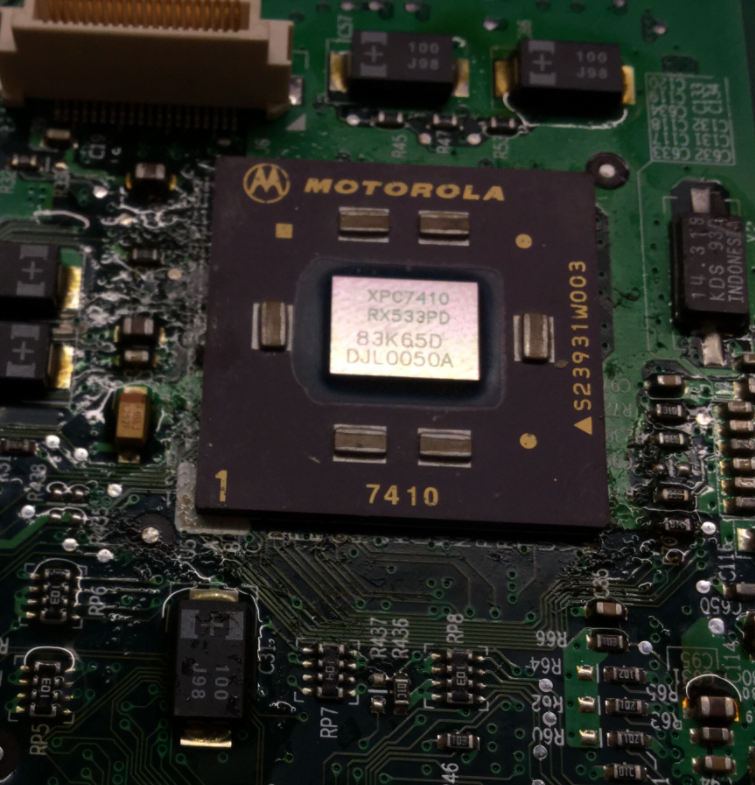 its worth noting as well that if you plan to try this your self on any mac, Make sure the BootROM is fully up to date first. an out of date BootROM can cause all sorts of issues. for example on the iBook G3, earlier boot ROM versions dont properly support the 7410 and dont support detection of higher speeds properly (so if you decided to overclock it would be miss reported in OS X etc) and the older boot ROM prevents Leopard from booting even with the G4 CPU (this also holds true for the G4 cube and probably other early G4 Uninorth macs as well)
if you are interested in finding out more/doing this your self I recommend checking out this thread on the 68kMLA
https://68kmla.org/forums/index.php?/topic/28556-imac-g3-rev-a-c-g4-cpu-upgrade/&
and finally here are some GeekBench results
the iBook has been completely stable since doing the swap and has not crashed once despite intensive stress testing
https://browser.geekbench.com/geekbench2/2651738
this is in Tiger with GeekBench 2.2.0
https://browser.geekbench.com/geekbench2/2651744
and this is in Leopard with GeekBench 2.2.7
now what Mac to do next
Id love to get a 7448 and try and upgrade the CPU in a DLSD, and id like to also get an MPC740 to try and upgrade the 603ev in my 4400 to a G3
but getting ahold the CPUs especially ones that Apple did not use in any of their macs is easier said then done...
I hope you enjoyed reading this, and I hope it helps out anyone in the future researching or attempting to do what I have done here
Last edited: