Might it be that the 660P is the cure?
Maybe not... I'm using a Samsung 970 Pro and sleep/resume is working flawless so far.
It's certainly not the fastest drive (made slower by the 2013 it's gone into...)
I've run the speed test with Blackmagic's software and my read/write results are around 780/738 MB/s, so your numbers are mostly at the top. The real bottleneck is the bus speed in the 2013 models. I understood that before buying the drive, but wanted the endurance features the Pro series offer.
Notice it's not shown as an internal drive as all NVMe drives appear to be external
Interestingly, in my case the NVMe drive is recognized as internal in System profiler, Finder and Disk utility (which reports it as "PCI-Express Internal Physical Disk". Where can I find the MRI software in your screenshots BTW?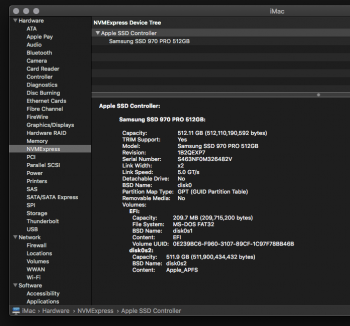 One thing I forgot to mention in my previous post, which may be useful for those trying this. It is possible to buy the real, original adhesive strips used by Apple from eBay. I bought
these
and they're the real thing (previously I used the ones sold by OWC and they're fine, but a real PITA when you have to remove them). The funny thing is that the original ones are cheaper!