macrumors newbie
Original poster
This thread is about upgrading MacBook Airs & Macbook Pros (2013-2015) with new high speed and/or high capacity NVMe SSDs.
This thread was one of the first to talk about MacBook Pro NVMe SSD upgrades on Macrumors, and was started by user "maxthackray", which we can thank and give tribute for having started this thread.
This post has now been converted by MacRumors administrators to the present wiki post you are reading.
There is a lot of interest in this topic and now over 5000 posts so we will try to summarise valuable information in this wiki post and keep it up to date.
0 - Why upgrading to NVMe ?
Background information
​
Between 2013-2017, Apple shipped laptops equipped with proprietary, AHCI "blade" SSDs with a proprietary "gumstick connector" (12+16 pins).
They had either 2x PCIe 2.0 Lanes (2013) or 4x PCIe lanes, and were made by Toshiba or Samsung (SSUAX or SSUBX)
For many years the only possible replacements or upgrades for those SSD were to :
replace with expensive used SSDs pulled from Apple laptops
replace with expensive SSDs from OWC (Aura Pro, Aura Pro 2) or Transcend (820, 850)
go the DIY solutions buying a M.2 AHCI SSD with an adapter e.g. Samsung 941 or Samsung 950 SSDs.
PCIe M.2 AHCI SSD are no longer made : you can't buy new ones, and used ones are expensive with low capacity and no warranty.
At the same time, NVMe "blades" M.2 SSD are going more on more mainstream on the PC market, and there are literally dozens of brand new, cheap, super fast and reliable NVMe SSD on the market, with enormous capacities up to 4TB.
So why not go NVMe ?
To gain full NVMe support you need two things :
support at the BootRom (firmware) level
support at the OS level
Thankfully, in 2017, macOS
10.13
(High Sierra) came out and it was discovered that it not only supported
any tiers NVMe SSD
but it also brought BootRom upgrades which enabled booting with NVMe SSD...
Yay!
(Note: macOS 10.14 Mojave is also good)
So, now we can upgrade many 2013-2017 MacBook laptops with brand new, cheap NVMe SSDs carrying 3 to 5-years warranty, instead of expensive, used, out of warranty, AHCI SSDs.
This guide is all about installing those new NVMe SSD replacements.
NVMe drives are the future compared to AHCI PCIe drives which are no longer made.
As of 2020 NVMe drives gives you unbeatable capacities, speed, and low prices.
And also, upgrading an old computer with a NVMe drive is always better for you and the planet than buying a new one... and it is a lot cheaper.
1 - Which Mac laptops can be upgraded with a NVMe SSD ?
​
all MacBook Air models from Mid 2013 to 2017 (MacBookAir6,1 to MacBookAir7,1)
all MacBook Pro models from Late 2013 to Mid 2015 (MacBookPro11,1 to MacBookPro12,1)
In details :
1-1 MacBook Air
The 2013-2014 MacBook Air models originally shipped with 2x lanes PCIe 2.0 AHCI SSD (speed ~700MB/s).
They support up to 4TB NVMe SSDs if their BootRom is at least MBA61.
0103
.B00, and will make them run at PCIe 2.0 speed with up to 4x lanes.
They
don't
support natively hibernation on NVMe SSD, but workarounds exist.
MacBook Air 11" Mid 2013 (MacBookAir6,1)
MacBook Air 13" Mid 2013 (MacBookAir6,2)
MacBook Air 11" early 2014 (MacBookAir6,1)
MacBook Air 13" early 2014 (MacBookAir6,2)
The 2015-2017 MBA models either shipped with 2x or 4x lanes PCIe 2.0 AHCI SSD (speed ~700 to ~1500MB/s).
They support up to 4TB NVMe SSD if their BootRom is at least MBA71.
0171
.B00 and will make them run at PCIe 2.0 speed with up to 4x lanes.
They
do
support natively hibernation on NVMe SSD :
MacBook Air 13" early 2015 (MacBookAir7,1)
MacBook Air 13" 2017 (MacBookAir7,2)
1-2 MacBook Pro retina 13" and 15"
The 2013-2014 MacBookPro retina models originally shipped with 2x lanes PCIe 2.0 AHCI SSD (speed ~700MB/s).
They support up to 4TB NVMe SSDs if their BootRom is at least MBP111.
0142
.B00 (for 13" models) or MBP112.
0142
.B00 (for 15" models) and will make them run at PCIe 2.0 speed with up to 4x lanes.
They
don't
support natively hibernation on NVMe SSD, but workarounds exist.
MacBook Pro Retina 13" late 2013 (MacBookPro11,1)
MacBook Pro Retina 15" late 2013 (MacBookPro11,2 & MacBookPro11,3)
MacBook Pro Retina 13" mid 2014 (MacBookPro11,1)
MacBook Pro Retina 15" mid 2014 (MacBookPro11,2 & 11,3)
The 2015 MacBookPro retina 13" and 15" models originally shipped with 4x lanes PCIe 2.0 AHCI SSDs. (speed ~1400MB/s).
They both supports up to 4TB NVMe SSD if their BootRom is at least MBP121.
0171
.B00 (for the 13" models) or MBP114.
0177
.B00 (for the 15" models).
The Retina 15" mid 2015 supports
4x lanes PCIe 3.0 speed
eg. up to 3000MB/s. The early 2015 Retina 13" supports 4x lanes PCIe 2.0 speed.
They
do
both natively support hibernation on NVMe SSD
MacBook Pro Retina 13" early 2015 (MacBookPro12,1)
MacBook Pro Retina 15" mid 2015 (MacBookPro11,4-11,5)
2 - Which Mac laptops CANNOT be upgraded with NVMe SSDs?
​
EARLY MODEL LAPTOPS BEFORE 2013
all non retina MacBook models (MacBook1,1 to MacBook7,1)
all non retina MacBook Pro (MacBookPro1,1 to MacBookPro9,2)
These models above come with a 2.5" SATA slot and interface. You can upgrade them with any standard cheap 2,5" SATA AHCI SSD
MacBook Air from Late 2010 to Mid 2011 (MacBookAir 3,1 to MacBookAir4,2)
MacBook Pro Retina from mid 2012 to early 2013 (MacBookPro10,1 to MacBookPro11,2)
These two models above come with a M.2 AHCI SATA SSD and use a SATA interface. They are definitely not compatible with M.2 PCIe SSD. The PCIe M.2 format looks very similar to the SATA M.2 format but it won't work.
Macbook Air 2012 (tried on 11 inch model) has a mixed connector which can use both SATA (stock one) and PCIe x2 (NVMe) drives, thus it is possible to gain 800+ MB/s (WD SN550) with an NVMe SSD and the right adapter for it. Hibernation has no issues so far on macOS 10.15.7, the external icon is easely fixed with Innie.kext.
You can upgrade the storage of those models with any SATA M.2 AHCI SSDs - e.g Crucial MX500 sata M.2 - and M.2 to Apple 6+12 adapters. Transcend and OWC also sell upgrades.
LATE MODEL LAPTOPS AFTER 2015
all MacBook Air since the Retina 2018 (MacBookAir8,1)
all MacBook 12" Retina since the early 2015 (MacBook8,1)
all MacBook Pro 13" Retina 4 TB ports since 2016 (MacBookPro13,2)
all MacBook Pro 15" Retina since 2016 (MacBookPro13,3)
If you have one of those late models, sorry their storage cannot be upgraded. Their storage is BGA NAND Flash soldered onto the logic board. You can as a customer give feedback to Apple regarding this situation.
An exception is the MacBook Pro 13" Retina without TouchBar aka 2 ThunderBolt ports (2016-2017) which has proprietary PCIe 3.0 NVMe SSDs. It
might become
possible
at a future date
to upgrade it with with adapters and small 2230/2242 M.2 blades like Sabrent/Toshiba/Koxia/Sandisk/WD (
Sintech adapter
is out).
3 - Which NVMe SSDs are known to work?
​
Basically all NVMe SSD work, except a few ones with incompatible firmwares.
The following models have been tested to work :
​
Adata NVMe SSD : SX6000, SX7000, SX8200, SX8200 Pro etc.
Corsair NVMe SSD : MP500,

MP510

Crucial NVMe SSD : P1, P2, X8
HP NVMe SSD : ex900, ex920, ex950
OCZ RD400
Toshiba XG3, XG4, XG5, XG5p, XG6
Intel NVMe SSD : 600p, 660p, 760p
MyDigital NVMe SSDs : SBX - BPX
Kingston NVMe SSD : A1000, A2000, KC1000
Sabrent Rocket (Phison E12 and E16 based)
Samsung NVMe SSD : 960 Evo, 960 Pro, 970 Evo, 970 Pro, 970 Evo plus (with latest firmware), 980
WD Black NVMe SSD v1, v2 and v3, WD Blue SN550 (FW Update mandatory), SN750, SN750 SE
Inland Premium (not Professional)
NVMe SSD known
not to work
on MacBook Pro / Air.
DO NOT BUY:
Samsung PM981
Samsung 950 Pro
WD Blue NvME SN570
WD Black NvME SN770
SK Hynix Gold P31
Compatibility issues with these models are due to a firmware issue.
Update Aug 2021: SK Hynix P31 Gold is now known to work.
The old firmware did not allow you to boot into macOS, it would just kernel panic. The new firmware released by SK Hynix fixed the incompatibility. You should seriously consider using this drive if battery life is a priority. It is known to be one of the best possible drives for laptops.

See this post for install process: https://forums.macrumors.com/thread...ook-pro-ssd-to-m-2-nvme.2034976/post-30164983

Note: SK Hynix Gold P31 is widely available in 512GB and 1TB versions. A 2 TB version has just come out (September 2021) but stocks are still limited.
OTHER OPTIONS
Those AHCI options work, but are expensive / come with no warranty / are over-priced / have flaws :
Apple SSUAX and SSUBX OEM blades (expensive, only available used, without warranty)
OWC Aura SSD : 2x lanes only, RAID0 of 2x slow controllers, no TRIM, no SMART
Transcend Jetdrive 820 : 2x lanes only, not cheap
NVMe upgrades which have the native Apple 12+16 "gumstick connector" :
Apple "Polaris" NVMe SSDs : very fast but definitively not cheap
OWC Aura Pro X : not cheap for a NVMe drive, not fast for a NVMe drive
Transcend JetDrive 850/855 : not cheap for a NVMe drive, not fast for a NVMe drive
A last thing :
all NVMe M.2 drives do work with TRIM enabled and supported natively, without any patch
NVMe drives with 512b sectors don't work on macOS older than 10.13
NVMe drives with 4K sector size (ex. : Sabrent Rocket) do work natively with macOS 10.12, of course you need to have your BootRom up to date before installation
(see table below for 4K compatiblity)
4 - The M.2 to Apple "gumstick" adapters - the good and the fake
​
Apple uses a proprietary "gumstick" 12+16 PCIe interface in its 2013-2017 MacBook Airs and Pro computers. The rest of the PC industry uses the "M.2" NGFF connector which is very common.
So, if you want to upgrade your Mac with a regular M.2 NVMe drive, you need an adapter.
Lot of adapters have been tested in this thread, but in one sentence :
always buy an Apple to M.2 adapter from Sintech
The "Chenyang" or "CableCC" adapters (and assimilates) are still sold today but they
do not have the proper wiring
letting NVMe SSD work well.. Using it will cause reboot issues, sleep issues.
DO NOT BUY THEM
Instead, buy the "Sintech" adapter. Previously, Sintech made 3 models (rev. A rev. B and rev. C).
There were problems with the rev. A adapters too, this was commented a lot in this thread.
But now, as of early 2019, I can confirm that
every adapter shipped from Sintech have the proper wirings and works perfectly.
You can buy Sintech adapters on their Amazon shop :
https://www.amazon.com/Sintech-Adapter-Upgrade-2013-2016-2013-2015/dp/B07FYY3H5F/
Amazon UK:
https://www.amazon.co.uk/Sintech-Adapter-Upgrade-2013-2016-2013-2015/dp/B07FYY3H5F/
(warning, long delivery time)
Or directly from their website :
http://eshop.sintech.cn/ngff-m2-pcie-ssd-card-as-2013-2014-2015-macbook-ssd-p-1139.html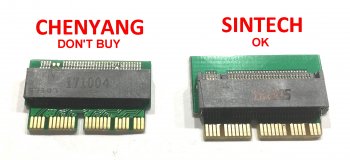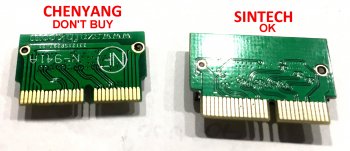 A cheaper solution is a no-name but mostly identical adapter from Aliexpress available here -
https://aliexpress.ru/item/33027201181.html
. This exact one bought in early 2020 is proven to work on 2015 A1398, connection is full speed v3.0 4 lanes. 3$ only.
Beware seller may change the product without notice! We are not responsible for that.
Also, if you have an old Sintech adapter made in 2017-2018, you have to check that there is some tape insulation like in the following photo :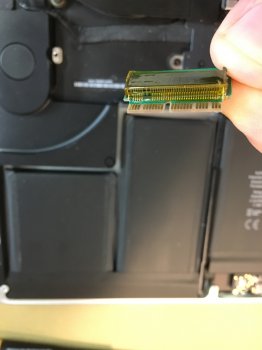 5 - Are you getting a battery swap / keyboard swap / major internal repair at an Apple Store or direct from Apple? You may want to put the old Apple stock SSD back in the laptop before you give it to Apple to repair.
​
Some users have reported that Apple Stores have refused to do a battery swap on MacBooks with an upgraded NVMe SSD. One user
said
their MPB (sent in for a battery swap) was 'returned to me with unspecified "damage" due to the ssd' and 'a picture of it with the adapter' was included in the message from Apple. This was despite the Apple Genius being informed in advance and saying it would be fine.
It looks like some Apple technicians may be fine with it and others may not want to work inside a MacBook with a NVMe adaptor installed.
Third party Apple repair services should be happy to proceed with any work even with a NVMe SSD installed.
6 - Hibernation issues on 2013-2014 laptops
​
Starting with macOS Big Sur 11.0.1, Apple has released Root ROM or system firmware for 2013-2014 MacBook Pro and MacBook Air models that allows these models to be upgraded with NVMe drives and prevent deep sleep issues without further system modifications.
* Late 2013 MacBook Pro 13" with Retina Display (MacBookPro11,1): Boot ROM 427.0.0.0 and higher
* Mid-2013 MacBook Air 11": Boot ROM 4xx.0.0.0 and higher
Updating to those 4xx.0.0.0 versions of Boot ROM or system firmware will make any additional modifications to prevent unexpected system restarts unnecessary; however, it has been noted that the hibernation and autopoweroff behavior of those MacBooks models has been changed and that the battery discharge is higher than with the original PCIe SSD.
macOS release prior to macOS Big Sur 11.0.1 ship with a Boot ROM or system firmware for 2013/2014 MacBook Pro (13", 15") and 2013/2014 MacBook Air (11", 13") that included a DXE NVMe driver which is incompleted or compressed. This caused 2013 and 2014 MacBook models to not wake up from hibernation and restart. This problem existed with
every NVMe SSD
(Apple NVMe SSDs that shipped with 2015 MacBook Pro models, third-party drives like the OWC Aura Pro 2, Transcend 850 NVMe SSD).
To prevend this problem you had two options:
Disable hibernation or deep sleep by disabling hibernation via Terminal: "

sudo pmset -a hibernatemode 0 standby 0 autopoweroff 0

", or
Patch the Boot ROM or system firmware with an NVMe driver from 2015 MacBook model equivalents.
Disabling hibernation had the drawback that your MacBook would consume more power when sleeping for a longer time compared to proper hibernation (suspend to disk) with the default settings. Your battery would lose ~10% overnight.
The process of patching the Boot ROM or system allowed hibernation to work but required additional hardware. See
https://forums.macrumors.com/thread...ssd-to-m-2-nvme.2034976/page-65#post-26224320
for a guide that walked through the required steps.
Other options included a "Matt Card" from CMI zapper.
7 - Troubleshooting steps for kernel panics, crashes or instability
​
A small number of members have reported issues around stability and kernel panics after upgrading to an aftermarket SSD. These issues are quite rare, so don't panic! We have a 10 step plan.
If you are experiencing crashes or kernel panics especially around sleep/wake, try the following steps:
Make sure the machine's boot ROM is the latest version. Check your version in "About This Mac" / "System Report" under Boot ROM Version.​

On a very old boot ROM (<400.0.0.0) use an empty/formatted original Apple SSD get the lastest ROM. Do a temporary fresh install of MacOS from USB, the install should get you to the latest ROM.​

After 400.0.0.0 systems with aftermarket SSDs can get boot ROM updates.​

With the latest boot ROM, any previously installed or old version of MacOS should work (some prefer older OSes)​

Install the latest firmware for your SSD, if there is one. Some SSD update utils install firmware using Windows so use a PC or BootCamp. Some SSD updater utils blank the drive, so make a backup of the drive.​

Clean the contacts of the SSD, motherboard and the sintech adapter using isopropyl alcohol and a qtip/cotton bud.​

Ensure the sintech adapter and SSD are fully seated and centred. Even a slight skew or unseated drive can cause crashes and reboot issues. Touching the contacts during install can also lead to instability.​

Ensure there is no corrosion on the contacts of the SSD, sintech adaptor or motherboard. You may need to scrape this off if there is any.​

Track the temperature of your SSD using a utility like istat menu. Normal temps vary from drive to drive and work load but e.g. for the Rocket it should be 0c-35c. If temperature gets higher than say ~50c for a sustained time you may need to mitigate the heat by setting the fans to alway on in istat menu, or using a heatsink, copper shims or heat pads.​

Post your sleep settings "pmset -g" and most recent kernel .panic file from /Library/Logs/DiagnosticReports. Use pastebin.com and share a link on this thread.​

Disable sleep and hibernate (see above for command). Reset sleep to default settings pmset restoredefaults​

Try the Kexts (Ssdpmenabler.kext and/or NVMEfix.kext - search the thread for info).​

Try a different aftermarket SSD and/or adapter.
When posting for help or if you have a sucess story to share, use the following format (mostly info from "About This Mac"/"System Report"):
MacOS version: Mojave 10.14.6 (18G7016)
Mac: MacBookAir7,2
Processor: Intel Core i5 1.6 GHz
Boot ROM Version: 426.0.0.0.0
SSD: Sabrent Rocket 1TB (firmware version: ECFM12.3) + Sintec short adapter
link to
pmset -g
output on pastebin.com
link to .panic file(s) on pastebin.com
SSD speeds in BlackMagic benchmark screenshot
SSD temperatures from istat menu screenshot
Any steps you have tried already
8 - BootCamp installation issues
​
Make sure you have a full backup with something OTHER than Time Machine. SuperDuper! is free and recommended. Making a disk clone in SuperDuper! is also much faster than Time Machine.
-----
During installation of Windows 10 via BootCamp, a blue screen may occur.
This was resolved by user
ohnggni
in post
#1685
, thanks to him.
Here are the two recommendations to Install BootComp with success on a MacBook Air / Pro with a NVMe SSD :
leave the MagSafe charger plugged in during the whole installation process (don't run on battery)
When you see the error pop-up, "The Computer restarted unexpectedly....", please do the following :
1. Press Shift + F10 keys.​
2. Launch "regedit".​
3. Find this directory, "HKEY_LOCAL_MACHINE\SYSTEM\Setup\Status\ChildCompletion"​
4. Once you can see "setup.exe" in the right section, double-click it and modify the value to 3.​
5. Close the regedit.​
6. Reboot​
​
-----​
​
How to fix various other issues that may occur with Boot Camp Assistant:​
​
​
- Disable File Vault (will take a few hours / overnight to fully decrypt your drive)​
- Turn off Time Machine and un-associate any Time Machine drives​
- Purge local Time Machine snapshots:​
​
Terminal> "tmutil thinlocalsnapshots / 9999999999999999"
- Repair partitioning:
Terminal> "diskutil repairDisk disk0"
It will say "Repairing the partition map might erase disk0s1, proceed? (y/N)"
Press "y"
-----
If you get "An error occurred while partitioning the disk" in Mojave Boot Camp Assistant, this is a problem with disk overallocation. To fix:
Shut down your Mac.
Start and hold Cmd-S to boot into single user mode.
Type: "fsck_apfs -oy /dev/disk0s2"
It will ask you to confirm, type in y and press Enter.
When finished (up to 3 minutes) type reboot and press Enter.
(Technically, /dev/disk0s2 may not be the correct disk, but OSX will run fsck_apfs on all internal drives anyway.)
If there was a problem with overallocation, you may see this line in the output: "Overallocation detected on Main device" And then another line may appear: "Fix overallocation"
Tip from:
https://apple.stackexchange.com/que...rtition-w-boot-camp-assistant-on-macos-mojave
9 - Comparison of tested NVME SSD models
​
Here you can find some excel charts which try to give you comparison of tested models - Speed - Power consumption - NAND types (MLC, TLC, QLC).
As a comparison, Apple original AHCI models and Transcend models were also included in the chards.
The recommended models are will depends on your need, but the SX8200 Pro and Sabrent Rocket clearly tops nearly all the charts...
Average power Consumption (= battery life) chart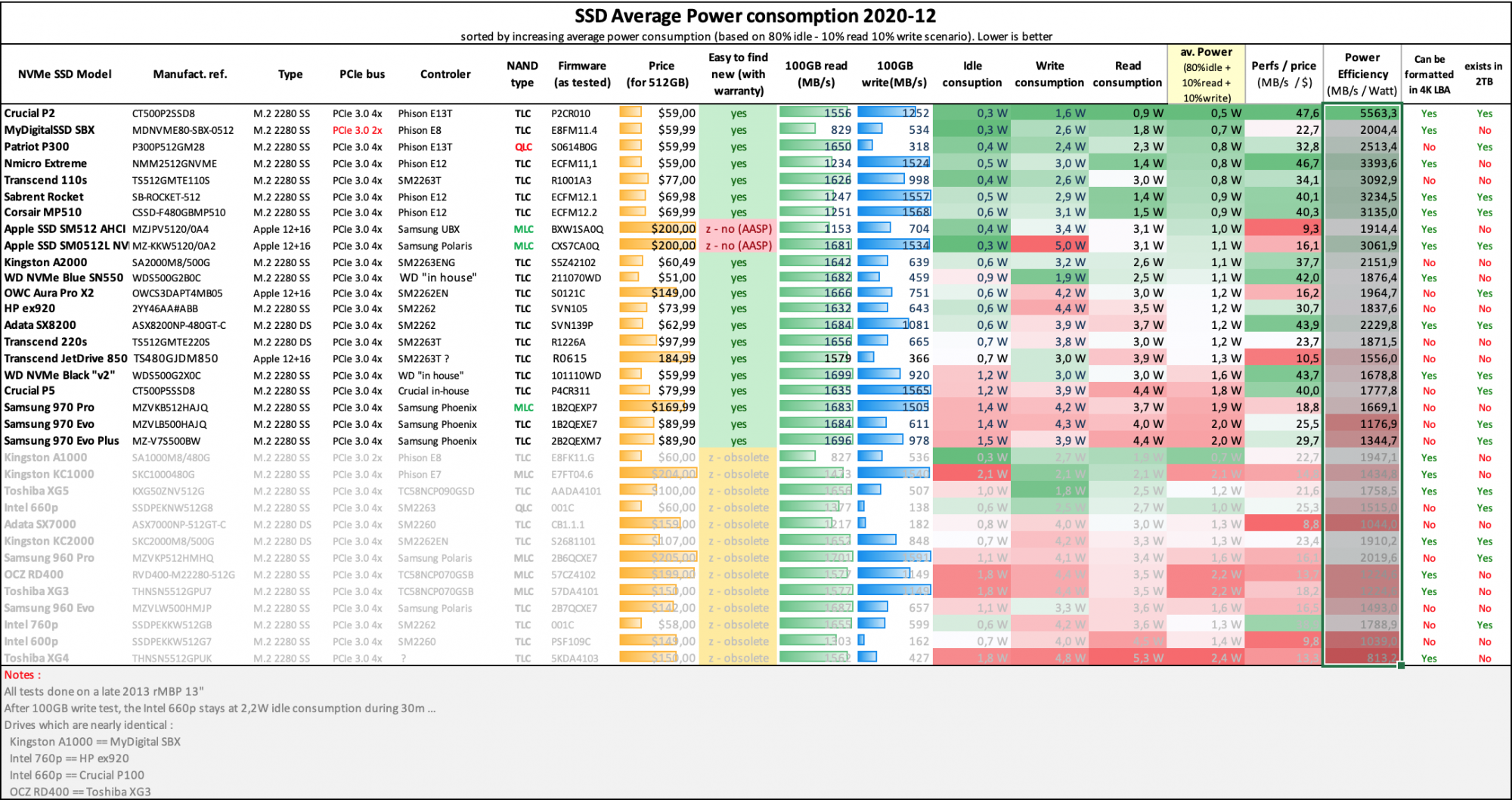 Power Efficiency chart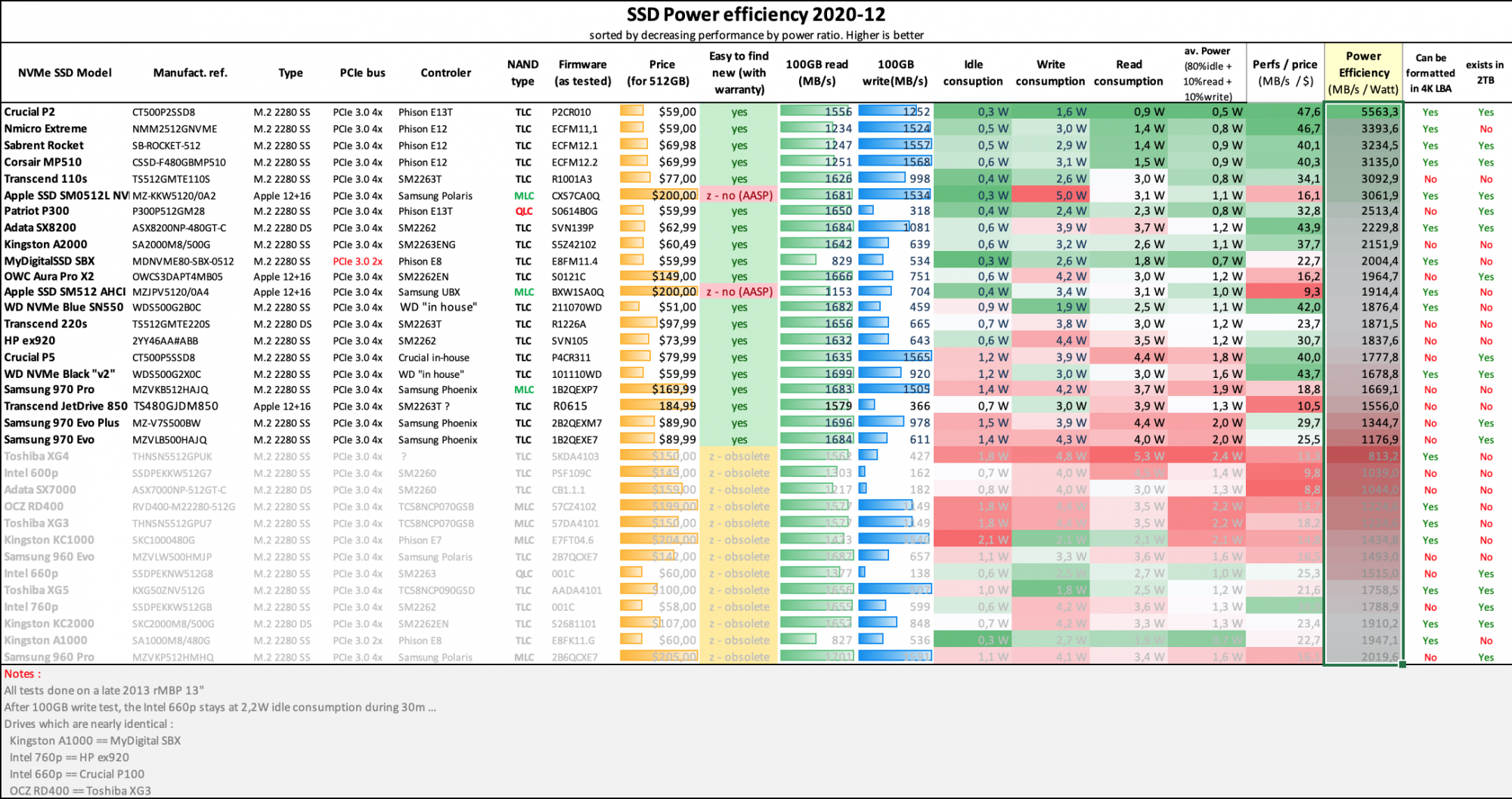 Performance by Price chart :
Charts are courtesy of
@gilles_polysoft
10 - Other useful posts in this thread
​
Discussion of modifying the boot ROM
https://forums.macrumors.com/thread...sd-to-m-2-nvme.2034976/page-118#post-26977161
Behind the scenes of this topic:
I want to say that with
NVMe drive
in
2013-2014
mbp models for sure you will pay with some amount of your
'on battery'
time
It is mostly connected with NVMe connection realizing on this years models processors so with the amazing speed you will get a bit of extra degrees on your CPU (more on 13' models that 15' but still on both)
With 2015 models situation is a bit better because they have next generation of CPU that is more friendly with NVMe connections but still
Higher speeds on a different from 'factory' (AHCI -> NVMe) protocol connection will trigger your mbp fans more often (because of extra degree on CPU) than usual AHCI connected ssd drive so this will eat more power from battery in all cases with all SSDs
As well different ssd have different idle/read/write power draw but its secondary
We have tried some NVMe drives that have less idle/read/write power draw than some Apple AHCI SSDs but in total they still gives bigger power draw by the reason explained before
It is not critical at all, its just ~10-15 degree difference in action that will trigger fans more often
All subsequent I mean size of this behavior mostly connected with your daily usage
This is generalized information that you have to keep in your mind, always its connected with exactly model that you decide to use
Last edited: