macrumors member
Original poster
Hi everyone!
Recently (as of 2 days ago), I noticed that my iCloud calendar on my Mac is taking forever (and sometimes never) to sync to my iPhone. I've tried going into Calendar > Accounts on my Mac and then toggling "Calendar" off, quitting the app, re-opening the app, and then toggling "Calendar" back on. I get a symbol at the top left of my Mac Calendar app: an exclamation mark inside a triangle.
The the error message I get when I click on the symbol is attached. It says:
Your calendar request couldn't be refreshed.
The request for account "iCloud" failed.
The server responded with "500" to operation CalDAVAccountRefreshQueuableOperation.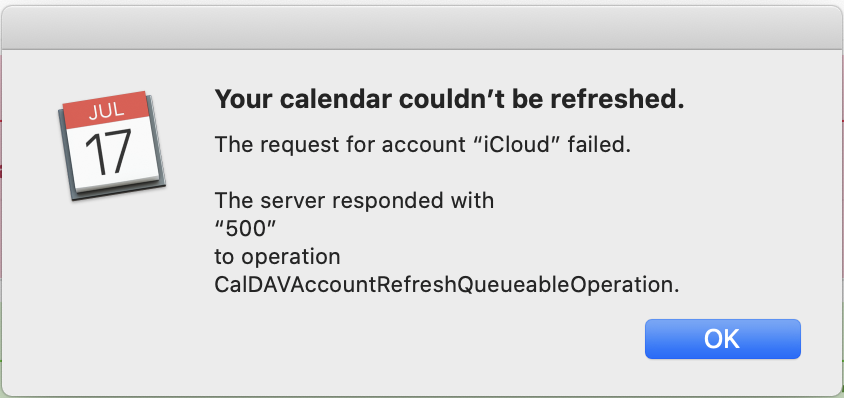 I'm running Mac OS Catalina (latest version, but on beta—does this matter???) and then the latest version of iOS 13 on my iPhone. Curiously, when I create new events on my iPhone, it appears almost instantly on Mac, but not the other way around.
Does anyone have any ideas or anything to help? My calendars are my daily drivers, and I would really appreciate it!