macrumors 601
Original poster
I've put together some scripts, a TenFourFoxBox, youtube-dl and mplayer and come up with tools to let you watch and/or download Youtube videos at any quality on any Mac that runs Tiger or Leopard - and that includes G3s!
All the components are in the dropbox link - the only other requirement is that Python 2.7 is installed, you can do this independently but the best way is to install PPC Media Center as this installs it for you (and keeps youtube-dl up to date also).
Whilst not as refined as PPC Media Centre it does offer video streaming via mplayer which is far more efficient than Quicktime and fewer clicks to get there.
It's not as slick as SMtube either but it works without installing xcode and macports and it works on Tiger too.
How to install:

On Leopard
Drag TonVid, mView, mViewX, mplayer and streamer into Applications - streamer is actually mplayer too but renamed as this version works best for streaming, whilst the other is best for playback.
You must have TenFourFoxBox already installed before using TonVid - drag it and mView/mViewX to the dock.
Copy Source to any location - these are the various scripts for downloading and streaming Youtube.
240, 360 & 720 will download videos at those respective resolutions.
Grab... will download, play then delete a video at the indicated resolution - worst being the smallest possible size Youtube has.
xGrab... is the same but with hard frame drop parameters applied to mplayer to reduce CPU.
Stream... will stream and play a video at the indicated resolution and xStream...is the same with the hard frame drop options.
Ideally choose the script(s) that suit your needs and copy out of the Source folder, rename and drag shortcuts to the dock (righthand side as they are scripts).
Make a folder in Movies called Youtube - this is the default download folder but you can edit the scripts to point to any folder you wish.
On Tiger
Exactly as above but with one extra step.
From Finder menu: Go/Go to Folder and type /usr/local/bin from the Finder window locate youtube-dl and copy it to the Desktop.
From Finder menu: Go/Go to Folder and type /bin in the Finder window, drag youtube-dl from the Desktop into it - you will probably have to type your user password to do this.
It is crucial to have the latest version of youtube-dl installed, this can be updated via Terminal with the command: youtube-dl -U
If this fails, the file can be downloaded directly from the website:
https://rg3.github.io/youtube-dl/download.html
For G3s
Use the included G3 mplayer version
How to use:
Streaming
Launch TonVid and search for your chosen video and right click on it and copy link location. (Note, TonVid default background is white - scroll to the preferences to change colours and layout).
To stream the video, click your chosen streaming shortcut in the dock.
Note there is a delay while youtube-dl does it's stuff before launching mplayer - I'd personally only recommend streaming for long videos, for shorter clips downloading is quicker.
Whilst the video is streaming mplayer can be controlled by keyboard shortcuts:
9 - volume down
0 - volume up
command + 0 - half size
command + 1 - original size
command + 2 - double size
space - pause/play
cursor right - forward 10 seconds
cursor up - forward 1 minute
f - full screen
esc - quit
When the video finishes, mplayer and Terminal will quit.
Downloading/Grabbing
As before right click on a video and copy the link location, click on the Dock shortcut that corresponds with the quality of video you want to download.
A Terminal window will open and start downloading - when complete, the download folder will open automatically so you can play your file.
Grabbing downloads the video in similar fashion but plays it back on completion then deletes it - full credit goes to
@TheMrKocour
for this, as he came up with it.
Customizing the scripts.
All the scripts can be edited in TextEdit or similar - here you will see the command line options for youtube-dl and mplayer, anyone with experience of command line can then edit away to achieve the result they want.
I've included the mplayer command list and the youtube-dl commands can be seen here:
https://github.com/rg3/youtube-dl/blob/master/README.md
mView and mViewX are droplets that facilitate playback in mplayer. To use, simply drag a video file onto them and mplayer will launch it - I've found this is essential for 360P video playback on my G3 iMac.
mView plays the file at it's full quality while mViewX applies some hard frame dropping to make unplayable files work - particularly useful on G4s that struggle with 720P.
Download
here
.
EDIT 25/10/18
Found out today that by using the new Mplayer from the SMTube thread
https://forums.macrumors.com/thread...ew-mactubes-mobile-youtube-installer.2030035/
the time until the video starts streaming is halved! All one has to do is open the scripts in TextEdit and change the path to the new Mplayer. Note this can't be used on G3s as the latest MPlayer isn't compiled for G3.
1Ghz G4 Titanium Powerbook 360P streaming
1Ghz G4 Titanium Powerbook 240P streaming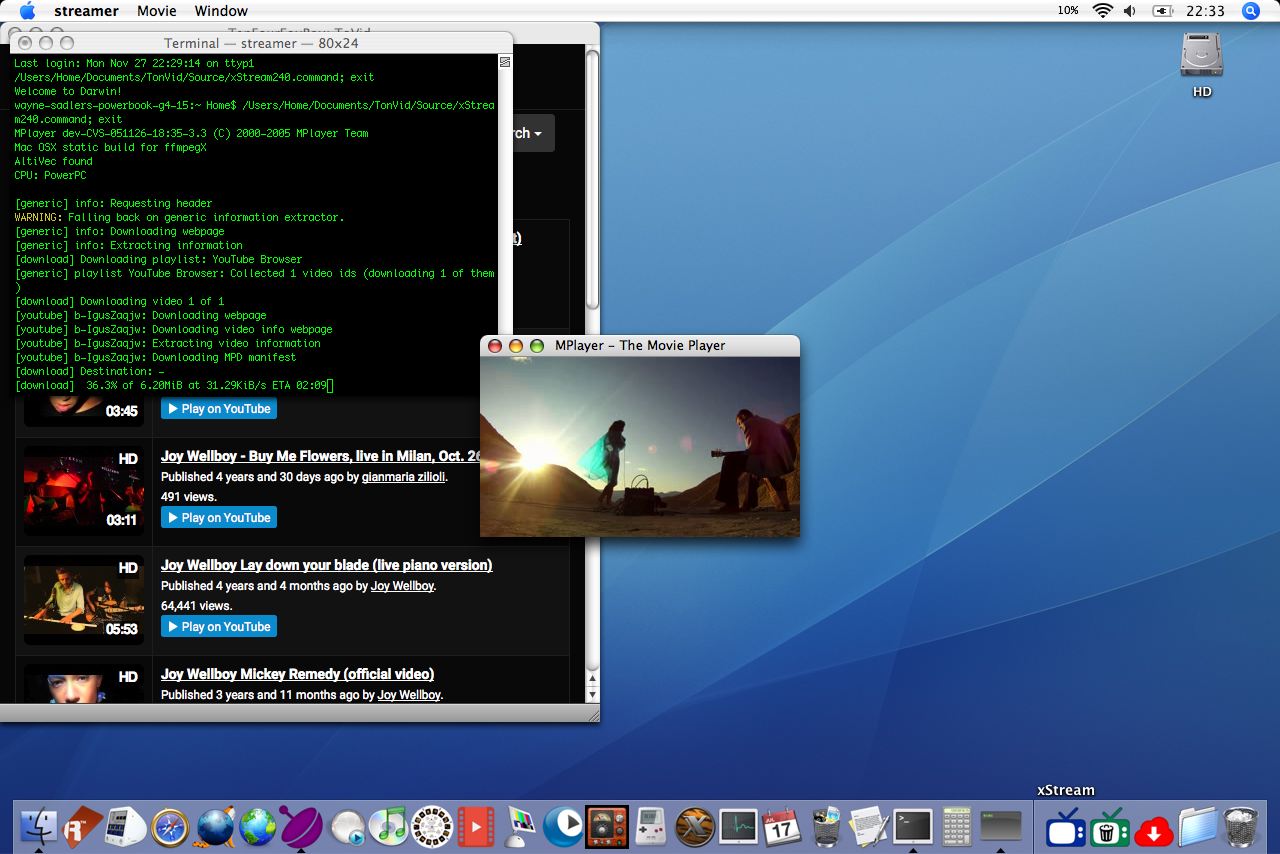 1Ghz G4 Titanium Powerbook "worst" streaming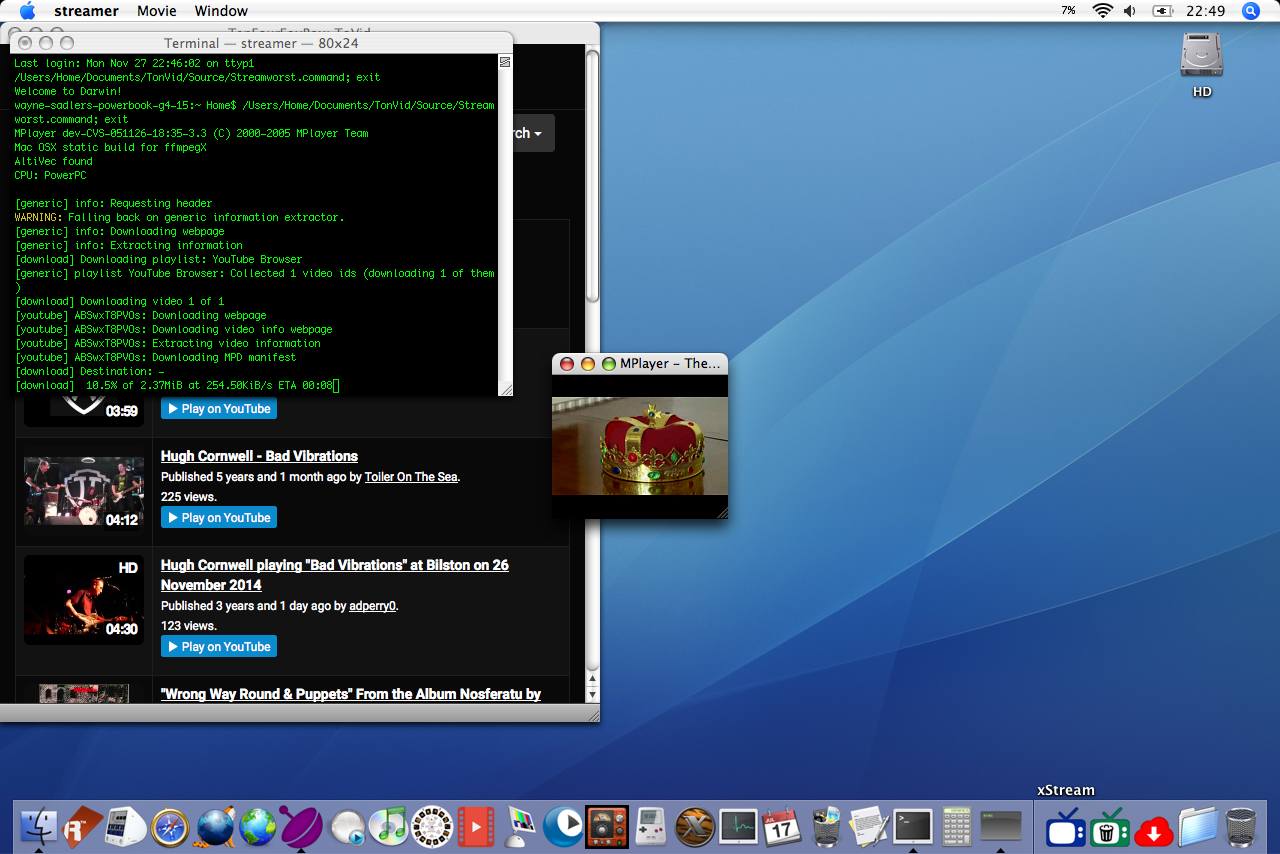 1Ghz G4 Titanium Powerbook 720P playback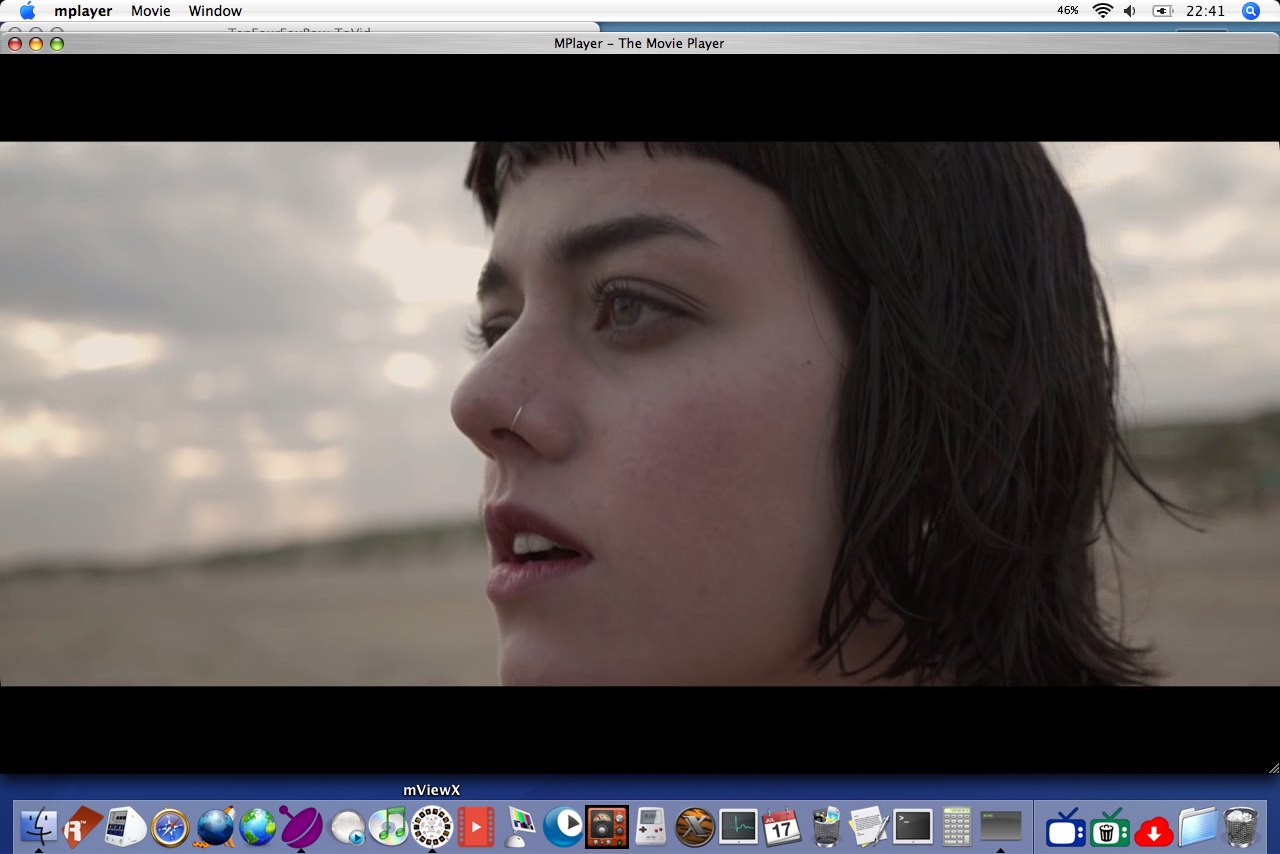 Last edited: