Hello,
I recently acquired an old 15" iMac G4 (800 Mhz, running 10.4.11), and I'm trying to get
this Wi-Fi USB adapter
I bought off Aliexpress working on it. It has a Realtek RTL8188 chip inside and came with a CD with drivers for OS X 10.4. I'm new to the Mac world, so I thought I'd just install the drivers and be done with it, but man was I wrong. So, I installed the drivers, restarted the iMac and tried to launch Wireless Network Utility, like the manual displayed during the installation process suggested, only it crashed immediately upon launch. Every time I start the app, it appears in the dock for a second and then just closes. Also, the blue LED indicator on the USB dongle itself does not light up when I plug it in, but it is listed in System Profiler as "802.11n NIC" (see screenshot below). I did some digging around and found
this thread
over at InsanelyMac where somebody posted "universal drivers" for Realtek 802.11n/ac adapters, but all the links are dead (of course). PMed some of the posters in the thread but nada.
Anyway, I thought I'd try with a different version of the same drivers, which are apparently used by the
ASUS USB N-10
The drivers on my CD were "Wlan_11n_USB_MacOS10.4_Driver_UI_2.0.1", while the ones I downloaded from DriversCollection for the ASUS stick seem to be older, since the package is called "Wlan_11n_USB_MacOS10.4_Driver_1079_UI_1.8.8." Either way, both version yielded the same result – Wireless Network Utility crashes upon launch. I can provide the drivers, if needed.
Also, first time Mac user here.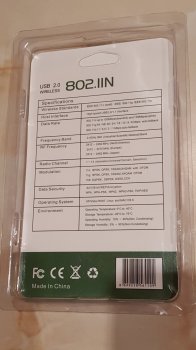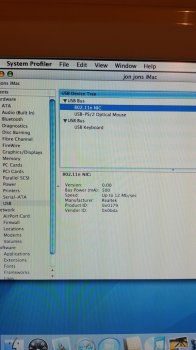 P.S. Sorry I'm uploading a photo of System Profiler, instead of a proper screenshot.